The dogs listed below are up for adoption through Aussie Rescue SoCal. They may be in foster homes. Follow the specific contact information in the listing if interested in a dog that is listed. If there is no information listed for contact, use our Adoption Application to express interest. Please be sure to put the dogs name your interested in using the appropriate field.
Koda
"KODA BEAR" is a 6 year old neutered male mini Aussie that was relinquished to our rescue because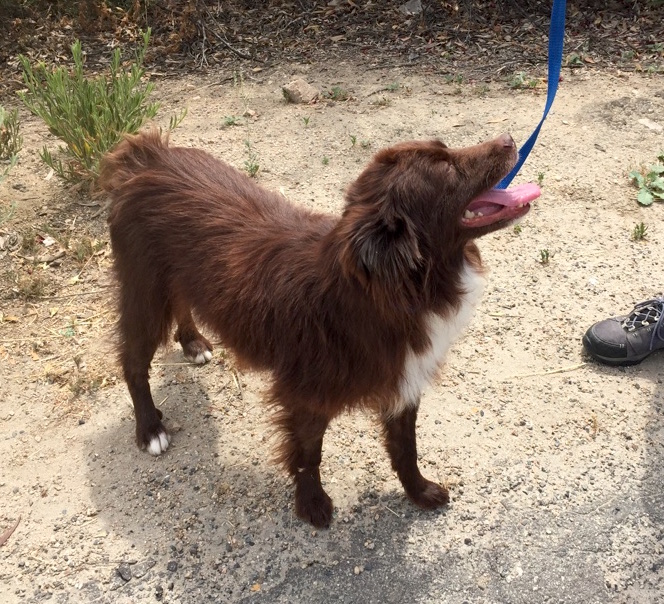 his owner no longer wanted to keep him.  When he was brought to us, we were told he has some allergies, but they had not done any testing so were not able to tell us allergies to what!  When we examined him, it was found his ear canals were swollen closed and pus and blood were dripping out - he had to be in tremendous pain!  He suffered from fur loss over parts of his body and his skin was a bright pink.  We also discovered he was in immediate need of a dental, with possible extractions.  So off to the veterinarian he went, had the dental with 7 extractions (!), his ears flushed and a culture done on his ears so we would know what medication was needed.  We also had allergy testing done, and well, he's not allergic to mice!  He is a reserved boy, but very affectionate and loving once he knows you, he needs time to warms up.  He is housebroken and crate trained, rides well in the car, walks well on a leash, and prefers to be the only pet in the household. He is not appropriate for a home with children, prefers a quieter home.  If you are interested in Koda, please fill out our adopt app:  http://www.aussierescuesocal.com/applications/adoption-application/   (Wildomar area)
3 short videos of Koda - http://youtu.be/SVmW-s0lsr0   http://youtu.be/SWCLPDRdJXA   http://youtu.be/pJ3gvUxyCz4
Ace
UPDATE:
Ace went in to see Dr Dhupa and unfortunately we found out not only does he have hip dysplasia in both hips, but also both his knees are bad ('ruptured anterior cruciate ligament') :[ At 9 years old and all four of the joints in his hind quarters in such horrible shape, there really isn't anything we can do except get the weight off him, give him pain meds, and whatever else we can think of to manage pain (acupuncture, etc) to keep him comfortable. Ace doesn't let a little thing like that hold him back though - he is a happy happy boy, LOVES the ball, and barking (happy barking, look at me barking, pay attention to me barking ;] ).
He is a very social boy, likes to be near wherever you are, has been fine with the other dogs as long as they ignore his 'claiming' things - be it a toy, the water bucket, the person he is next to - he doesn't do it every time, and the group of dogs I have right now totally ignore his attitude about this and he no longer does it with them. I wouldn't trust him with cats - he likes to bark at mine and if the cat runs, he realllly wants to chase it - doesn't matter to him that he is falling down in a mad scramble to go after it - actually nothing seems to bother him over much, unless it is a lack of attention ;] He has lost about 10 pounds to so far - was 74 on intake at the shelter and weighed in at 63 at his vet visit, so he's on his way with the weight loss! If anyone is interested in adopting Ace, drop me an email at aussierescuesocal@gmail.com -- Here's a short video of Ace with a ball.
Harry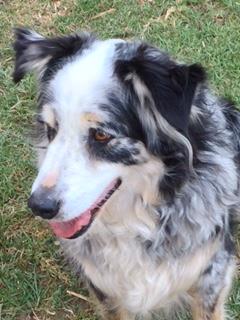 Harry is a seven-year-old blue merle wearing about 62 pounds. He likes nothing more than to be with his people. He loves long walks and hiking and rides well in the car
He has exhibited herding behavior so should be with a adult home or family with older kids who understands the breed and can spend time with him No cats.
He is fine in public with other dogs big and small but probably does not want to share his home with another male
This handsome boy will be someone's best friend.Please contact: Dogadopt21@gmail.com
Located in Santa Barbara
Bandit
"BANDIT" is a Shepherdy mix neutered male, about 8 years old, that loves people! He is great with other dogs, all sizes, but a little too interested in cats to be trusted. He is a sweetheart that is looking for a loving home to call his own. He was rescued out of a high kill shelter after no one came for him or adopted him, the skin around his nose and eyes were a mess. We had him seen by the vet and was he was diagnosed with discoid lupus. He is currently on 2 different meds that run about $10 a month and has healed up beautifully, feels great and is still plenty active for his age. If you are interested in being this gem of a boy's forever home, please go to our Adoption Application and fill it out: