The dogs listed below are up for adoption through Aussie Rescue SoCal. They may be in foster homes. Follow the specific contact information in the listing if interested in a dog that is listed. If there is no information listed for contact, use our Adoption Application to express interest. Please be sure to put the dogs name your interested in using the appropriate field.
Orion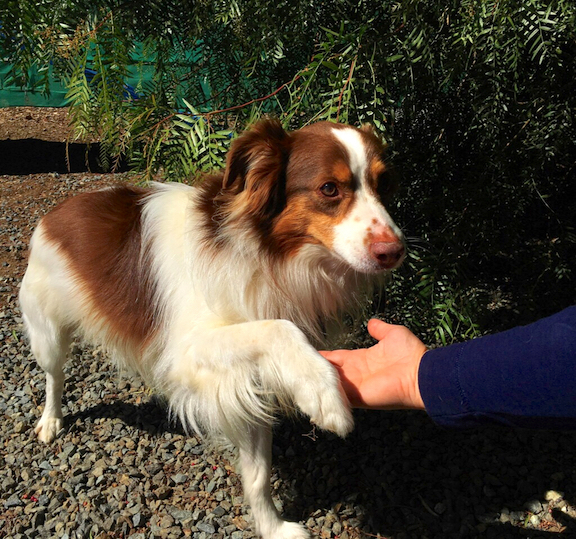 "ORION" is a 5 year old neutered male, Red Tri Australian Shepherd, weighing at 30
pounds (previous owner called him a mini). Orion would do best with an owner who has a very predictable and quiet life style. He is the kind of dog who can really appreciate a schedule. While Orion is dog friendly he does not prefer the company of other dogs. He is a bit above all the tom foolery that dog friends bring Orion is affectionate and bonds tightly once he gets to know you. He can be reserved upon first meeting as is with most Aussies. He bonds so tightly he needs an owner who can also set boundaries so he doesn't over bond. Orion is looking for a home that is free of other animals and children. His adoption fee includes a private training session from the trainers at Board-N-Behave that worked with him on body handling. When Orion first arrived he had a hard time being handled around the collar or for grooming. He had a hard time making transitions that were not his idea. NO he is not a dominant dog he simply lacked the skill set to think things all the way through. Orion has been fully vetted and healthy. He is up to date on all vaccines and has recently had a full dental cleaning, blood work and x rays. He is healthy as can be. He is happy to curl up with you, go on walks, rides great in the car, knows sit, down, stay, and shake with both paws, and loves a good game of fetch! Please submit an application so we can learn a little about you to see if your a good match for Orion: http://www.aussierescuesocal.com/applications/adoption-application/ (Menifee area)  (4-11)
Hallie
"HALLIE" is a very sweet dog looking for a forever home. She is an 8 1/2 yr. old spayed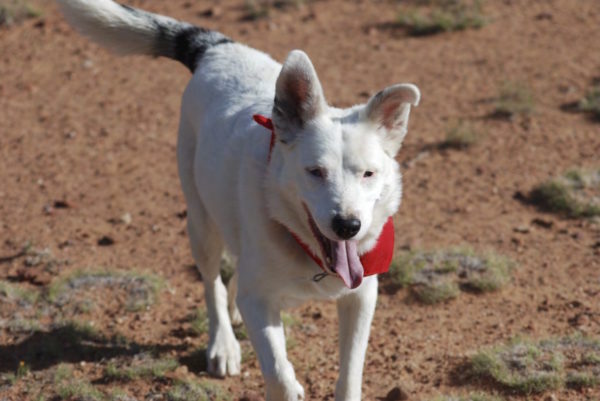 female double merle Aussie mix. Due to the double merle breeding, she is deaf and almost completely blind. That doesn't slow her down. Hallie is very affectionate and loves to hang out with people. Her favorite things to do are ride in the car, go for walks, and play tug with her Kong Wubba. She always wins! Hallie's ideal home would be as an only dog with people who are home a lot or work from home. She is house trained and crate trained. Due to her vision issues, she's not a candidate for dog parks or going places where strange dogs get in her face. For more information, contact Diane rdranch12@gmail.com Pasadena.  (4-2)
Bravo
Bravo is polite and playful with every dog he meets & perfect gentleman with every human he meets!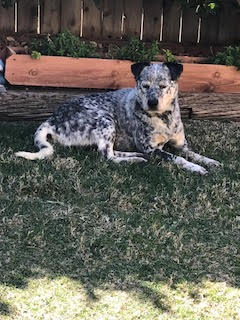 He calm, kind demeanor is refreshing.
He has so many attributes. He is stunningly handsome, he playfully communicates with his humans and his doggy friends. He respects boundaries and does not try to get on furniture. He is housebroken, In the car he is a perfect passenger, His 2 years of unknown but clearly less than perfect life, left him with an old injury in his front leg. He will never play Frisbee or be an agility dog, otherwise it does not slow him down. He enjoys gentle hikes, walks and visits to the beach. Bravo deserves a safe, loving home with another gentle dog buddy. We guarantee he will bring years of loyalty, smiles & love in return. No cats please he is afraid of them. Older kids YES!
He weighs 52 lbs and is vaccinated and neutered and has a microchip.
located in Santa Barbara in a foster home. dogadopt21@gmail.com
Ace
UPDATE:
Ace went in to see Dr Dhupa and unfortunately we found out not only does he have hip dysplasia in both hips, but also both his knees are bad ('ruptured anterior cruciate ligament') :[ At 9 years old and all four of the joints in his hind quarters in such horrible shape, there really isn't anything we can do except get the weight off him, give him pain meds, and whatever else we can think of to manage pain (acupuncture, etc) to keep him comfortable. Ace doesn't let a little thing like that hold him back though - he is a happy happy boy, LOVES the ball, and barking (happy barking, look at me barking, pay attention to me barking ;] ).
He is a very social boy, likes to be near wherever you are, has been fine with the other dogs as long as they ignore his 'claiming' things - be it a toy, the water bucket, the person he is next to - he doesn't do it every time, and the group of dogs I have right now totally ignore his attitude about this and he no longer does it with them. I wouldn't trust him with cats - he likes to bark at mine and if the cat runs, he realllly wants to chase it - doesn't matter to him that he is falling down in a mad scramble to go after it - actually nothing seems to bother him over much, unless it is a lack of attention ;] He has lost about 10 pounds to so far - was 74 on intake at the shelter and weighed in at 63 at his vet visit, so he's on his way with the weight loss! If anyone is interested in adopting Ace, drop me an email at aussierescuesocal@gmail.com -- Here's a short video of Ace with a ball.