The dogs listed below are up for adoption through Aussie Rescue SoCal. They may be in foster homes. Follow the specific contact information in the listing if interested in a dog that is listed. If there is no information listed for contact, use our Adoption Application to express interest. Please be sure to put the dogs name your interested in using the appropriate field.
Harry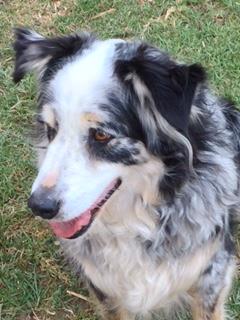 "HARRY" is a seven-year-old blue merle wearing about 62 pounds. He likes nothing more than to be with his people. He loves long walks and hiking and rides well in the car
He has exhibited herding behavior so should be with a adult home or family with older kids who understands the breed and can spend time with him No cats.
He is fine in public with other dogs big and small but probably does not want to share his home with another male This handsome boy will be someone's best friend. Located in Santa Barbara Dogadopt21@gmail.com
Trigger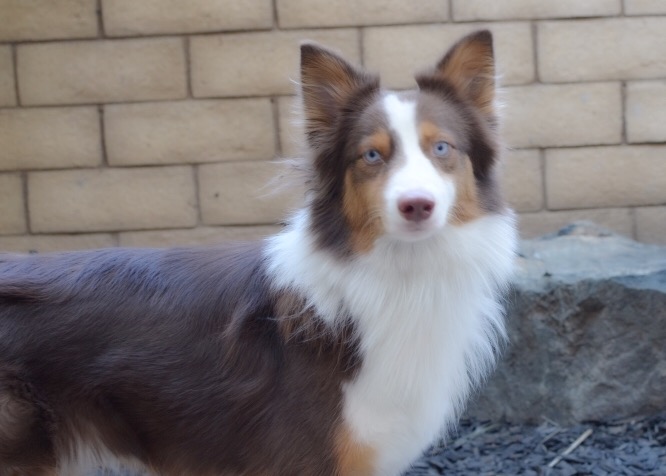 My name is "TRIGGER" and I am a neutered one and half year old red male tri Australian Shepherd. Located in the Valley near the 405 and 101 freeway. I'm current on all shots and microchipped. I'm great with other dogs and cats but I do have trust issues with the two legged humans. You see I lived on the streets as a pup and it took animal control months to catch me. I had no human interaction. My foster mom is the first human I ever trusted and she taught that it's okay to be loved. I am going to require some extra work and time to adjust. Once I know you are friendly then I will come up to you and even sit by your feet. I prefer a quieter house. A crate is a MUST for me. It's the place where I feel safe. I like
to run in it when I'm too overwhelmed. I even sometimes carry my bowl in there to eat. If you leave the house than I need to be in a crate as my anxiety picks up and I can be mischievous with whatever is left out. I like walks (but should feel comfortable with you first, I can chew through a leash if scared), playing with other dogs and I love playing doctor on the dog toys. I don't mind being outside to smell in the yard or prance like a deer. I dislike like loud noises, fast movements and prefer to have structure. If you have any questions please feel free to contact Kelly at kelly@barkatthepark.net ...
Since I'm shy, I will require to meet you a few times before going to forever home. (3-4)
Bandit
"BANDIT" is a Shepherdy mix neutered male, about 8 years old, that loves people! He is great with other dogs, all sizes, but a little too interested in cats to be trusted. He is a sweetheart that is looking for a loving home to call his own. He was rescued out of a high kill shelter after no one came for him or adopted him, the skin around his nose and eyes were a mess. We had him seen by the vet and was he was diagnosed with discoid lupus. He is currently on 2 different meds that run about $10 a month and has healed up beautifully, feels great and is still plenty active for his age. If you are interested in being this gem of a boy's forever home, please go to our Adoption Application and fill it out:
Mazie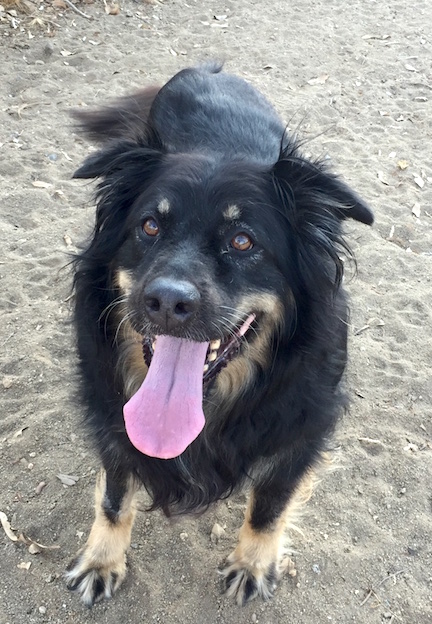 "MAZIE" is a 7 yr old Aussie x German Shepherd (best guess) spayed female that had been turned into
the shelter because her owner was no longer able to care for her...she ran out of time there so we bailed her out. Once we got her we realized that she had difficulty getting up. She clocked in at 88 pounds and her foster mom was able to get her down to 74 (could still stand to lose about another 8 pounds or so) and she was getting around better but still had some problems. So off she went to Dr Dhupa, our favorite orthopedist, for some X-rays. It was found at some point in her past she apparently had been hit by a car and had suffered severe pelvic trauma. Her right hip healed enough on it's
own to be usable but her left was a mess and it continually luxated in and out:[ It was decided FHO surgery was her best option and she is now 4 weeks post op and doing wonderful and ready for adoption! Mazie is a delight, she is housebroken, great with other dogs, ignores the cats, and like most herding breeds, is a bit reserved at first meeting, but once warms up to you, is a lover:] She is housebroken, a low key girl that likes to meander around for her walks, with an occasional trot thrown in when she gets excited - and a tail that seldom stops if you are around. If you are interested in Miss Mazie, please fill out our Adoption Application. (Perris/Lake Elsinore area)
Click here to see a short video of Mazie and how well she is getting around now! (3-5)