With the Courtesy Listings, each dog will have a specific contact person listed for interested parties to contact for more information. Other rescues will have their own adoption requirements some of which may vary from ours. Courtesy Listings for private parties are merely a referral, we make no guarantees on them and are relying on the owner to provide accurate information, it is up to the interested parties to determine if it is the right match for them. We do not help them sell their dog, but we do require that the dog be altered before we will post it to our site so the owner may ask for reimbursement of that cost, if it was done to meet our requirements. Any placement/home requirements for these dogs are up to their owner.
Skylar
"SKYLAR" is a 6 year old spayed female. Unfortunately she needs a new home asap..she has nipped at a toddler in the family
numerous times and continues to chase cats. Pet owner: She is not a bad dog and is very good with older children and adults. Skyler is a sweet cattle dog who loves to play, but settles down very well inside the house. She loves to go for walks and does great on a leash. She loves attention and will be your best friend for a tummy rub. She is spayed, microchipped, current on vaccines (DHPP, Rabies & Bordetella). She has had a current fecal and heartworm test, and she is on Trifexis medication for flea & heartworm prevention. She is in very good health and has no medical concerns. Please contact Barbara at modrow.barbara@gmail.com
Doc
"DOC" is a 4 year old Australian Shepherd. He is neutered, current on shots, house trained, knows basic commands (verbally and hand signals). He is good with dogs and tolerates cats. He is very intelligent and continues to get out of his fence to chase pigs and the neighbor has threatened to shoot him if he does it again - would love to find him a new home where he is safe!  $100 rehoming fee is negotiable depending on the home & of course a home check is required. please contact owner Suzann @ 661-816-6021 (Lancaster area)  (4-1)
Abby
Female, Border Collie mix, Will be 8 weeks on 4/4
"ABBY" is a sweet girl looking for a furever home that has time and patience for a puppy. Her mom is a small 30lb border collie mix. We are guessing that Abby will be about the same size or slightly bigger. If you are interested in adopting Abby, please fill out an adoption application,  http://aussierescuesandiego.org/foster-and-volunteer/adoptionapplication/   (3-26)
Ziva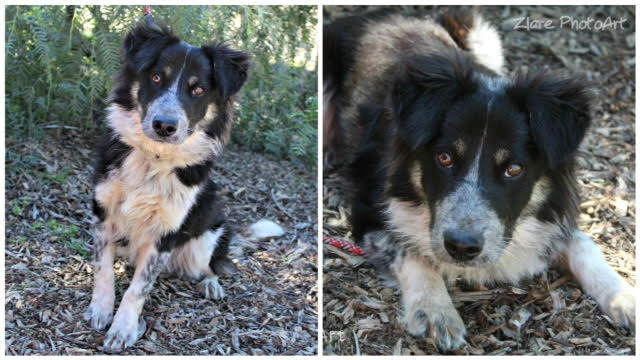 "ZIVA" is a female Border Collie mix, 2 years old, 30 lbs 
Ziva is a survivor! She was pregnant and homeless on the streets of Mexico when a good samaritan found her and helped her get to us. Ziva is a lot of personality in a little body. She takes time to warm up to strangers but once she knows you and trusts you, she is an interactive partner. Ziva is unknown with cats and needs to be the only dog in the home. If you are interested in adopting Ziva, please fill out an adoption application  http://aussierescuesandiego.org/foster-and-volunteer/adoptionapplication/   (3-26)
Keely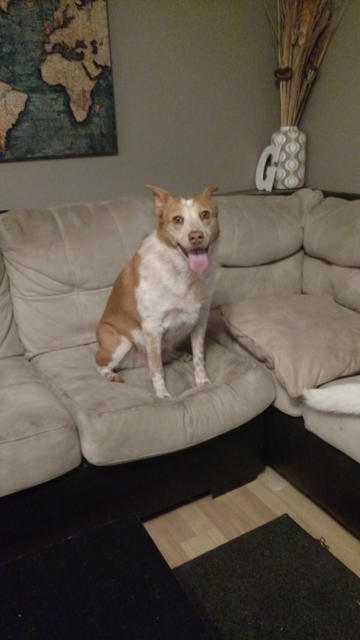 Per owner: I am needing to rehome my Australian Shepherd / Border Collie mix - Keely. She's a sweet smart loving 6 year old, spayed, and up to date on all her shots. She has always been slightly aggressive and anxious around other dogs. We did puppy training and worked with her at the dog park, however she mostly wants to be left alone and keeps to herself and her owner. We have another dog in our house and they've gotten into a few fights over the years mostly over food. However, with proper care and responsibility all this is manageable. If you know her tendencies (leave before she gets too tired, don't put her collar on when other dogs are close, keep her on a short leash while walking by other dogs, etc.) and are willing to work with her she is able to be taken to the dog park and walked. We haven't had any issues in over a year. That said, we now have an 18 month old daughter. At first the dogs were uninterested in the baby. Now that she's 1 and a half and more mobile, it's become an issue. Keely has been getting increasingly uncomfortable around her. We never leave them unsupervised and worked with showing our daughter how to respect the dogs space and not bother them. However, over the weekend she got too close and Keely bit her in the face. Luckily, there was no major damage. She didn't break the skin, but it was still traumatizing. We need to rehome her as we cannot wait for this to happen again or worse. Ideally she'd do best in a home that understands an Aussie's demeanor and tendencies and no children. I would ideally like to find a new home for her by the weekend. Any help would be most appreciated!
If you are interested in helping Keely, please contact Joe (408) 569-9504 (3-6)
Micha
Micha is a 7 yr old spayed red female Aussie that is in need of a new home due to her owner's failing health. She loves people, is housebroken, likes to ride in the car, and loves to go on walks. She did live with a male dog and they were good buddies, but he is no longer with her and she has not been around other dogs much beyond that. She does not live with kids, but her owner said she 'gets excited around little kids', so might not be a good choice, she may be too much for them. If you are interested in Micha, please contact Fred @ 858-776-9348 (Lakeside area).