With the Courtesy Listings, each dog will have a specific contact person listed for interested parties to contact for more information. Other rescues will have their own adoption requirements some of which may vary from ours. Courtesy Listings for private parties are merely a referral, we make no guarantees on them and are relying on the owner to provide accurate information, it is up to the interested parties to determine if it is the right match for them. We do not help them sell their dog, but we do require that the dog be altered before we will post it to our site so the owner may ask for reimbursement of that cost, if it was done to meet our requirements. Any placement/home requirements for these dogs are up to their owner.
Teddy
"TEDDY" is an 8 yr old neutered male Aussie who weighs in at 103 pounds according to his owner.  He is excellent with people in general and fine with the grandkids, good with other dogs and cats, likes to be outside but is okay indoors also.  He loves to ride in the car, likes to chase the ball some but not too much, likes squeaky toys and loves to go to the "beauty parlor"  :]  He is a sweet sweet boy but they are moving and have are not able to take him with them.  If you are interested in this handsome chunk of love, please contact his owner at: wgoforth@mac.com  (Ventura area)
Thor
"THOR" is a 3 yr old neutered male possible Aussie mix that weighs about 45 lbs.  Unfortunately he is sensitive to being touched in his hind quarters (not painful, just skittish about it) and the 16 month old son in the family has been bitten twice because of it - no stitches required but this second time it did break the skin.  Thor needs a home with no young kids that are likely to inadvertently do that, he does get a little nervous/anxious around kids.  He is good with adults, a good watchdog, energetic and playful, loves to go on walks, would love a big yard to play in.  Per the owner, he is excellent with other dogs, is housebroken, current on shots and microchipped.  If you are interested in Thor, please contact his owner via email: courtneymerle@icloud.com  (Murrieta area)
Jack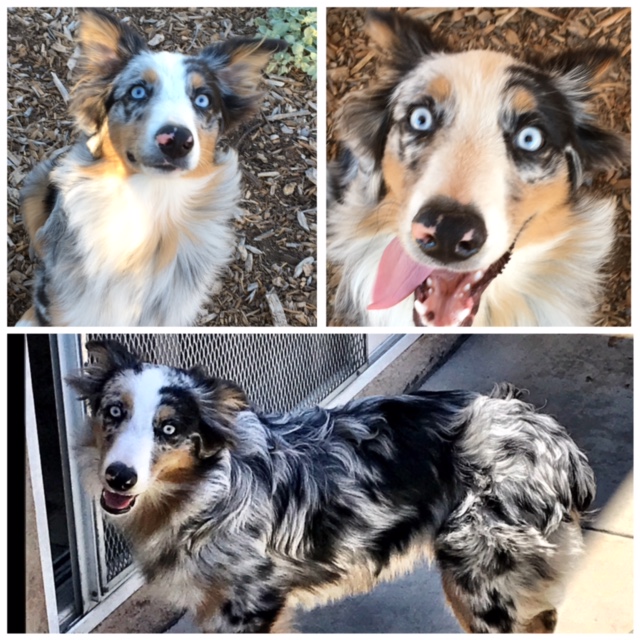 Jack is a 6 month old, male and will be about 45-50lbs full grown
Jack is a very busy Aussie boy! He has a sweet and amenable temperament. Is friendly with people and other dogs. Jack needs someone who has the time and patience to work with a puppy so he can grow up to be a great dog. If you are interested in adopting Jack, please fill out an adoption application http://aussierescuesandiego.org/foster-and-volunteer/adoptionapplication/
Georgy Girl
GEORGY GIRL is a large mini red merle spayed female Aussie, at about 38 pounds. She has one blue and one brown eye.  She  is approximately 3 years, sweet and energetic. She's quiet and crate trained.  She would be best suited for adults who are active.  She needs a non-reactive dog in the household or to be the only dog in the household. She loves to play with her toys, she's been out on the trail off-leash and exposed horses. Must have large yard and be prepared for a home check.  Sorry, an apartment or condo would not be suitable for this working herding breed.  Go to this website to see more pictures of her:  
https://www.dogpaws4u.org/available-dogs/
   For more information, contact the rescue she is with: 
dogpaws4u@gmail.com
  (Glendora area)
Brantley
Brantley is a young energetic male Aussie! He is fine with adults but not children. He was relinquished because he nipped a child. Previous owners took him to the dog park where he played well with other dogs. He is still settling in at his foster home and has expressed no interest in playing with other dogs yet but he does want to train and work. Once he is focused, he is a very good boy. A quiet and routine oriented home is preferable. He will need someone who is structured, consistent and enjoys training. This boy jumps on people still! He prefers to to be moving over still / cuddling. If you are interested in adopting Brantley, please fill out an adoption application 
http://aussierescuesandiego.org/foster-and-volunteer/adoptionapplication/
Brantley was recently shaved by his owners. Previous picture of him with full coat is included. 
Kingston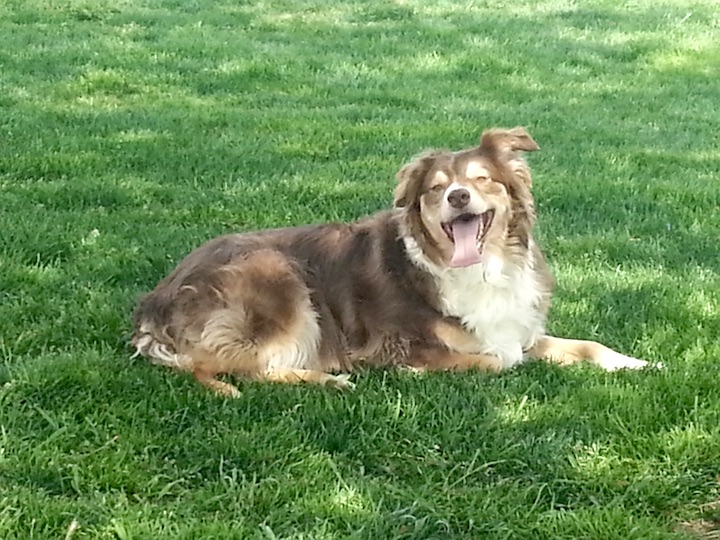 KINGSTON is a 6 yr old neutered red tri male Aussie, possible mix, who clocks in about 80 pounds.  He and his buddy, ROCKY, who is a 6 yr old neutered male Golden x Lab mix that is equally as big if not more so, are both in need of a home ASAP as their owners are having to move within 2 weeks.  Both boys are housebroken and excellent with other dogs and people, Rocky is more used to kids than Kingston, both are good with cats, travel well and very playful and energetic, yet calm, affectionate and love to be with their family.  Kingston is on Bromide for occasional seizures, but both are healthy in general.  Wonderful playful companions that love to go!  If you are interested in these boys, please contact owner Sarah: 
sarah.mccarty27@gmail.com
  (San Diego area)
Bowie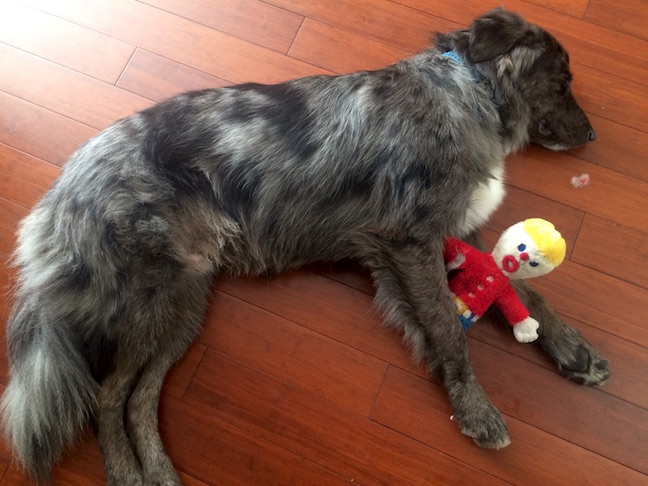 Bowie is a male Australian Shepherd /Border Collie Mix who turned 1 year old on May 1.  He is neutered, chipped and current on his shots, and weighs 60 pounds.  He LOVES other dogs! He has been around children 8 and up on a regular basis and has been fine. Bowie is energetic and loves to run and play and would be great for someone who has another friendly dog. He would thrive with an active lifestyle. Bowie is not good with cats.  If interested in being Bowie's forever home please fill out an adoption application
http://aussierescuesandiego.org/foster-and-volunteer/adoptionapplication/
Dillon
DILLON is a 3 yr old neutered blue merle male Aussie looking for a new home.
He is crate trained, used to sleeping in one at night, can play with both sexes of other dogs, but best not to live with another male dog. Dillon is a HIGH energy boy, with a lot of drive, needs a job to do! He is not an overly affectionate boy, too busy, so if that is what you are looking for, he's not the Aussie for you. Best home for him would be one with some Aussie experience and willingness to continue working with him on good manners and getting him enough exercise - he LOVES to swim, loves to carry toys around - he does know some basic obedience, but could use more socialization, he has a hard time with a lot of changes.  He would do best in a home where someone is around a good portion of the time, he may bark excessively if left alone for long periods of time.  Limited exposure to kids and seems okay but may have too much energy for the younger ones.  If you are interested in this big boy, please contact Maria between the hours of 9 am and 4 pm @ 909-856-9795 (Riverside area)   If you want to email her your phone number to have her call you back, here is her email addy:
topperformance@att.net 
Colt
Colt needs a new home asap! He is not good with the other dogs he is living with. 
Per owner:
"Colt is an amazing, athletic, smart, eager to please dog who knows basic commands as well as functional ones like staying out of the kitchen. He needs a home with no other dogs and an owner who can make sure he is safe around other dogs. He loves to cuddle and would be  an ideal dog for a VERY active person who likes to hike and run. He runs 3-5 miles a day and gets out to play with a ChuckIt 2-3 times a day. He currently has 1/2 acre to run around and is on a raw diet due to skin allergies when I got him. He was neutered a little over a year ago in the hopes that it would minimize the aggression.  He is a happy and healthy dog outside of the aggression and I desperately want to find him a home that I feel he will be properly cared for. We  have a house cat whom he gets along with, they walk around together and sit near each other, though I never have them together unmonitored. Gets along great with kids, pukes in the car every time with or without food in his tummy"
Please contact Jenelle at 619)997-1439. Text is best. 
Dash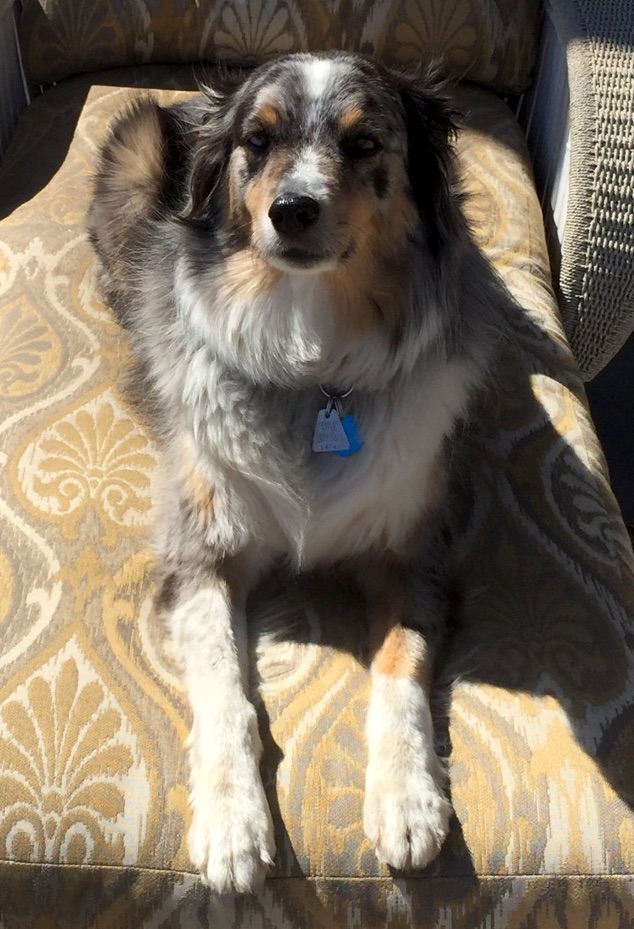 Dash is 6 yr old blue merle neutered male Aussie.  He is house broken and good in the house, loves to play fetch, he know commands like sit, shake hands, stay, and is current on his vaccinations.  Dash is not good with other dogs initially - he has over the years learned to play with another family member's small dogs, but his first reaction to other dogs is to bark and lunge at them.  His current owners recently moved into a retirement community and he is not doing well with the smaller yard and closer quarters to other dogs - he is barking at other dogs when they are walked by and neighbors are complaining.  He is active and loves to go on walks and likes to play fetch.  They are looking for a good and loving home for him with someone that can give him plenty of exercise.  He does take time to warm up to strangers, may growl at first but has never bitten or snapped at anyone.  Interested parties can contact Dash's owner via email: Maryconnelly93@yahoo.com  (Apple Valley area)
Mr. Wiggles
Meet Mr Wiggles!! He is a 3 1/2 month old Aussie mix. He is so happy, he never stops wiggling and he has a TAIL! This sweet pup was at Upland shelter. Thank you to Lonna and team at Upland Animal Shelter for reaching out to help him. Mr Wiggles is completely deaf. He will need a dedicated home who can communicate clearly and keep him safe. Living with a deaf dog is really about being proactive vs reactive. You can't chase them down or holler after them. For more info about training a deaf dog, visit http://www.deafdogs.org/training/. We are not sure how big he will be, best guess is about 50-60 lbs. To adopt Mr Wiggles, please fill out an adoption application http://aussierescuesandiego.org/foster…/adoptionapplication/
Keely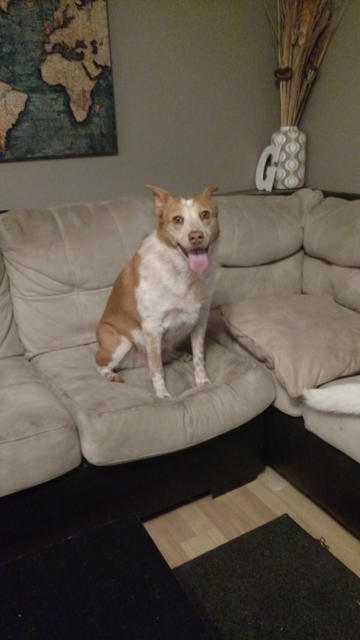 Per owner: I am needing to rehome my Australian Shepherd / Border Collie mix - Keely. She's a sweet smart loving 6 year old, spayed, and up to date on all her shots. She has always been slightly aggressive and anxious around other dogs. We did puppy training and worked with her at the dog park, however she mostly wants to be left alone and keeps to herself and her owner. We have another dog in our house and they've gotten into a few fights over the years mostly over food. However, with proper care and responsibility all this is manageable. If you know her tendencies (leave before she gets too tired, don't put her collar on when other dogs are close, keep her on a short leash while walking by other dogs, etc.) and are willing to work with her she is able to be taken to the dog park and walked. We haven't had any issues in over a year. That said, we now have an 18 month old daughter. At first the dogs were uninterested in the baby. Now that she's 1 and a half and more mobile, it's become an issue. Keely has been getting increasingly uncomfortable around her. We never leave them unsupervised and worked with showing our daughter how to respect the dogs space and not bother them. However, over the weekend she got too close and Keely bit her in the face. Luckily, there was no major damage. She didn't break the skin, but it was still traumatizing. We need to rehome her as we cannot wait for this to happen again or worse. Ideally she'd do best in a home that understands an Aussie's demeanor and tendencies and no children. I would ideally like to find a new home for her by the weekend. Any help would be most appreciated!
If you are interested in helping Keely, please contact Joe (408) 569-9504 (3-6)