With the Courtesy Listings, each dog will have a specific contact person listed for interested parties to contact for more information. Other rescues will have their own adoption requirements some of which may vary from ours. Courtesy Listings for private parties are merely a referral, we make no guarantees on them and are relying on the owner to provide accurate information, it is up to the interested parties to determine if it is the right match for them. We do not help them sell their dog, but we do require that the dog be altered before we will post it to our site so the owner may ask for reimbursement of that cost, if it was done to meet our requirements. Any placement/home requirements for these dogs are up to their owner.
Thunder
"THUNDER" is a neutered red merle male Aussie, about 3 yrs old and in need of a place ASAP.  Animal Control said they have too many dogs - they are allowed 3 and have 4. They got Thunder awhile back from someone else that couldn't keep him.  Owner says Thunder is fine with children (lives with 1, 8 & 9 yr olds), and seems to be okay meeting men, but growls at women - took a long
while for him to get used to the wife, but he did eventually - but meeting new women, he is still skittish and may growl at them (never bitten).  He is housebroken, comes on command, fine with other dogs he lives with (2 Aussies and a Pitt, both sexes), has been to a dog park and mostly ran around and barked a lot, owner said he needs a lot of work, but has been fine with their cats.  Thunder is in the Little Rock/Palmdale area, contact owner Alex @ 818-284-0643.  For more information and pictures, please check his craigslist posting:
Deuce and Rain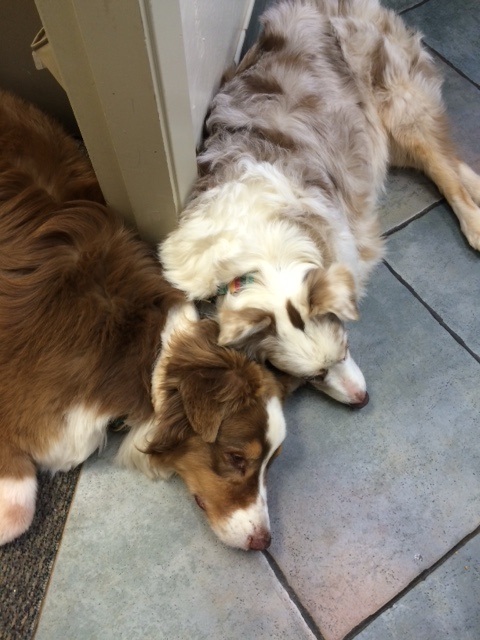 "DEUCE & RAIN" (Per caretaker) Deuce is the red tri. He is 13. He acts like he's 13 but when he gets outside he can run. He takes Deramaxx for his hips once a day. He takes thyroid medication twice daily and the occasional Alprazolam when he gets an anxiety attack. There isn't one thing that brings them on. They just come on for no reason. In the past year, he has only had a few. Since I have been here 2 weeks he has had one last night. He just took himself into the bedroom and stayed in there till it was over and then came out.
Rain is the red Merle. She is 11. She blew her cruciate when she was 4. She has a metal plate in her knee. It looks a little wonky when she sits but doesn't stop her from doing anything. She doesn't like strangers or children. They just make her nervous and she barks. She has never bitten anyone. I highly doubt she ever would. She takes discipline very well and responds well. They stay in the yard and do not attempt to run off. They just want to be with their master at all times. As you can see by the pictures they are VERY sweet and lovable. They are spayed / neutered. If you can help Deuce and Rain, please contact Rhonda at rjourdonnais@att.net (3-5)
Emma
"EMMA" is a sweet 14 year old spayed Black Tri female looking for a new home to spend her retirement. She is good with people and other dogs, Emma weighs 45#, and is in good health except for a little arthritis. For more information e mail  radiobiz08@gmail.com  (North Hollywood) (2-14)
Wade
Please contact owner directly
"WADE" needs a new home. His owners are moving and can't take him with them. His father was an Australian Shepherd and his mom was an Australian Cattle dog. He just turned 1 year in February, is neutered, and well trained for being blind and deaf.
Wade is completely deaf. He can see light but not much else. He is reported to be friendly with people and other dogs. He is a frequent favorite at the dog park and beach! If you can give this sweet boy a good home, please contact Hayley at
Hayleythesnaileyy@gmail.com Wade is in San Diego (3-4)
Keely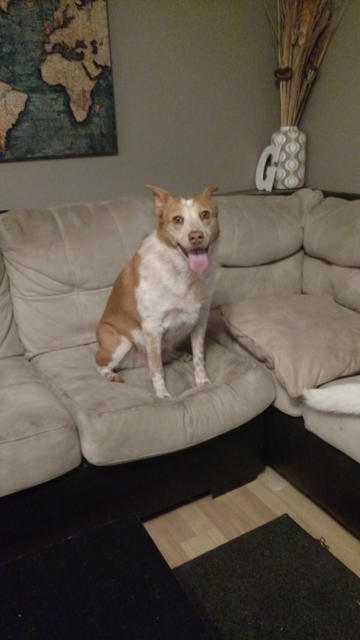 Per owner: I am needing to rehome my Australian Shepherd / Border Collie mix - Keely. She's a sweet smart loving 6 year old, spayed, and up to date on all her shots. She has always been slightly aggressive and anxious around other dogs. We did puppy training and worked with her at the dog park, however she mostly wants to be left alone and keeps to herself and her owner. We have another dog in our house and they've gotten into a few fights over the years mostly over food. However, with proper care and responsibility all this is manageable. If you know her tendencies (leave before she gets too tired, don't put her collar on when other dogs are close, keep her on a short leash while walking by other dogs, etc.) and are willing to work with her she is able to be taken to the dog park and walked. We haven't had any issues in over a year. That said, we now have an 18 month old daughter. At first the dogs were uninterested in the baby. Now that she's 1 and a half and more mobile, it's become an issue. Keely has been getting increasingly uncomfortable around her. We never leave them unsupervised and worked with showing our daughter how to respect the dogs space and not bother them. However, over the weekend she got too close and Keely bit her in the face. Luckily, there was no major damage. She didn't break the skin, but it was still traumatizing. We need to rehome her as we cannot wait for this to happen again or worse. Ideally she'd do best in a home that understands an Aussie's demeanor and tendencies and no children. I would ideally like to find a new home for her by the weekend. Any help would be most appreciated!
If you are interested in helping Keely, please contact Joe (408) 569-9504 (3-6)