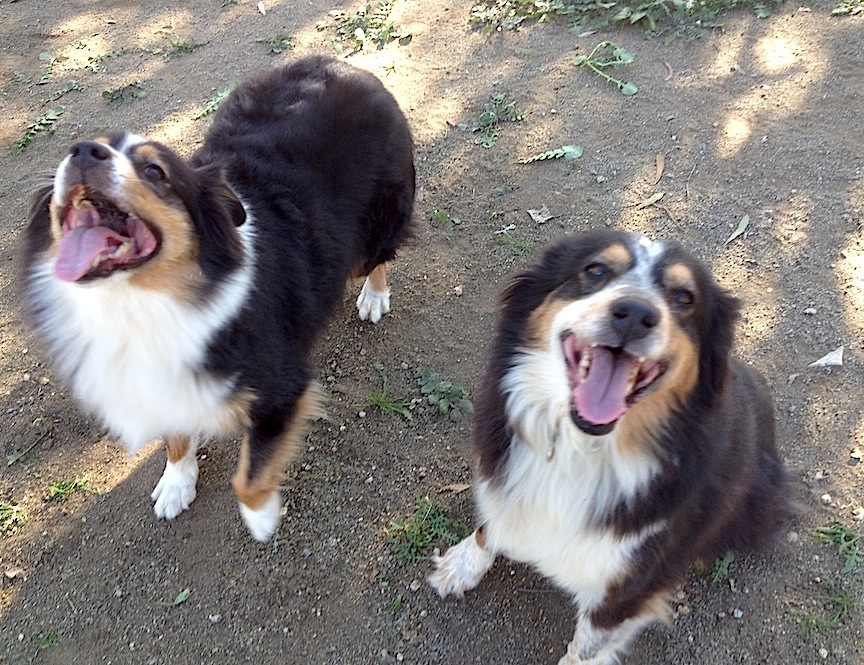 Welcome to Aussie Rescue SoCal's website!
We list Aussies, Aussie mixes, and occasionally other herding breeds, that are looking for a new home. Some are with our rescue, some are Courtesy Listings for other rescues and private parties. We post any we hear of in local shelters on our Facebook page, so please also take a look there and if you know of any we don't have posted up, please let us know via our Contact Us form!
Aussies/mixes with ARSC are brought current with vaccinations, micro chipped and altered prior to adoption, as well as we frequently take in those that need extensive medical care such as orthopedic work from being hit by a car - our adoption fee of $350 does not begin to cover our expenses for all of that, so any donation above that is gratefully accepted and can be considered a tax donation as we are a 501(c)3 non-profit charity. We do have a few volunteer foster homes, but frequently the number of dogs needing help exceed the available foster homes, and some require more training than our foster homes can provide, so some of our dogs are put in boarding situations with local trainers - the bills can add up quickly in saving dogs!
We seldom place dogs in homes with children under 6 if we don't have any previous history of that dog's interaction with young children, and we are very cautious placing them with kids 6-10 yrs old. Aussies are a herding breed, and nipping at heels may sound funny but it isn't when someone gets injured - whether it is an actual contact of teeth on skin or knocking a child over that is on a bike or skateboard. Aussies can be protective of their family and they don't always understand why that group of kids are running and screaming but they do understand their kid is in the middle of it and may need help. And even though many people seem to think every Aussie is fine with children even if they've never been around them, we can tell you for fact that isn't true - we do get calls from owners who's Aussie has bitten their toddler --- not every dog has the temperament to tolerate small kids and it is unrealistic to expect them to.
We do require a completed adoption application to be submitted prior to meeting any of our foster 'kids' - it gives us an idea of what you are looking for and what might fit in your family best - once it is received, one of our volunteers will contact you to go over it with you, and possibly make some recommendations for you to consider, if you don't already have a specific one you are applying for. At that point, if there is a specific dog that you are interested in, your adoption application is forwarded over to the foster home who is caring for that it, and they will contact you to discuss if it may be a good match for you and your family....if all sounds good, references are checked and home checks are done - either in person or virtual - and a Meet & Greet will be set up (please plan on all family members being present, including any canines ones), to give all an opportunity to interact with each other and see if it may be a good match - if all are in agreement that it is, adoption contracts and adoption fees (& pictures!) are done at that point - Congratulations on your new family member!
With the Courtesy Listings, each dog will have a specific contact person listed for interested parties to contact for more information. Other rescues will have their own adoption requirements some of which may vary from ours. Courtesy Listings for private parties are merely a referral, we make no guarantees on them and are relying on the owner to provide accurate information, it is up to the interested parties to determine if it is the right match for them. We do not help them sell their dog, but we do require that the dog be altered before we will post it to our site so the owner may ask for reimbursement of that cost, if it was done to meet our requirements. Any placement/home requirements for these dogs are up to their owner.
Adopting is a big task but a fulfilling one. If you are considering adopting an Aussie, understand they are looking for forever homes. You must understand their temperament as well as individual personality and see if it will fit your lifestyle. You have consider the cost of adopting (adoption fee) and the yearly cost of care (food, supplies, veterinarian care). Where will the Aussie be kept when you are home and away? Is your home safe for an Aussie? Will they get into something that may hurt them or chew on something you may not want them to? Will they get along with your children and other pets?
If you have considered all of the possibilities and feel you will provide a good home, we hope you find your perfect match. There are numerous available Aussies and Aussie mixes in your local area so search around and find that Aussie in need of a forever home.