The dogs listed below are up for adoption through Aussie Rescue SoCal. They may be in foster homes. Follow the specific contact information in the listing if interested in a dog that is listed. If there is no information listed for contact, use our Adoption Application to express interest. Please be sure to put the dogs name your interested in using the appropriate field.
Bo and Teddy
"BO" is a 4 yr old neutered blue merle male Aussie, "TEDDY" is a 3 yr old spayed red tri
female Aussie, they are looking for a new home where they can stay together if possible. It is a divorce situation, and their owner is moving out of state because of it. They currently live with 4 kids under 10 and are fine with them, Bo can be somewhat protective of his kids so be aware that is a natural personality trait of an Aussie. They have been fine with other dogs, no idea on cats, and not been on a leash much. They are housebroken but are primarily outdoors, Bo tends to get restless inside. They are reserved initially with strangers but warm up, very sweet, Teddy can be very snugly once she knows you. Teddy was attacked as a puppy by another dog and it messed up her back leg some, so sometimes she will 'pack it' - not use it - when walking around (does use it when running tho!). Bo just had surgery to be neutered, as well as his front had been injured in the fence, but he is recovering fine. In their current home, both of them will go over a 4 foot chain link fence and dig under a 6 foot chain link fence, but do not get out of the yard that has a wood fence (about 5 foot high), so please be sure your yard is secure if you are interested in this pair. We would appreciate a donation to ARSC if you adopt them, to help cover Bo's surgery costs. If you are interested in this beautiful pair, please fill out our adopt app and we will forward it to their owner: https://www.aussierescuesocal.com/applications/adoption-application/ if you have any questions, you are welcome to email us at: aussierescuesocal@gmail.com (Phelan area)  (8-18)
Nova
"NOVA"
is a 10 month old double merle. Friendly sweet, energetic and intelligent. This little love will follow you anywhere.Good with other dogs. Nova is hearing impaired, but loves life and people. She would like to be in a home preferably with another dog, or as a companion. She would make an amazing hiking buddy and all around good family dog. If you can give this beauty a loving home please reply to: 
dogadopt21@gmail.com
Located Santa Barbara   (8-118)
Laska
Laska is an approximately 1-1.5 yr old spayed female Aussie.  Because she is a double merle, she is deaf and has limited vision, but that does not stop her from enjoying life!  This is what her foster mom says
about her -
Hey y'all! I'm super excited that my little foster is finally going to be ready for a new forever home! She's a doll and has come a long way from the scared pup that would hardly move in more then a circle when I got her from the shelter. This little fishy loves to play in water, go to the farmers market, play dates, is great for the groomer, eager to please and loves to learn new things. She's house broke and crate trained. She's just as comfortable lounging around the house

 
as she is walking the strip. I've taken her to the ranch I work my herding dogs at, around my horse, the flea market, pier, farmers market, pet functions, work with me, doggie play dates, and even out to dinner at our local dog friendly restaurant. She loves it all! Laska does seem to have some allergies that make her eyes tear up, but she gets the "Vet's Best Seasonal Allergy Relief Dog Supplements" and that takes care of it.  If you are interested in this beautiful girl, please fill out our adoption application:  https://www.aussierescuesocal.com/applications/adoption-application/  - if you've already filled one out in the past, just drop me an email:  aussierescuesocal@gmail.com   (Sylmar area)  (8-18)
Little Ricky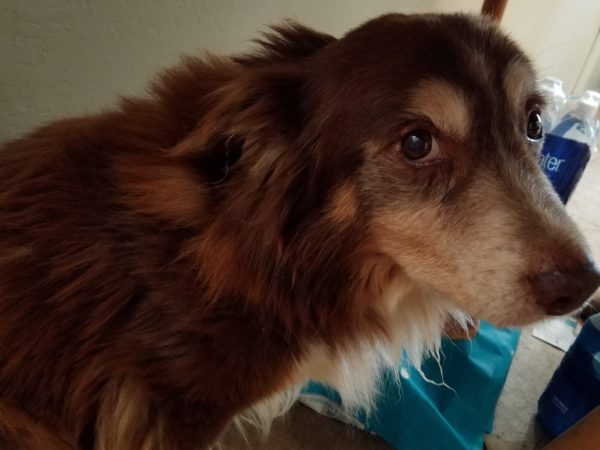 "LITTLE RICKY" is an 8 year old Aussie mix or Aussie with a tail. He is very affectionate and wants to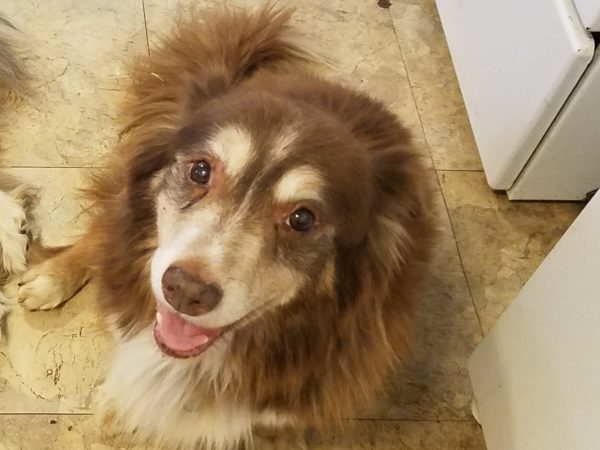 be someone's best friend.He is very good with other dogs and is currently in foster with two other Australian Shepherds. He will chase cats.
He likes to go for walks and rides in the car, and basically wants to go wherever you go.He has had a full medical and has all his vaccines and is neutered. He weighs approx 36 lbs. Please contact Lesley at:  dogadopt21@gmail.com 
Located in Santa Barbara. (8-18)