The dogs listed below are up for adoption through Aussie Rescue SoCal. They may be in foster homes. Follow the specific contact information in the listing if interested in a dog that is listed. If there is no information listed for contact, use our Adoption Application to express interest. Please be sure to put the dogs name your interested in using the appropriate field.
Ash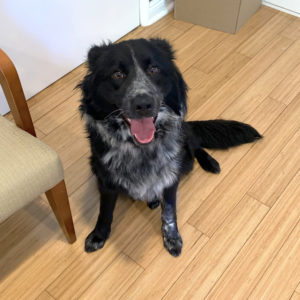 "ASH"
is about 1.5 yrs old, neutered male German Shepherd x Border Collie x Cattle dog mix.  He is housebroken and walks well in leash once he gets his ya-yas out.  He does like to pick up everything he spots on the walk, but working on it and he is getting much better.  From his foster mom: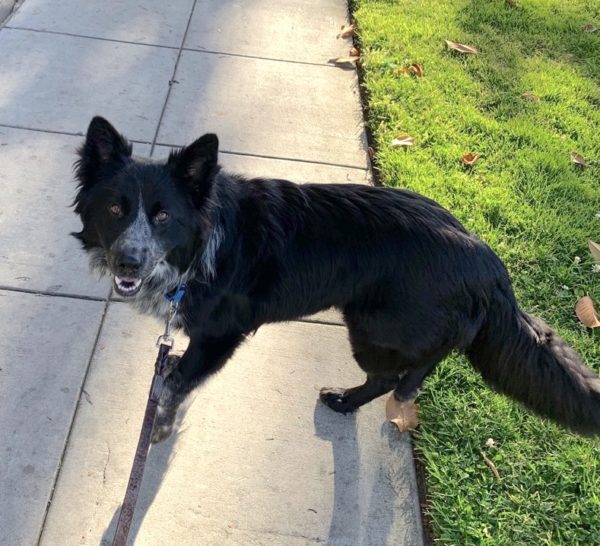 Ash is one of the most loving, cuddliest and happiest guys around. He will snuggle you all day and fall over for a belly rub without question. He is extremely smart, loyal, friendly and active. Very trainable and would be incredible with agility/nose training. Ash is looking for a house that can offer him lots of love, attention and play time. A fenced back yard is a must as he is very high energy and needs space to run around. He loves to fetch, tug-of-war, and all his stuffed animals/squeaky balls. Ash loves his humans immensely and will follow you everywhere you go, even if you just get up to grab some water. He is friendly with people, most dogs and children. That being said, he's not good around hyper or outgoing dogs that try to play/jump especially if they are close to his size. He gets very scared and hides. He does not like the dog park unless it is empty or with a few very calm dogs that keep to themselves. A few things to be aware of: Ash is very high energy but once he gets it out he will sleep for a while until he's ready to play again. If he doesn't get his daily exercise he will find a way to entertain himself in the house by chewing anything that looks fun including your shoes. He is house trained but not crate trained. He sleeps in his own bed as he gets pretty hot on our bed at night. He is also good when left at home alone for an hour or two. He will not be a good fit for a home that is gone/at work most of the day or has young kids.   Ash is a young dog and needs a lot of patience and understanding. As with any young dog, he can be a handful. It takes time to build trust in order for him to listen and follow commands. He gets mouthy but in a gentle way and we are working on it. Ash is one of the sweetest dogs you'll meet. He deserves a home that will give me a ton of love and attention and has experience with high energy herding dogs.  If you are interested in adopting Ash, please fill out our adoption application: 
https://www.aussierescuesocal.com/applications/adoption_v2/
  (Beverly Hills area)
Bolt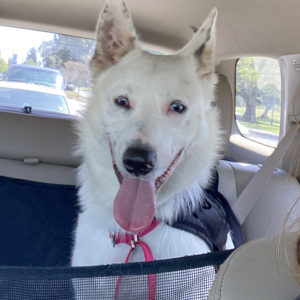 "BOLT" is a one year old Australian Cattle Dog/Border Collie mix.  He was picked up as a stray in Long Beach and given the name "Bolt" at the shelter because he looks just like the Disney character. He has been in foster care about 4 months, and gets along well with his foster sisters, two border collies and a collie mix.  He is sweet, energetic, fast and smart. He loves to play tug, hike and has started agility training. He loves to go to the park and will go say hello to nearly every human there, After a half hour or so of running, he crashes for the rest of the afternoon until it's time for his evening park visit. Needless to say, Bolt needs physical AND mental  stimulation and would do well in a working home with someone who has experience with herding breeds.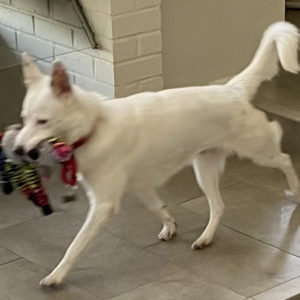 Although Bolt is deaf, he knows hand signals for sit, stay, come, good dog, bad dog, spin right and spin left. He was quite nippy in the beginning, but that has substantially subsided.  He is crate trained and house trained, likes most other dogs, but can become a bit overwhelmed by dogs that are very large or play too rough. He would do well in a household with other dogs of similar size and temperament.  Like many herding dogs, he might not do well with small children. Bolt likes to cuddle and lay next to his human.
He is chipped and neutered.  He had FHO surgery in April, but has recovered to the point that no one would ever guess he had been injured.  Now he is ready for his forever home. 
If you are interested in adopting Bolt, please fill out our adoption application: https://www.aussierescuesocal.com/applications/adoption_v2/   (Long Beach area)
Duke & Duchess
"Duke and Duchess" are a pair of possible Aussie mixes - maybe with Husky…?  Lab…?  we don't know 🤷‍♀️  Duke is a black tri neutered male with 2 blue eyes and a bobbed tail, Duchess is a spayed female, white with red patches, one blue eye and the
other looks like it may not have developed fully.  They are about 18 months to 2 years old, they were relinquished to a rescue because they kept digging out (we got them from the other rescue, so have never talked to the original owners), so a secure fenced yard is a must.  They are very bonded, so please do not ask if we will separate; they are social, both with humans and other dogs, and seem to be kid friendly - but no young kids, they may get knocked over! They are active, alert and playful, have a good start on being housebroken, just really nice fur-kids!   If you are interested in this delightful pair, please fill out our adoption application:  https://www.aussierescuesocal.com/applications/adoption_v2/  (Palmdale area)
Cleo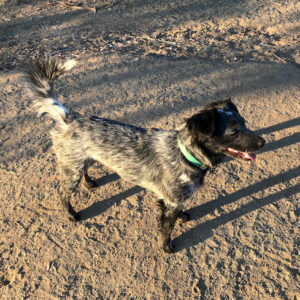 "CLEO"
  is an adorable 1 yr old spayed female Cattle Dog mix, weighing in at 25
pounds.  Cleo is on Keppra (roughly every 8 hours - she takes it eagerly with peanut butter 😊) for seizures, and in the 8 months she has been in our rescue she has had one when some of her doses of keppra were missed.  We've had a complete work-up done at the veterinarian when we first got her, then another pre-op panel done just before she was spayed - all looks good!  She is a very happy energetic girl, friendly towards people and other dogs, even sometimes being very submissive and rolling on her back.  She can be okay with cats that are not afraid of dogs and stand their ground, but if they hiss and run, she's after them!  She has been fine with kids but with her previous history of seizures, we do not want to place her in a home that has a high traffic/chaotic pattern to it, she gets wound up easy enough as it is - if it runs, CHASE IT is her motto!   She is housebroken and rides well in the car, enjoys walks/hikes.  She does have the Cattle Dog sharp shrill bark for attention and when she is really wound up - because of that, absolutely NO apartments, townhomes, or condos - house with plenty of room and a large fenced yard is a must.  Cleo definitely needs a home where someone is home most of the day, and we recommend having a second playful dog in the house to keep her occupied and tired - she is a high energy girl and does much better when she gets PLENTY of exercise both physically and mentally - continued training is a must with Cleo, she is still an adolescent  and has a bit to go before can be consider an adult.  She enjoys learning tricks and playing games, she is a busy girl and needs a home that can understand that and will work with her.  So far, she does not resource guard anything here, is quick to back off if another dogs claims something, but she does play like a Cattle Dog - run, chase and slam is her classic style, may try to nip at another dog in a 'drive by' style of play, but has not nipped at people at all - however if she followed any closer she would be wearing my shoes.  If you are interested in this cutie and understand what Cattle Dogs need, please fill out our adoption application: 
https://www.aussierescuesocal.com/applications/adoption_v2/
  - if we have your adopt app on file, just drop us an email: aussierescuesocal@gmail.com   (Perris area)
Cookie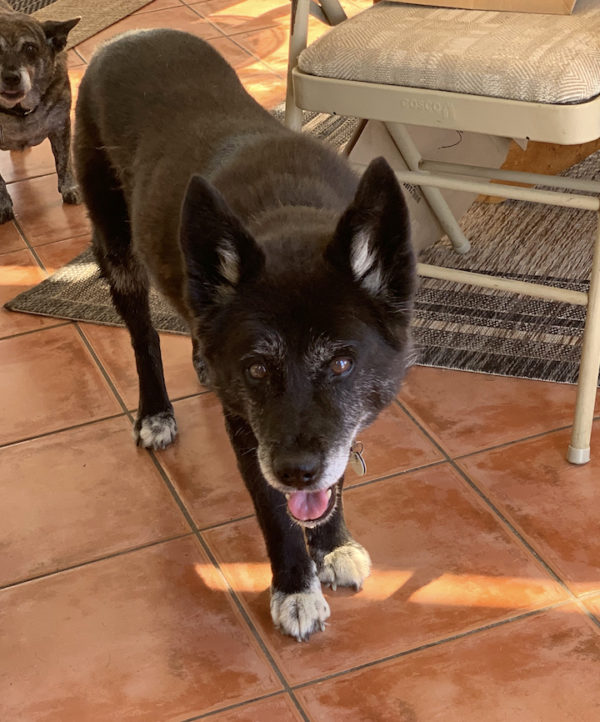 Cookie is with ARSC, we have posted videos and pictures of this spunky girl previously, shortly after bailing her from the shelter - she is now ready for adoption!
"This is Cookie, at 16 years young an old lady with a lot of spring in her step! Our best guess is that she is a border collie mix. She certainly has the intelligence and energy level of the breed although she's also capable of a lot of mellow sleeping since she is a senior.
Cookie is easy to have around the house. She gets along fine with other dogs and cats in the home. She will bark at strangers but is friendly once she knows everyone is safe. I would not trust her around young children because she can be a little reactive to certain kinds of physical contact.
Cookie loves to go for walks. Truly loves it! The one challenge is that when she sees other dogs while she is out she gets very stimulated and will sort of fling herself at their faces. So she needs a strong hand on walks. She's also pretty nearly deaf so she needs to be on leash.
This is a girl with a lot of life in her even at her age for someone willing to meet her needs.
"