The dogs listed below are up for adoption through Aussie Rescue SoCal. They may be in foster homes. Follow the specific contact information in the listing if interested in a dog that is listed. If there is no information listed for contact, use our Adoption Application to express interest. Please be sure to put the dogs name your interested in using the appropriate field.
Summer
"Summer" is a 9-year-old purebred miniature Australian Shepherd. She came to ARSC from a private home that could no longer keep her. Summer wants to be your best friend, your shadow, your constant companion.
Summer is a velcro dog with a medium energy level. She loves to show her excitement for walks and love. She is the perfect dog to take out on a long walk or also rest with you for hours. She doesn't care as long as she is next to you all the time! That being said, she does get anxious when her person leaves the house. Since she does get sad when home alone, she would do best with someone who works from home, is retired, or is able to take her places.
Summer loves to be a couch potato, or go for a walk or a hike. She does alright walking on leash but she is a little reactive when seeing another dog, person or squirrels. On walks, she tends to bark once or twice at most people passing by, but more so with older men. If we catch people or dogs early, we have her sit down and feed her treats to redirect her from barking which works a lot better. Summer takes time to warm up to anyone she meets, but takes a little longer to do so with men, especially during greetings. She will definitely need an experienced owner who will be patient with her as she has a bit of leash reactivity to people and other dogs. However, once she meets a calm polite dog, she will be able to coexist with them in the same area. She is not reactive at all towards kids and she grew up with cats so she is always curious to see them on walks!
Summer is house trained, loves her toys and would love to travel with you wherever you want to go. She doesn't do well in a crate and prefers to sleep on the bed, couch, or anything soft. She would do best in a home with less distractions as she will growl and bark softly indoors when someone walks by outside. She definitely needs some space from men at the beginning to warm up to them. When she is given space indoors, she will sniff them and be more comfortable approaching and receiving pets.
Summer is so special and we hope that these pictures capture her personality! She does require some work, but it has been so rewarding to see her improvement and get more comfortable with her foster home throughout the past few months. If you're looking for your next partner in crime, Summer is your girl! (Long Beach area)
If you are interested in Summer, please fill out our adoption application: https://www.aussierescuesocal.com/applications/adoption_v2/
Rune
Rune Update!Black with white chest. Husky (cattle dog??) mix, approximately 2-3 years old. Shy but more outgoing and interested in people then Charm. Might benefit well from being separated from her sister as she runs back to Charm to comfort her. LOVES her care takers, loves to be rubbed on as be your "shadow." Really needs someone that can give her the 1 on 1 time she needs to gain confidence. Does best with a routine, loves to give kisses and to lay around with you. She will need an enclosed yard ask she tends to run to her safe place (dog house or human) for comfort but then pops her head right back out to see what happening. Super curious, super willing to learn, very well balanced.
Rune (old information) Appears to be Husky/Cattle Dog mix. About 5 years old, 4 of which have been in the kennel situation. They are both somewhat shy/cautious of strangers,  and they are sweet and happy with the kennel workers. They are a fence jumper and must be kept leashed when they are out of their kennel run that has a top on it. They have little to no tr
aining other than a bit of leash work. (Palmdale area)
Please fill out our Adoption Application if you are interested in these girls : https://www.aussierescuesocal.com/applications/adoption_v2/
Duchess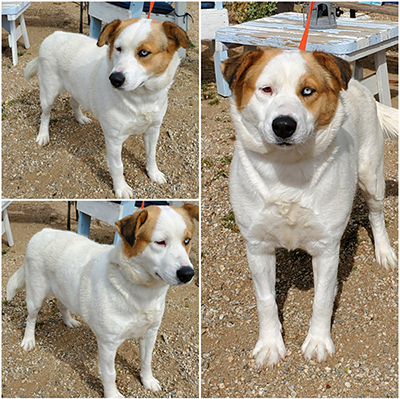 Duchess Update!
White and tan with one blue eye and one brown eye. Approximately 3-4 years old. Husky/cattle dog/Aussie mix. Like her brother she is super sweet and loving but tends to be on the milder energy side. Loves to play but transitions from play to love with ease. Takes correction very well, usually you don't need to tell her twice. Good with kids, but unknown around smaller children. NO CATS! House broken, walks well on a leash, lovable in your lap type girl. She could use a basic obedience refresher, loves to run but is rusty on her recall. Loves to play with her brother Duke, they are rough and loud players, very vocal, but love each other dearly. Duchess is the type of dog that would love to run or hike but would lay on the couch or road trip with you with no problems.
"Duchess" (old information) is a spayed female, white with red patches and two different colored eyes.  She is a possible Aussie mix - maybe with Husky…?  Lab…?  we don't know. She was relinquished to a rescue because she kept digging out (we got her from the other rescue, so have never talked to the original owners), so a secure fenced yard is a must.  She is social, but on the shyer side with humans, should be an only dog, and seems to be kid friendly - but no young kids, they may get knocked over! She is active, alert and playful, has a good start on being housebroken, just a really nice fur-kid! (Palmdale area)
If you are interested in her, please fill out our adoption application: https://www.aussierescuesocal.com/applications/adoption_v2/
Duke
Duke Update! He's a kennel favorite. Black Tri with 2 blue eyes. Approximately 3-4 years old. Husky/cattle dog/Aussie mix. SOOO smart, super sweet and loving. High energy, well mannered, loves to cuddle but isn't quite aware of his size. Might be good with older kids, as he tends to jump when he gets excited but listens well when corrected.  Needs a basic obedience refresher but walks well on a leash and is potty trained. Loves to rough house, loves playing with his sister Duchess thought they get pretty vocal in their playing.
Duke would do best with a large fenced yard, high activity family, or with a job. He's too smart for his own good as he can open most basic gates and doors.
Wants to be with his people more then on his own.
"Duke" (old information) is a possible Aussie mix - maybe with Husky…?  Lab…?  we don't know. Duke is a black tri neutered male with 2 blue eyes and a bobbed tail, he is about 3 years old. He was relinquished to a rescue because he kept digging out (we got him from the other rescue, so have never talked to the original owners), so a secure fenced yard is a must.  He is social, both with humans and other dogs, and seems to be kid friendly - but no young kids, they may get knocked over! He is active, alert and playful, has a good start on being housebroken, just a really nice fur-kid! (Palmdale area)
If you are interested in him, please fill out our adoption application:  https://www.aussierescuesocal.com/applications/adoption_v2/
Bolt
"BOLT" is a deaf one and a half year old Australian Cattle Dog/Border Collie mix.  He was picked up as a stray in Long Beach and given the name "Bolt" at the shelter because of his uncanny resemblance to  the Disney character.  He is sweet, but like all young herding dogs he needs a lot of consistent physical and mental activity.  He has lots of energy and loves to learn.  Typically we go to the park twice a day where he plays fetch and plays with other dogs.  In between park sessions, we have training a short training session or two plus I give him toys to play with to help him focus and drain his mental energy — things like peanut butter-stuffed Kong, treats hidden in a paper bag that is hidden inside a cardboard box and treat dispensing toys.  He loves to play tug, hike and has started agility training. Bolt would do well in a working home with someone who has experience with herding breeds and if the new owner has another young dog about the same size and energy level, that would be a bonus.
Although Bolt is deaf, he knows hand signals for sit, stay, come, down, good dog, bad dog, spin right and spin left, wave, shake, high five, etc. and is always eager to learn more.  Typical of herding dogs, he was quite nippy in the beginning,  but that has substantially subsided.  He is crate trained and house trained and loves to ride in the car. Once he's tired out,  Bolt likes to cuddle and lay next to his human.
He is chipped and neutered.  He had FHO surgery in April, but has recovered to the point that no one would guess he had ever been injured.  Now he is ready for his forever human — someone who is active and enjoys training and working with dogs.  An agility home would be ideal!  (Long Beach area)
If you are interested in Bolt, please fill out our adoption application:  https://www.aussierescuesocal.com/applications/adoption_v2/