The dogs listed below are up for adoption through Aussie Rescue SoCal. They may be in foster homes. Follow the specific contact information in the listing if interested in a dog that is listed. If there is no information listed for contact, use our Adoption Application to express interest. Please be sure to put the dogs name your interested in using the appropriate field.
Lola
"LOLA" is a 4 year old spayed female Aussie who has limited hearing (noticeable) and possibly some sight issues (not readily apparent).  She is housebroken, crate trained, ball OBSESSED, and can walk well on a leash.  She is UTD on shots and microchipped.
While Lola is generally friendly with most people, she does have strong protective instincts.  Those instincts manifest themselves mostly in loud aggressive barking if she feels there is a threat. Too much activity in the home, people coming and going, things of that nature can cause an increase in her protectiveness when she gets startled due to her lack of sensory abilities.
She is currently being fostered in a home with an 11 year old girl and no other pets. A house with children would not be the best placement for Lola, due to their activity level and the amount of traffic they bring to a house.
Lola would do best in a home or foster that is looking for a SMART dog to do things with.  Lola would be an excellent trick dog, nose work dog, obedience, rally, or even agility dog.  She is ball obsessed, treat and toy motivated, and plays tug.
I cannot stress how smart this dog is.  She is not a couch potato.  Smart dogs have a tendency to think of creative ways to get their way, so Lola needs an owner willing to keep her mentally and physically active.  If you are interested in Ms Lola, please fill out our adoption application:
https://www.aussierescuesocal.com/applications/adoption_v2/
  -if we have your app on file already, please email aussierescuesocal@gmail.com (Ventura area)
Cookie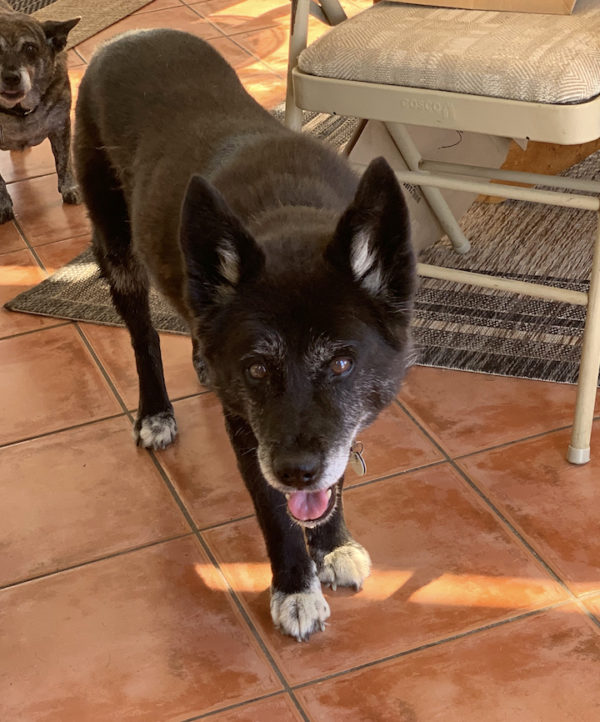 Cookie is with ARSC, we have posted videos and pictures of this spunky girl previously, shortly after bailing her from the shelter - she is now ready for adoption!
"This is Cookie, at 16 years young an old lady with a lot of spring in her step! Our best guess is that she is a border collie mix. She certainly has the intelligence and energy level of the breed although she's also capable of a lot of mellow sleeping since she is a senior.
Cookie is easy to have around the house. She gets along fine with other dogs and cats in the home. She will bark at strangers but is friendly once she knows everyone is safe. I would not trust her around young children because she can be a little reactive to certain kinds of physical contact.
Cookie loves to go for walks. Truly loves it! The one challenge is that when she sees other dogs while she is out she gets very stimulated and will sort of fling herself at their faces. So she needs a strong hand on walks. She's also pretty nearly deaf so she needs to be on leash.
This is a girl with a lot of life in her even at her age for someone willing to meet her needs.
"