The dogs listed below are up for adoption through Aussie Rescue SoCal. They may be in foster homes. Follow the specific contact information in the listing if interested in a dog that is listed. If there is no information listed for contact, use our Adoption Application to express interest. Please be sure to put the dogs name your interested in using the appropriate field.
Cookie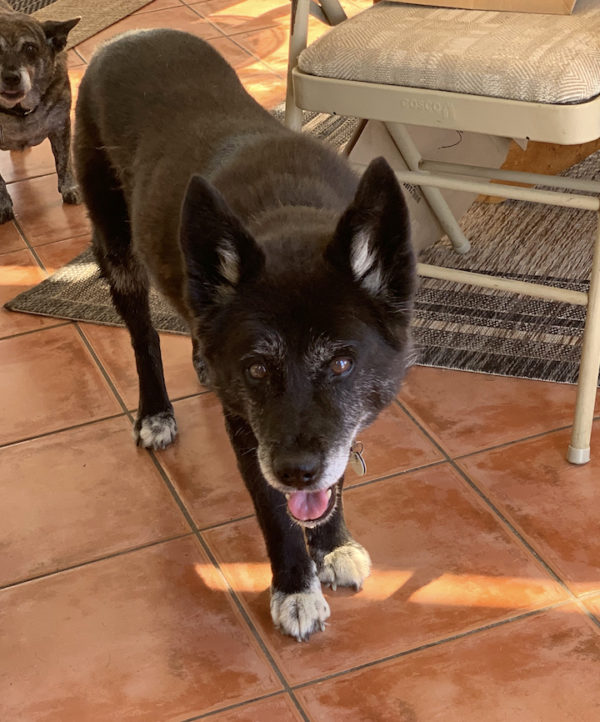 Cookie is with ARSC, we have posted videos and pictures of this spunky girl previously, shortly after bailing her from the shelter - she is now ready for adoption!
"This is Cookie, at 16 years young an old lady with a lot of spring in her step! Our best guess is that she is a border collie mix. She certainly has the intelligence and energy level of the breed although she's also capable of a lot of mellow sleeping since she is a senior.
Cookie is easy to have around the house. She gets along fine with other dogs and cats in the home. She will bark at strangers but is friendly once she knows everyone is safe. I would not trust her around young children because she can be a little reactive to certain kinds of physical contact.
Cookie loves to go for walks. Truly loves it! The one challenge is that when she sees other dogs while she is out she gets very stimulated and will sort of fling herself at their faces. So she needs a strong hand on walks. She's also pretty nearly deaf so she needs to be on leash.
This is a girl with a lot of life in her even at her age for someone willing to meet her needs.
"