The dogs listed below are up for adoption through Aussie Rescue SoCal. They may be in foster homes. Follow the specific contact information in the listing if interested in a dog that is listed. If there is no information listed for contact, use our Adoption Application to express interest. Please be sure to put the dogs name your interested in using the appropriate field.
Duke & Duchess
"Duke and Duchess" are a pair of possible Aussie mixes - maybe with Husky…?  Lab…?  we don't know 🤷‍♀️  Duke is a black tri neutered male with 2 blue eyes and a bobbed tail, Duchess is a spayed female, white with red patches, one blue eye and the
other looks like it may not have developed fully.  They are about 18 months to 2 years old, they were relinquished to a rescue because they kept digging out (we got them from the other rescue, so have never talked to the original owners), so a secure fenced yard is a must.  They are very bonded, so please do not ask if we will separate; they are social, both with humans and other dogs, and seem to be kid friendly - but no young kids, they may get knocked over! They are active, alert and playful, have a good start on being housebroken, just really nice fur-kids!   If you are interested in this delightful pair, please fill out our adoption application:  https://www.aussierescuesocal.com/applications/adoption_v2/  (Palmdale area)
Cleo
"CLEO"
 is an adorable 1 yr old spayed female Aussie x Cattle Dog mix, weighing in at 25 pounds.  Cleo is on K
eppra for seizures, and in the 4 months she has been in our rescue she has not had any.  We've had a complete work-up done at the veterinarian when we first got her, then another pre-op panel done just before she was spayed - all looks good!  She is a very happy energetic girl, incredibly friendly towards all human and canines she has meet so far, even sometimes being very submissive and rolling on her back.  She can be okay with some cats, others she gets a 'laser focus' on, can't predict which it will be 🤷‍♀️  She has been fine with kids but with her previous history of seizures, we do not want to place her in a home that has a high traffic/chaotic pattern to it, she gets wound up easy enough as it is!   She is housebroken and rides well in the car, sometimes get distracted on walks and can get very vocal around other dogs and people that  pass, but a quick reminder and she gets back on track.  When she first came into our rescue, she had a Big barking problem with a sharp, shrill bark for attention and occasional tantrums, but with work she has gotten MUCH better - because of that, absolutely NO apartments, townhomes, or condos - house with plenty of room and a large fenced yard is a must.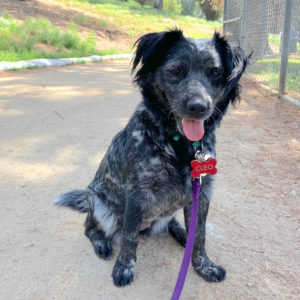 Cleo definitely needs someone who is home most of the day, she tends toward some separation anxiety, and we 
recommend having a second dog in the house to keep her occupied - she is a high energy girl and does much better when she gets PLENTY of exercise both physically and mentally - continued training is a must with Cleo, with only being a year old, she is still in her teens and has a bit to go before can be consider an adult.  She is highly food motivated and enjoys learning tricks and playing games, she is a busy girl and needs a home that can understand that and will work with her.  If you are interested in this cutie and you can commit to continue training with her, please fill out our adoption application: https://www.aussierescuesocal.com/applications/adoption_v2/  - if we have your adopt app on file, just drop us an email: aussierescuesocal@gmail.com   (LA area)
Oreo
This handsome fellow is Oreo, a 7-ish year old neutered male border collie mix (probably with lab), recently transferred from Santa Barbara County Animal Services. He came in as a stray and clearly had been neglected; he had extensive hair loss from untreated flea allergies, and his teeth are very worn down (probably from chewing those itchy flea bites!). But this neglect hasn't affected Oreo's sunny disposition: he is a friendly, affectionate, well mannered boy, eager to please and plenty of energy!  He loves other dogs and has a healthy fear of cats. He's underweight and a bit out of shape, but easily able to jump into the back of an SUV, so he should be able to go on long walks (in fact, he might need them to burn off his border collie energy). He crates well, rides politely in the car, and is overall a civilized boy ready to be someone's loving companion!
Oreo's coat is still a work in progress as his hair grows back, but he just had his dental and he's a dog in search of a loving family. Will that be yours?
Angel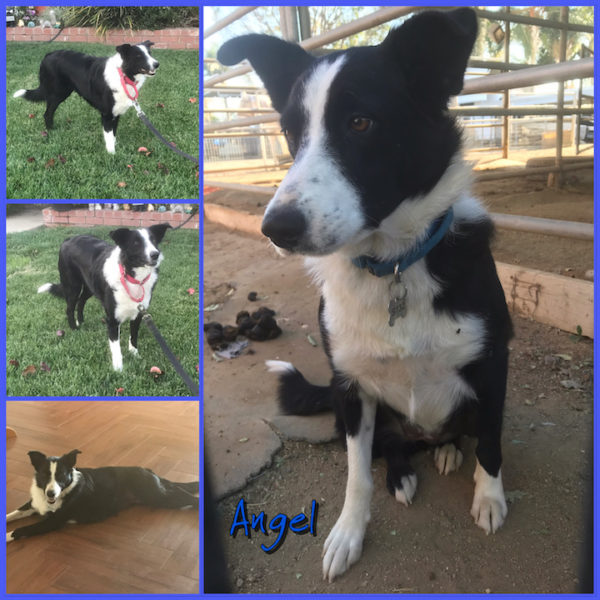 "ANGEL" is an approximately 2 year old spayed female medium coat Border Collie. She was bailed out of the shelter and came to live with her foster parents as she was deemed "rescue only"  because she had some medical issues at the time that were quickly resolved.  When Angel was at the vet to get spayed it was noticed that she had some mild limping and it was soon discovered that she had a bad hip and required surgery. It is best guessed that she suffered injury as a puppy and developed some issues with her hip joint. The rescue had a FHO (femoral head osteotomy) performed . Angel has recovered very nicely from her surgery and most times you can't tell she ever had a problem.  Although Angel is doing well and is active and does love to run and play, her activity level is not the same. She is not a candidate for agility or herding, or even frisbee, as this kind of strenuous activity could maybe cause more issues later.
Angel (so named because her ears would stand up like an Angels wings) is a very sweet and affectionate dog. She loves to be by your side and have you pet her. She seems to love all people and children. She is leashed trained but does require some more training.  She is also housebroken, and crate trained (night only).  However, Angel is a true Border Collie in that she does love to run and play but cannot be allowed to overdo it.  She does well with her foster siblings. We are not sure how Angel is with cats, but she does love to herd other small animals so its probably not a good idea.
Angel requires a herding dog savvy home with someone who can spend a lot of time with her, and she does need a yard - No apartments or townhomes.
Cookie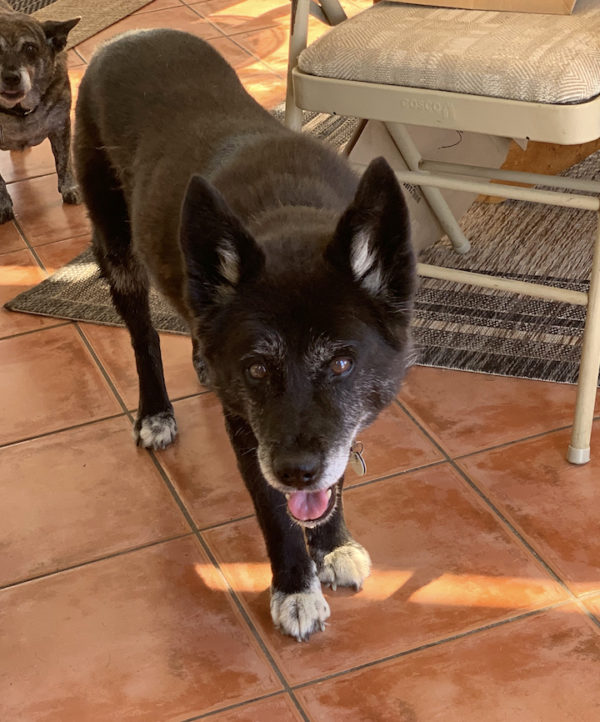 Cookie is with ARSC, we have posted videos and pictures of this spunky girl previously, shortly after bailing her from the shelter - she is now ready for adoption!
"This is Cookie, at 16 years young an old lady with a lot of spring in her step! Our best guess is that she is a border collie mix. She certainly has the intelligence and energy level of the breed although she's also capable of a lot of mellow sleeping since she is a senior.
Cookie is easy to have around the house. She gets along fine with other dogs and cats in the home. She will bark at strangers but is friendly once she knows everyone is safe. I would not trust her around young children because she can be a little reactive to certain kinds of physical contact.
Cookie loves to go for walks. Truly loves it! The one challenge is that when she sees other dogs while she is out she gets very stimulated and will sort of fling herself at their faces. So she needs a strong hand on walks. She's also pretty nearly deaf so she needs to be on leash.
This is a girl with a lot of life in her even at her age for someone willing to meet her needs.
"