With the Courtesy Listings, each dog will have a specific contact person listed for interested parties to contact for more information. Other rescues will have their own adoption requirements some of which may vary from ours. Courtesy Listings for private parties are merely a referral, we make no guarantees on them and are relying on the owner to provide accurate information, it is up to the interested parties to determine if it is the right match for them. We do not help them sell their dog, but we do require that the dog be altered before we will post it to our site so the owner may ask for reimbursement of that cost, if it was done to meet our requirements. Any placement/home requirements for these dogs are up to their owner.
Monk
"MONK" is a 6 year old, 70-75 lb. Aussie x Shepherd mix. He is housebroken and well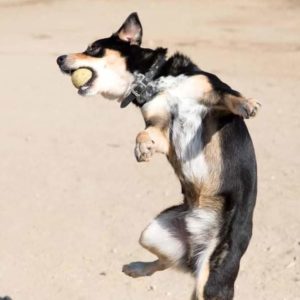 behaved in the house, has a medium energy level, enjoys playing fetch and just being with his people. He is a very lovable, but somewhat anxious dog with abandonment issues - by that I mean that he tends to follow his person around the house because he doesn't want to get left behind. Because of this, we generally limit his alone time to 4-6 hours if we have to be away. Monk also is easily startled and barks at whatever startles him. That could be people coming to the home and knocking on the door to someone in another part of the home getting up to go to the bathroom in the middle of the night.  The current solution to his barking at people coming to the house is to open the door or take him out to meet them before they reach the door.   Monk has not shown any aggression to people (as long as you don't count barking), and he does go to doggie day care regularly and does very well, but we do feel he would do best as an only dog in the home as he wants all the attention.  He will pull on his leash to get to other dogs when walking because he wants to meet them.  No idea on cats.  Monk previous owner took very good care of him, but sadly she passed away and we are not able to keep him permanently.  He is up to date on all his vaccinations, and he even has a micro-chip tracker. We've never had to use the tracker because he will always come when called (unless of course he is chasing something). Again, he doesn't want to be left behind.  Monk has not lived with children but he has been around our toddler grandchild and has been fine - he may knock them over because of his size though.  The ideal home would be a single person or couple that sleeps together and would be willing to let Monk sleep in the same room. That way he doesn't get startled by someone in another part of the home at night.  Also, a retired person, someone who works from home, or a couple would be better so Monk wouldn't be left alone for 8-9 hours a day.   If you are interested in giving Monk a loving home, please fill out our adoption application and we will forward it to his current caretakers:  https://www.aussierescuesocal.com/applications/adoption_v2/  - if we have your adopt app already, just drop us an email: aussierescuesocal@gmail.com  (Westminster area)
Bella
This is Isabella - Bella for short. Bella was rescued from a high kill shelter so her exact breed is unknown. Bella is roughly 9-10 years old and weighs 48 pounds. Bella has an adorable spot-eyed marking and always gives a big smile, and very soft fur. She is smart, loyal, playful, and truly happy just being by your side.  She is looking for a home with pawrents who can give her routine and structure. Bella knows sit, stay, down, shake, spin, paw, go to your mat, treat-from-the-sky, speak, whisper, drop it, leave it, and wait.  She is house trained as well but prone to small accidents if not taken out often or in a stressful situation. Bella is good withadults but does not appreciate the energy and swift movements or noises of children. She needs a home without kids, which is why she is looking for a new home. She would do best in a single dog home, but has spent most of her life with another dog. She grew up with cats as well but has not been around them for most of her adult life.  She generally prefers to play ball, tug, or toss with toys and has not been very playful with other dogs she lived with. Bella is great on the leash and doesn't pull, but can be vocally reactive if she sees other dogs. She is looking for a new home that has a yard where she can play, lay in the grass away from major distractions, and play ball as you enjoy your morning coffee. Bella does fine in the car for long car rides, generally preferring a dog bed to lay on in the back. She will happily take baths, doesn't mind the hair dryer, and goes to the groomers who are patient with her.  She is very loyal and would love to sit by your side as you prepare food, garden, do laundry, or will happily lay at your feet when you are at your desk.  She is not a huge fan of sneezing, loud or sharp noises, and fireworks. She's very smart and quick to learn new tricks or words. Food time is her favorite and she will spin or will get excited tippy-toes when you are dishing out her kibble. Bella's ideal home is one or two people who are active in her routine and structure, can be a good leader for her, and are experienced with nipping herders.  She would prefer a more quiet neighborhood or rural setting.  She sleeps indoors and prefers to be curled up on the couch or near you. She is spayed, microchipped, and up to date on vaccines.  She has a completely healed leg injury from 2019 and is on anxiety medication for stressful events as needed.  She loves a good chew, squeaky toys are a 2nd favorite to balls, and whipped cream may be her favorite treat. She is located in Orange County, CA.  If you are interested in Bella, please fill out our adoption application and we will forward it over to her owners:  https://www.aussierescuesocal.com/applications/adoption_v2/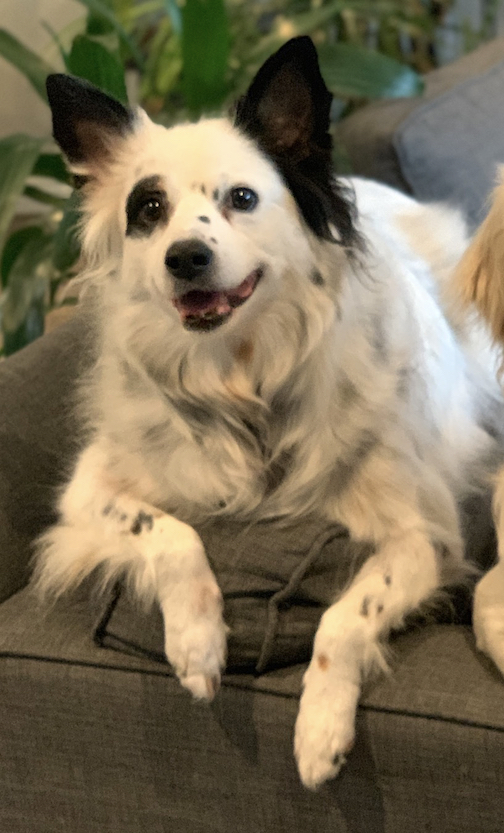 Jack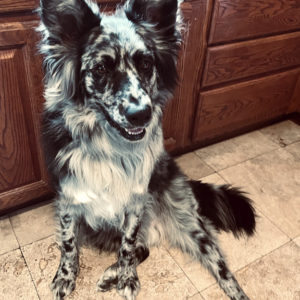 "
JACK"
is the most loving and sincere 2yr old Aussie shepherd / German shepherd mix ever. Despite his heart, he's had a bit of a rough go and is in need of the right foster and eventually forever home to help him thrive. 
We've been working with Jack for two years and have gotten to know him very well. His personality is as complicated as his gorgeous coat. 
The great!
Jack: 
• Is the most loving animal on earth
• LOVES his humans
• is a velcro dog
• Has incredible recall
• is a stellar athlete (can clear a 10ft wall)
• is housebroken
• Is crate trained
• Is wonderful in the house
• Is well trained in basic obedience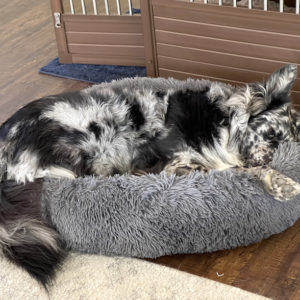 The challenging…
Jack:

• has extreme prey drive
• can have extreme leash reactivity to dogs and humans
• is a high anxiety dog
• requires a rigorous, constant and specific structure to thrive
• is an aspiring alpha who will take any opportunity to climb - with humans, with dogs etc.
• Requires hours of daily exercise, hours of crate time, a rigid schedule and very specific walking technique
• is a job, but is WONDERfUL if you're up for it ❤️
With all of that in mind - We've seen how Jack thrives when given the proper structure and attention. Each of these issues can be mitigated by the right approach if applied with consistency. He does much better as part of a pack. He can be walked normally when handled correctly and properly exercised etc. 
Unfortunately, despite our best and continued efforts it's become clear that Jack is much better suited for an environment outside of our home. He's too smart and loving to not have a chance to thrive. 
Jack has been trained by the best including:

• @BlueManDog
• Topanga Pet Resort
• Many independent behaviorists
• @HumbleK9
Many of these trainers are huge fans of Jack and are willing to relay his exact needs in detail and work with his new owner or Foster to ensure his success.
We love Jack very much and want to see him happy and loved in a place that's better suited to his needs - the rewards of his companionship are worth the effort - he's the smooshiest.
Pheona
Pheona is still with her owners -
Miniature Aussie and Collie Mix
Birthdate is April 14th, 2019
Pheona is an amazing little girl. When I adopted Pheona she was about 4 months old and the only surviving pup of her litter. I had suspicions that she was the result of inbreeding and that we would face a few trials together. Pheona is a 2 year old Miniature Australian Shepard mix. She's full of personality and loves to snuggle. She is house broken, but may "forget" at times when she gets upset. She is an inside dog that uses a dog door, so she currently has free range of the house and backyard. Pheona is extremely loyal to her person. Once a bond is formed she is a constant shadow. She does pretty well on a leash, and I've never had her try to run when the opportunity would allow. She does great with other dogs her size once she is familiar with them, but would love your attention all to herself.
Pheona has been spoiled from day one as "the baby" of the family. She currently sleeps on our bed, or under our bed. Not only does she love snuggles, but she needs them. Pheona is very affectionate and needs someone who can give her the time and affection she thrives on. Since adopting Pheona about 2 years ago she has been diagnosed with severe hip dysplasia, and she battles chronic bladder infections, and UTIs. Despite her struggles, she still maintains her puppy spirit. However, due to her needs she will need someone who has financial means to keep up on her care. She has just recently had her first hip surgery on her left hip, and is doing great. Eventually she will need to have the same surgery preformed on her right hip. Because Pheona has had her hip dysplasia from birth, she has dealt with pain her whole life. Unfortunately this makes her nervous around young children who tend to be unintentionally rough when interacting with her. She would do best in a home without children. 
Pheona loves playing fetch. She will hoard all the tennis balls she can find. She loves physical affection, such as belly rubs, scratching, face strokes and snuggling on the couch or in bed. She loves food. Her food, your food, treats; She'll eat just about anything. She loves puddles, rain and snow, but doesn't care for baths. Pheona is not a fan of any type of grooming. She will put up a struggle. Food is a good distraction 😉 She hates being left alone. Chewing can occur if she is left without her person for too long. She is crate trained, but naturally prefers free range. Pheona also loves to talk. She will do kind of a groan/howl combination to get attention, and she loves to bark when playing or excited.
Pheona means a lot to me, and my hope is she can find a home where she is loved and spoiled just as much as she is with me. I would love to let Pheona live out her many years with me, but unfortunately financial circumstances and family dynamics have changed, and I am no longer able to provide the care and attention she needs.
If you feel you are the right home for Pheona please fill out our adoption application and we will forward it to her owners:  
https://www.aussierescuesocal.com/applications/adoption_v2/
  -if we have your adopt app already, just drop us an
email:
aussierescuesocal@gmail.com
Tiger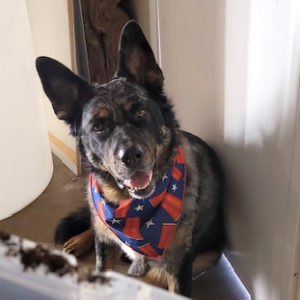 "TIGER" is a 4 yr old neutered male Aussie x German Shepherd weighing about 90 pounds.  His current owner is having to move into a smaller place due to finances and between the new place does not allow pets of his size and that Tiger gets very stressed due to lack of activity and needs a bigger space, she is trying to find him a new home that will be able to give him what he needs.  He may be a little reserved/nervous with meeting strangers at first, but he warms up and is very friendly and can even get hyper for attention.  He does know basic commands and enjoys walks, is an endless ball retriever, is housebroken and well behaved in the house.  He does not live with any children but has been around relatives' kids (6 & up) and has done well, but has a tendency to 'hover' and watch over them, so may end up being overly protective of them, hard to say for sure.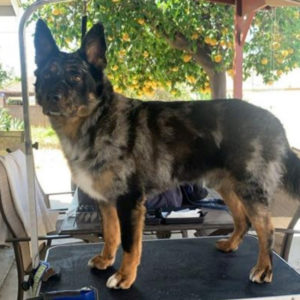 Owner says he is good with other dogs but nervous/anxious around cats.  He enjoys car rides and getting attention, running and exploring 😊  If you are interested in Tiger, please fill out our adoption application and we will forward it to his owner:  https://www.aussierescuesocal.com/applications/adoption_v2/   (Sylmar area)
Jett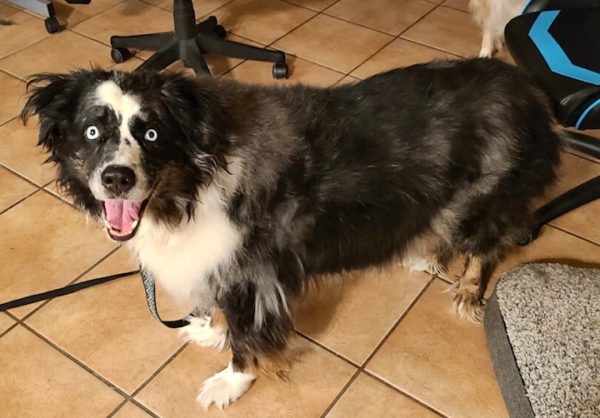 "JETT" is a 8 yr old neutered male Aussie, weighing 60 pounds.   He is in need of a new home ASAP  as his 'dad' was in a severe car accident and will finally be coming home but will require a lot of care and physical therapy for the foreseeable future….the problem is that Jett is very nervous and anxious with strangers coming into his home and his dad is in no shape to reassure him, etc.  Jett gets very excitable and bouncy and his owner just cannot handle that at this time.  He does better meeting women than men and is not comfortable with children, and he does need to be the only pet in the household….all that being said, he is very well behaved in the house, is well mannered in general, once he knows you he is a huge lap dog  ❤️  He loves to play ball, is protective of his human, has plenty of energy and enjoys walks.  If you feel you have the right home for this handsome fella, please contact Mariam at 623-640-2047 (Glendale area)
Kiki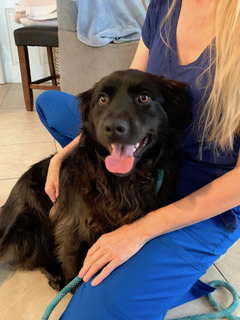 "Kiki"
is a 2 year old, 40-45 lb female, Aussie/Flat coat retriever mix.  Kiki can be a bit shy with new people but with help, she can get quite comfortable.   It doesn't take long until she is cuddled up with you, belly up for pets or loving to rest her head on your lap. She has medium energy that can be really brought out during walks and play time. Other than this though, Kiki is quite a relaxed dog. She has a very calm behavior in the car which tells us she would be a great road trip companion. Overall, she would be perfect for anyone who enjoys snuggling with their furry companion on the couch, but also wouldn't mind going for a decent walk. She is knowledgeable with sit, down, come and stay and she gently takes her treats.  She likes toys to chew on but has not demonstrated any demolition skills yet.  She would like a family that wants to have her sleep with them and she does not take up too much room or overcrowd you.  Her house manners are impeccable.  She can get excited when she sees other dogs out walking but with continued training, she is becoming a fun walking companion.