With the Courtesy Listings, each dog will have a specific contact person listed for interested parties to contact for more information. Other rescues will have their own adoption requirements some of which may vary from ours. Courtesy Listings for private parties are merely a referral, we make no guarantees on them and are relying on the owner to provide accurate information, it is up to the interested parties to determine if it is the right match for them. We do not help them sell their dog, but we do require that the dog be altered before we will post it to our site so the owner may ask for reimbursement of that cost, if it was done to meet our requirements. Any placement/home requirements for these dogs are up to their owner.
Bonnie and Clyde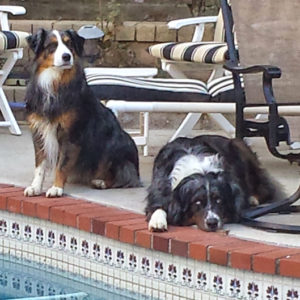 Bonnie and Clyde are a pair of 8 yr old blue merles, spayed and neutered, that are
littermates and have been together their whole lives so we are looking for a home that will adopt and keep them together.  They are looking for a new home because of a divorce situation.  Per their owner, they are trained, well mannered, housebroken, playful with each other, love people and love attention ❤️  They enjoy walks, playing ball, are okay with other dogs and per the owner, have been to a dog park previously.  They have not lived with any kids but have been around the grandkids and neighbor kids and been okay, no idea on cats however.  If you are interested in giving Bonnie and Clyde a loving home together, please fill out our adopt app and we will forward it to their owner:  https://www.aussierescuesocal.com/applications/adoption_v2/  (Santa Clarita area)   -if we already have an adopt app from you, just drop us an email:  aussierescuesocal@gmail.com
Jewell
"JEWELL" is an 8 years old; Female; Mix, short wavy hair; 45 lbs Jewell is truly a jewel. She is a mix of several breeds making her a one of a kind
Jewell was at a local shelter where she was so shut down, staff members had to carry her when moving her. She was very sick with pyometra, scabies, skin infection and more. They took excellent care of her and we rescued her as soon as we had an open spot. Jewell has come a long way! She is now healthy, has a gorgeous coat and sweet adoring eyes. She is still very shy with new people but usually will take food. Jewell has learned to walk on a leash but may need coaxing in new situations. Jewell has been great with her foster dog siblings and is very easy to live with. She is not good with cats! Because she is so shy, we ask for a home with at least a small yard and with no children since they will overwhelm her.
If you would like to adopt Jewell and give her a loving home, please fill out our adoption application http://bit.ly/ARSD-AdoptionApp. Answer every question even if with "n/a" or it will not submit. We will respond to your application within 48 hours. If you do not hear from us, email us at info@aussierescuesandiego.org.
Beau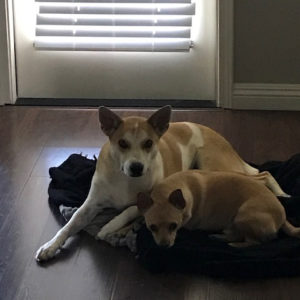 "BEAU"  is a neutered male Australian Cattle Dog Mix, he is 2.5 years old, fixed and current on shots (2/2/2018). Beau is a great dog, but has a very high energy level and some anxiety issues. He needs to be on a property with a lot of land and/or with an owner that is home more often. I walk and take Beau to the dog park as often as I can, but he still has a tremendous amount of energy. Beau does pretty well with other dogs although he can get nervous around large dogs. He has a companion dog with which he gets along well (my 4 year old Chihuahua mix Scooter). Beau has not shown aggression towards people except when I have taken him to the vet. However, he can be skittish around new people. He has received training and knows his basic commands. If you are interested in Beau, please contact owner Jaime at ggu926@yahoo.com (Bakersfield area)  (10-18)
Simba
"SIMBA" is, at best guess, an Aussie x Corgi mix, neutered male about 2-3 yrs old. He was rescued out
of a shelter, and now ready for a new home. He loves car rides, doesn't like cats, and would really prefer to get all the attention, so may be best as an only pet. He is a friendly boy, very personable. He is crate trained, knows sit and to hand you his paw, very smart boy He is not ready for a dog park situation at this point, rather pushy with other male dogs but seems to do okay with easy-going females, just needs time to get to know them. If you are interested in this little cutie, please contact rescuer Alexis at 661-666-1770 (Valencia area)    (5-19)