With the Courtesy Listings, each dog will have a specific contact person listed for interested parties to contact for more information. Other rescues will have their own adoption requirements some of which may vary from ours. Courtesy Listings for private parties are merely a referral, we make no guarantees on them and are relying on the owner to provide accurate information, it is up to the interested parties to determine if it is the right match for them. We do not help them sell their dog, but we do require that the dog be altered before we will post it to our site so the owner may ask for reimbursement of that cost, if it was done to meet our requirements. Any placement/home requirements for these dogs are up to their owner.
Sammy - Adoption Pending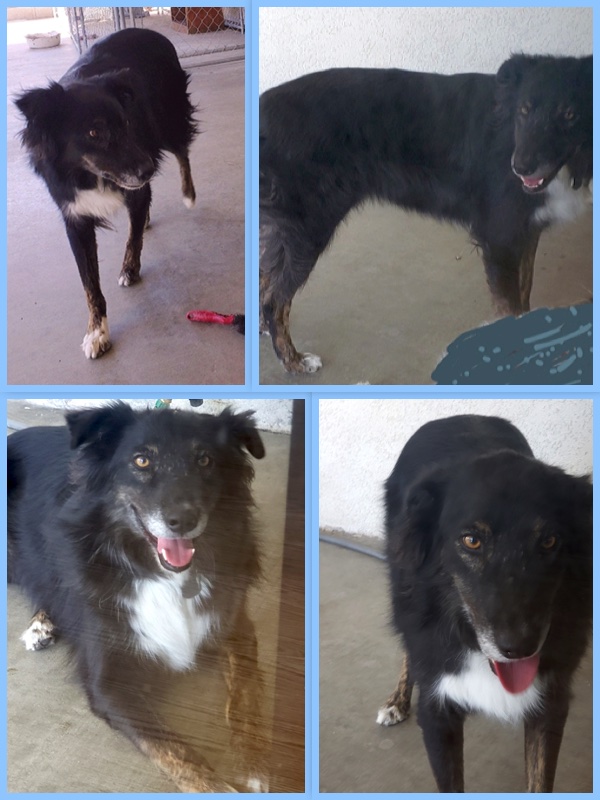 Adoption Pending
"SAMMY"
 is a 6 yr old neutered male Aussie that would like to find a home that is on the quieter side, and preferably in a cooler area of SoCal, he does not do well in the extreme heat.  He originally was in another home and since Sammy is a softer more submissive boy, the other dogs in the household would pick on him - his current owner took him in a year ago to get him away from that, but she has fibromyalgia and has found that she is having a hard time caring for 3 dogs.  He is pretty mellow for an Aussie, when he first sees you he is pretty excited for about 5 minutes then settles down next to your chair to simply chill. He has no bad habits other than he will destroy paper plates or paper towels.  He is housebroken but you have to take him out regularly, he doesn't ask like some dogs, so some attention on your part is needed; once acclimated he tends to go potty in the same area.  He ignores the cats in his household completely. Sammy is very affectionate and bonds tight to his human, knows some basic obedience such as 'sit', and walks very well on a leash.  He is frightened of fireworks, so would prefer a home where there are none being shot off regularly. He is a wonderful loving companion and will only be placed in a home that his owner feels is best for him.  If you are interested in Sammy, please fill out our adopt app:
https://www.aussierescuesocal.com/applications/adoption_v2/
 and we will forward it to his owners - if we have yours already, just let us know you are interested:
aussierescuesocal@gmail.com
(Hemet area)
.
Pepper
"PEPPER"
is a 3 yr old red tri spayed female (mini - she is 25 pounds) Aussie mix.  She is a loving and sweet girl but needs to be an only pet in the home.  She is a very friendly girl with people, adults and kids, housebroken and crate trained, well behaved in the house in general, likes running and playing fetch, plenty of energy so wants a nice size yard to run around in!  But is aggressive with the other dogs and cats in her household, to the point that she has attacked them, causing fights injuring both the other animal and humans that ended up getting bitten trying to break them up.  Super sweet girl but does need to be an ONLY PET in the house!  If you are interested in Pepper, please fill out our adoption application and we will forward it to her owners and they will respond:
https://www.aussierescuesocal.com/applications/adoption_v2/
aussierescuesocal.com/applications/adoption_v2/      - if we already have an adopt app from you, please drop us an email:
aussierescuesocal@gmail.com
 (Pepper is in the Temecula area)
.
Rockit
"Rockit"
is 7 years old and weights 50 pounds, he is as cute as he is sweet. He was relinquished because he was getting out of his yard. Rockit likes to have company, human or compatible canine. He is a low key boy who prefers other friendly dogs with medium energy levels. He grew up with another male but now seems to like females better. While Rockit is not a high energy boy, he does need alot of interaction including play, walks and petting. He was previously an outside only dog so he is not used to getting on the couch or furniture and it is uncomfortable for him. He has been great inside his foster home. He loves to relax somewhere near you and will move around as you do. Rockit would rather lay next to your feet than on your lap. He does need a secure fenced yard where he can occasionally hang out with his family and play. Rockit is sensitive to the environment and those around him. He will not do well with a person or dog who is nervous, anxious or worries alot. Loud noises are scary also. He is not recommended for families with children or cats. We are currently treating Rockit for skin and ear infections. If you are interested in adopting Rockit, please fill out our adoption application
Adoption Application - Aussie Rescue San Diego
.
Ziggy
** UPDATE ** Ziggy is going to a trainer to help with his behavior to make for a more successful adoption candidate! Please stay tuned for updates 😊
"Check out this adorable 2 year old Aussie mix Ziggy.  This guy is ready to accompany you on a long run and then some!  He loves to play with other dogs his size yet does need some training when on leash around them.  He'll need a home without kids or small pets, with a savvy owner who's looking for the best adventure bud and willing to work with him - he can be leash reactive, especially with bikes and skateboards, and has the normal herding breed reservedness on meeting strangers."
For more information about this animal, call:
Santa Barbara County Animal Services - Santa Barbara at (805) 681-5285
Ask for information about animal ID number A443320
Cooper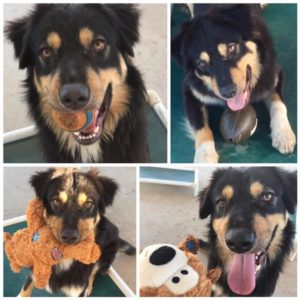 Name: Cooper
Breed: Aussie / Cattle Dog mix
Gender: Male
Age: 1 year old
Weight: 48 lbs
Cooper is a happy boy who loves to play with his toys! He and his brother were running on the streets until saved by a couple of caring people. The finders worked with the local animal shelter but no owners could be found. Thank you to Helping Herders for connecting us so we could help Cooper and his brother, Scout. Cooper loves to learn and is able to complete new tasks quickly and easily. He does need a home that will help him gain confidence and learn good doggie manners. One of Cooper's most favorite things is to be told that he is a "Good Boy". He may even think that "Good Boy" is his name 🤣 Cooper needs to be placed in a home with a secure fenced yard where he will not be left outside unattended. He can climb 6 foot chain link. Cooper is timid at first and will need someone who understands that he needs time to get to know a new person slowly. Because of his shyness and low self confidence, he should not live with kids, cats or other dogs. Those needs may change when he is comfortable in his environment and has a few more coping skills. Cooper is a sweet happy boy looking for an understanding and safe home.
If you are interested in adopting Cooper, please fill out our adoption application http://aussierescuesandiego.org/foster-and-volunteer/adoptionapplication/Please answer every required question, otherwise your app will not submit. You will receive an immediate confirmation once it has been submitted. Please allow up to 48 hours for us email you personally. If you do not receive confirmation within 48 hours, email us at Adoptionsaussierescuesandiego@gmail.com.
Sophie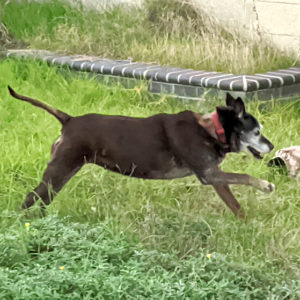 "SOPHIE"
, Australian Cattle Dog Mix
Sophie is approximately 14 years old, female, spayed. She was a family surrender to a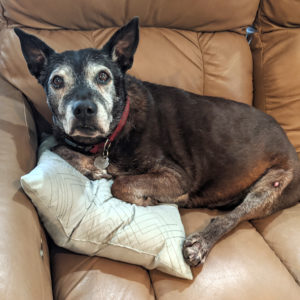 shelter in Los Angeles and was housed there for six months prior to adoption by my spouse's mother. Due to my spouse's mother's death, we are now fostering her in search of a new home for her. She is not compatible with cats (we have two). She comes on strong initially with other dogs, but mellows out after time and a few introductions. She loves to go on walks and heals well, plays ball and continues to have moderate to high energy. She is an excellent companion, although she loves to sleep on the couch and cuddles on pillows.  If you are interested in this senior gal, please fill out our adopt app: 
https://www.aussierescuesocal.com/applications/adoption_v2/
 and we will forward it on to her caregivers  (Torrance/South Bay area)  (1-20)
Beau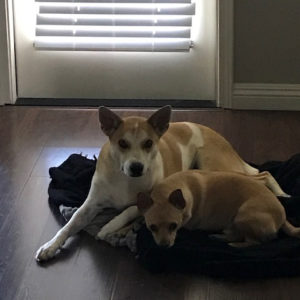 "BEAU"  is a neutered male Australian Cattle Dog Mix, he is 2.5 years old, fixed and current on shots (2/2/2018). Beau is a great dog, but has a very high energy level and some anxiety issues. He needs to be on a property with a lot of land and/or with an owner that is home more often. I walk and take Beau to the dog park as often as I can, but he still has a tremendous amount of energy. Beau does pretty well with other dogs although he can get nervous around large dogs. He has a companion dog with which he gets along well (my 4 year old Chihuahua mix Scooter). Beau has not shown aggression towards people except when I have taken him to the vet. However, he can be skittish around new people. He has received training and knows his basic commands. If you are interested in Beau, please contact owner Jaime at ggu926@yahoo.com (Bakersfield area)  (10-18)