With the Courtesy Listings, each dog will have a specific contact person listed for interested parties to contact for more information. Other rescues will have their own adoption requirements some of which may vary from ours. Courtesy Listings for private parties are merely a referral, we make no guarantees on them and are relying on the owner to provide accurate information, it is up to the interested parties to determine if it is the right match for them. We do not help them sell their dog, but we do require that the dog be altered before we will post it to our site so the owner may ask for reimbursement of that cost, if it was done to meet our requirements. Any placement/home requirements for these dogs are up to their owner.
Marco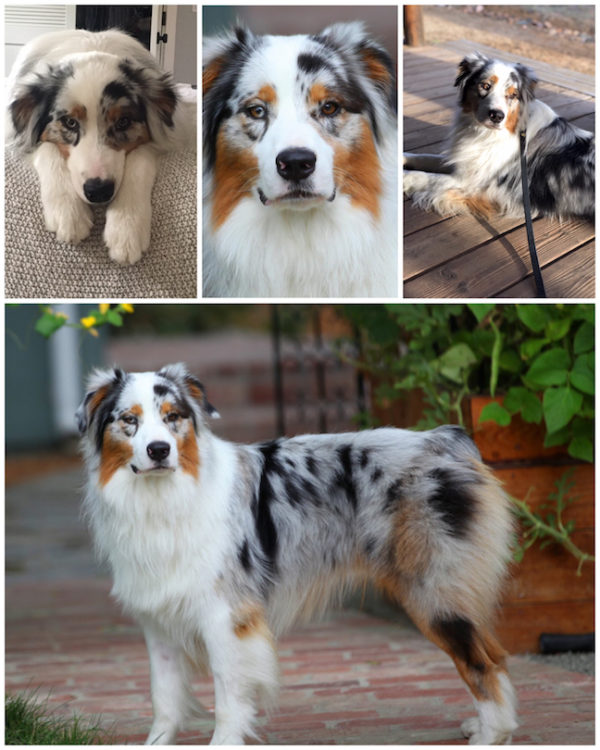 Meet "MARCO" ! He is a fun, energetic, and extremely handsome three-year old Aussie looking for a new home. Marco is an absolute joy. He quickly makes friends with people and loves children. He is eager to please and will work until he passes out.
He has obedience, agility and herding training. He would also be great at rally and LOVES lure chasing, or chasing anything with a fluffy tail (cats included)! He has a great drive and the perfect "off switch". He loves long daily walks, playing fetch, tug of war and is great in the car on trips. Outside of working, he loves every opportunity to be a lap dog until he gets too hot! He gives gentle kisses and big hugs. He is crate trained and house broken. ASCA/AKC registered. Current on all vaccines.
He has one problem in that he loves his humans and their affection too much and will guard it from other dogs. We need to to rehome him because despite 18 months of effort with trainers, we cannot prevent him and our other male Aussie from fighting.
He needs to be the center of someone's world, so we are looking for a single dog home. It breaks our heart to part with him, but we feel that it is best for both dogs. He is available immediately. He needs a yard to play in and loving owner that wants to continue to train with him and do the things he loves. Preferably someone experienced with the breed.
Follow this link to submit an application. We'll get back to you after we've reviewed your submission: https://forms.gle/BhVne4fkwaQvEYBQA   (Van Nuys area)  (3-20)
Journey
"JOURNEY" is a 1-year old black tri female purebred Australian Shepherd.  She was owned by a college student who did not have time for her.  She is timid with new people and new situations.  However in the short time she has been in foster care, she has been good with dogs and people.  She is very active, loves to run.  She is a great swimmer.  She knows some basic obedience cues.   Potential adopters must be Aussie experienced without kids and not leave her home alone longer than 6 hours a day.  Ideally, she would go to a home with another male dog.  Contact Laurie in Orange County at laurie@wagsandwiggles.com.   2-20)
Buster
"BUSTER"
 is a roughly 18 month old neutered male
 Shepherd type mix.  He is current on shots. Buster is the sweetest guy and is in need of a home where he can be an inside and outside dog. He loves to run and chase, he plays fetch but doesn't always bring the ball back...work in progress. He is wonderful with children, adults, females and males. He always greets people with a wagging tail. He is gentle too when he wants to sit on your lap . He rolls over all the time for belly rubs and knows how to sit and shake. He has been good with other dogs of similar size or bigger, but I don't recommend him to live with small dogs - when he saw a Chihuahua, he fixated on it  like he wanted to chase it. Because of this I don't recommend he live with cats either.  We originally adopted Buster from the shelter, where he had been picked up as a stray (so no background information)  as we wanted a companion for our female dog and to help her protect our property and farm animals. Our female was in fight mode from the beginning, we've worked with her to accept him, but months have gone by and she just wants to attack him. He defends himself so they both get hurt, so I now keep them separated. We require our dogs to be outside mainly but Buster would really prefer to be indoors with his family and I feel bad for him. An ideal home would have a fenced yard and/or someone to take him on walks everyday and play with him.  He would make a wonderful companion dog, therapy dog and family dog. Buster has so much love to give!"  If you are interested in giving Buster a loving home, please fill out our adoption application and we will forward it onto his owners: https://www.aussierescuesocal.com/applications/adoption_v2/   (Temecula area) (2-20)
Callie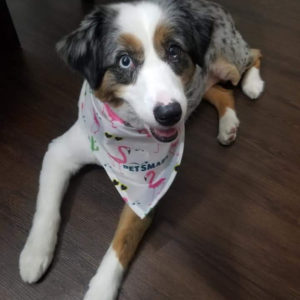 "CALLIE"
is a 5 year old spayed female blue merle purebred Aussie.  She has lived
with a loving family her whole life.  However, her family had a child and with another baby on the way, Callie is too rambunctious for the toddler and has grabbed food from toddler's hands, not being overly careful about it.  The family has tried a trainer and medications to calm Callie down but ultimately she needs a different living situation.  She's needs a yard and a family that will be able to exercise her more.
Callie is loving at home and does well at the vet.  She does interact well with other dogs that visit her home but she does bark at other dogs on walks.   Callie should not live with kids or live in a home where kids visit.
Callie is actually very loving and protective. Once she decides you're in her crew, you're in for life. She is happy to snuggle up and take a nap with you, cuddle while you watch a movie, will be by your side when you're sad.  Callie would prefer a home where her people are home a lot.
Sophie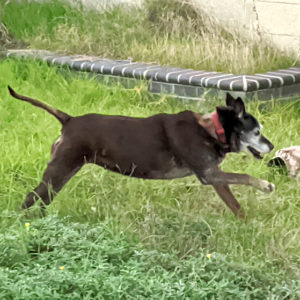 "SOPHIE"
, Australian Cattle Dog Mix
Sophie is approximately 14 years old, female, spayed. She was a family surrender to a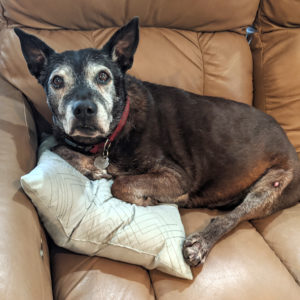 shelter in Los Angeles and was housed there for six months prior to adoption by my spouse's mother. Due to my spouse's mother's death, we are now fostering her in search of a new home for her. She is not compatible with cats (we have two). She comes on strong initially with other dogs, but mellows out after time and a few introductions. She loves to go on walks and heals well, plays ball and continues to have moderate to high energy. She is an excellent companion, although she loves to sleep on the couch and cuddles on pillows.  If you are interested in this senior gal, please fill out our adopt app: 
https://www.aussierescuesocal.com/applications/adoption_v2/
 and we will forward it on to her caregivers  (Torrance/South Bay area)  (1-20)
Yogi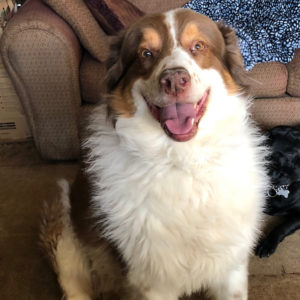 "YOGI"
is a 6 yr old neutered red tri male Aussie, weighs about 100 pounds, is
housebroken and well behaved in the house.  His owner moved in with family and it is a small house with a small yard and no place for Yogi to run around.  He currently lives with 3 other dogs and is okay overall but can be food aggressive/possessive and has bitten one of the other small male dogs over food (did need medical attention) so we recommend he be an only pet.  He did nip the owner's mother once when she stepped between he and one of the smaller dogs also, but no blood was drawn.  He does not do well with strangers outside of his home, but if properly introduced to someone that comes to his home, he does warm up after awhile - he is very protective of the people he loves though.  He seems okay around kids but does not live with any, and does chase cats.  He does okay going to the vet and the groomer, but does pull pretty hard on the leash when out/on walks so will need some work with that.  If you are interested in Yogi, please fill out our adoption application: 
https://www.aussierescuesocal.com/applications/adoption_v2/
and we will forward it to his owner.  (Riverside area)
Walker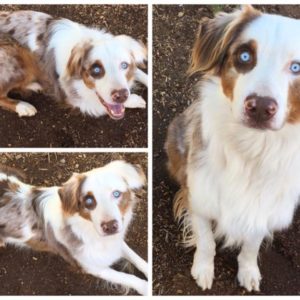 Name: Walker
Age: 3 years old
Gender: Male
Breed: Australian Shepherd
Weight: 52 lbs 
"WALKER" is a snuggly guy once he gets to know you. He will need an experienced Aussie savvy home. Walker has been friendly with his foster family and volunteers but often needs to be introduced to new people carefully. He is not comfortable when people stare at him and he definitely does not want to own people's insecurities. He will bark or growl to show he is not comfortable. Walker is also noise sensitive to loud noise like fireworks, gun shots and thunder. He has been great with other dogs and is very friendly. Walker will need a family with no children and a home with a secure fenced yard. Another friendly dog would be ideal but not required. He is unknown with cats.
If you are interested in adopting Walker, please fill out our adoption application http://bit.ly/ARSD-AdoptionApp. Answer every question even if it doesn't apply to you. Otherwise your app will not submit. You will receive an immediate confirmation once it has been submitted. Please allow up to 48 hours for us email you personally. If you do not receive confirmation within 48 hours, email us at info@aussierescuesandiego.org
(1-20)
Jewell
"JEWELL" is an 8 years old; Female; Mix, short wavy hair; 45 lbs Jewell is truly a jewel. She is a mix of several breeds making her a one of a kind
Jewell was at a local shelter where she was so shut down, staff members had to carry her when moving her. She was very sick with pyometra, scabies, skin infection and more. They took excellent care of her and we rescued her as soon as we had an open spot. Jewell has come a long way! She is now healthy, has a gorgeous coat and sweet adoring eyes. She is still very shy with new people but usually will take food. Jewell has learned to walk on a leash but may need coaxing in new situations. Jewell has been great with her foster dog siblings and is very easy to live with. She is not good with cats! Because she is so shy, we ask for a home with at least a small yard and with no children since they will overwhelm her.
If you would like to adopt Jewell and give her a loving home, please fill out our adoption application http://bit.ly/ARSD-AdoptionApp. Answer every question even if with "n/a" or it will not submit. We will respond to your application within 48 hours. If you do not hear from us, email us at info@aussierescuesandiego.org.
(1-20)
Beau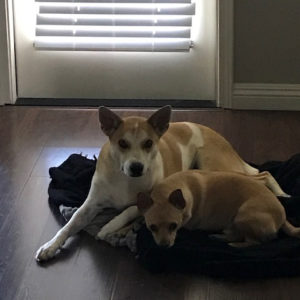 "BEAU"  is a neutered male Australian Cattle Dog Mix, he is 2.5 years old, fixed and current on shots (2/2/2018). Beau is a great dog, but has a very high energy level and some anxiety issues. He needs to be on a property with a lot of land and/or with an owner that is home more often. I walk and take Beau to the dog park as often as I can, but he still has a tremendous amount of energy. Beau does pretty well with other dogs although he can get nervous around large dogs. He has a companion dog with which he gets along well (my 4 year old Chihuahua mix Scooter). Beau has not shown aggression towards people except when I have taken him to the vet. However, he can be skittish around new people. He has received training and knows his basic commands. If you are interested in Beau, please contact owner Jaime at ggu926@yahoo.com (Bakersfield area)  (10-18)