With the Courtesy Listings, each dog will have a specific contact person listed for interested parties to contact for more information. Other rescues will have their own adoption requirements some of which may vary from ours. Courtesy Listings for private parties are merely a referral, we make no guarantees on them and are relying on the owner to provide accurate information, it is up to the interested parties to determine if it is the right match for them. We do not help them sell their dog, but we do require that the dog be altered before we will post it to our site so the owner may ask for reimbursement of that cost, if it was done to meet our requirements. Any placement/home requirements for these dogs are up to their owner.
Luna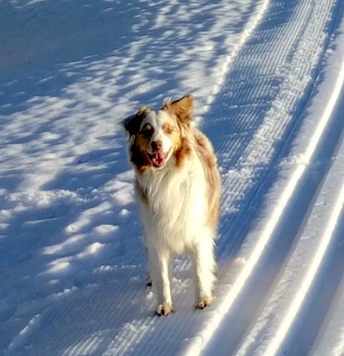 "LUNA"
 is a 9 yr old spayed red merle female Australian Shepherd still with her owners:
"We are searching for a loving and safe new home for our family pet, Luna. Luna is a very sweet, playful, and energetic Australian Shepherd. Although we love her dearly, we have not been able to provide her with the attention that she needs to live her happiest life. Like most Australian Shepherds, Luna is full of energy and very smart. She loves running, hiking, mountain bike rides, and frisbee. Luna has never shown signs of aggression, and other than being rambunctious is good with children and other dogs. She has spent lots of time around toddlers. We are unsure of how she would do with cats, but she does not tend to chase after prey animals. She does great when boarded at the kennel and enjoys playing with the other dogs.
Luna has a few behavioral issues that her future family should be aware of: 1) When greeting unfamiliar people or friends and family that she has not seen recently, she stands up and puts her paws on them; 2) She has escaped from our yard on several occasions despite our best efforts to secure the backyard; 3) She gets nervous (paces and whines) when we pack for a trip, or get ready to go on a hike or run and she thinks we may leave her at home; and 4) She and the neighbor dog bark at each other through the fence when in their backyards.
Luna weighs approximately 40 pounds. She has not had any significant health issues. She is spayed; has updated vaccinations; is on flea, tick, and heartworm prevention medication; has a microchip; and is licensed in San Luis Obispo County.
We are seeking a home for Luna that will provide her a loving, caring, and safe environment. She would love a family that has plenty of time to give her the attention she deserves. We think she would be her happiest on a large property with room for her to roam."
If you are interested in Luna, please fill out our adoption application and we will forward it to her owners: 
https://www.aussierescuesocal.com/applications/adoption_v2/
 - if we have one from you already, email us:
aussiesrescuesocal@gmail.com
 (San Luis Obispo area)
Pamplemousse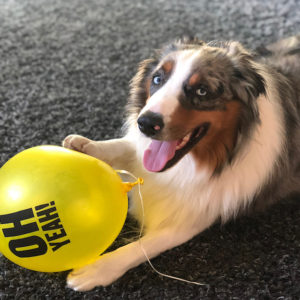 "Pamplemousse"
 ("Moose," or "Mousse" on his fancy days) is a 3.5 year old purebred, blue merle neutered male Australian Shepherd, that weighs about 64 pounds. He is a very loving, loyal, energetic, and smart dog who loves nothing more than lots of exercise and attention. We are looking for a new home for Moose because we think he needs an owner who can provide him more attention, exercise, and training. We've had two babies since he joined our family, and between that and the pandemic, he has become overly protective of our family and our home. We've seen him demonstrate aggression towards strangers, including small children, and on occasion toward other dogs (though he goes on group dog adventures three times per week and attends a "doggie daycare" in a warehouse facility with other dogs and doesn't have problems in either of those environments). We are told that Moose is very trainable and that his aggression issues can be fixed. We just have not had the time to work with him on it because of our two small children. Notably, Moose has NEVER displayed any aggression toward our children or anyone in our immediate family.
Due to his history of aggression, we don't think Moose should be placed in a family with small children until he has been trained.  Moose is housebroken and is well behaved in the house, doesn't live with any cats but when he has been around them seems to be fine, does pull hard on the leash, so needs some work with that also, and loves to play, run, walk, chase, and do dog puzzles - very smart and loves to exercise and to learn!  If you are interested in Moose, please fill out our adoption application and we will forward it to his owners: 
https://www.aussierescuesocal.com/applications/adoption_v2/
  If we have yours already, drop us an 
email: aussierescuesocal@gmail.com
 (LA area)
** The aggression mostly involves loud barking on his hind legs towards strangers or if he feels threatened. He also mouths people and doesn't seem to understand the difference between herding and aggressive mouthing.
Remmy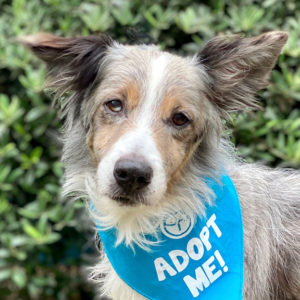 Peace of Mind Dog Rescue in Monterey, CA  reached out for help in finding homes for a couple of senior boys looking for that special home - Anyone out there that has room in their hearts and home for a sweet sweet senior boy? 😊
This first  boy needs someone that is experienced and understanding of the normal Aussie personality - reserved at first and slow to warm up - he's not going to be your best friend the first moment you meet, and probably not the first few days or week in a new home - if that is what you are looking for, please consider looking into a Lab or a Golden.
"REMMY" is a 12 year old, 33 pound neutered male Aussie mix.  (looks purebred to me but they do not have papers for him so listed him as a mix)
Remmy is a sweet older gentleman. He is apprehensive at first and does not like to be lifted. He does snap at too forward people and so should go to a home without children and be with understanding adopters. Also, he much prefers women to men and is very distant to men. He has quite an impressive resume otherwise -- he is great with big or small dogs and he is crate trained and rides well in the car. He is a bit on the timid side at first and prefers to be left untouched until he gets used to you. He isn't described as overly affectionate with people but will warm up to you once he trusts you. He does need a home without cats.

Remmy did not go many places before coming to POMDR. So a walk to a busy place can be very overwhelming. He has lived a reserved life and it shows in his personality. Slow exposure is ideal for him.   He walks well on leash. He eats and sleeps in his crate - being led in by food and then settling in comfortably. Remmy does pace in the house and yard, especially during transition but then will mostly just follow his person around. He wants to be with you and is actually showing anxiety when left behind so needs help understanding being left alone is ok. He is hearing and vision impaired but has good energy for his age. He watches intently but doesn't really know any commands.
Remmy came to us from the Newman Animal Shelter. "
Kupuna
Peace of Mind Dog Rescue in Monterey, CA  reached out for help in finding homes for a couple of senior boys looking for that special home - Anyone out there that has room in their hearts and home for this super sweet senior boy? 😊
Looks like: Border Collie/Australian Shepherd Mix
Male, 14 years old, 34 pounds
Kupuna has shown remarkable resilience since he came to us in December emaciated and unable to walk. He'll never be an active dog who goes on walks, but he's reached a point where he can follow his person around the house. He's very affectionate and loves pets and attention. He gets along well with other dogs, and has a docile demeanor.
Kupuna's mobility issues are due to spinal arthritis. He is on arthritis medications for the rest of his life, which has been helpful for him. He also needs regular medicated baths for some ongoing skin allergies. He is deaf and has some fecal incontinence due to lack of control of his hind end. Kupuna will need a very special home, one where he can receive loving, dedicated care. This gentle soul will give you as much if not more love than he receives. He has a gentle, loving spirit and needs a soft landing in this next phase of life.
Ruby
** We are suspending accepting applications for Ruby at this time, her family is having a hard time parting with her
"RUBY" is a 2 yr old spayed Aussie mix female that is looking for a home that is more suited for an Aussie energy and personality.  She is a friendly girl, is currently living with young kids and although she is okay with them in general, she needs a home with teens and up - she has been growling at the youngsters when she doesn't want them around her.  She is housebroken and is well behaved in the house, used to a doggie door, and would love a large yard to run around in and a person willing to play with her - she *loves* attention and isn't shy to tell you!  She enjoys going to the dog park and playing with other dogs, but may do best as an only dog in the home as she is food aggressive with other dogs when in her own home.  She is good with cats, but she does need more training - she can get excessively wound up and jumping, etc, when people come over, and does pull hard on leash - she knows some basic obedience but needs to be re-enforced and get plenty of exercise.  She loves to play with balls of any size, and enjoys swimming in the lake.  Ruby is a great girl but her current owner is looking for a home for her that is familiar with the breed and can work with her as well as give her the attention, exercise and training that she really needs.  If you are interested in Ruby, please fill out our adoption application and we will forward it to her owner: https://www.aussierescuesocal.com/applications/adoption_v2/     (Murrieta area)
Fuzzy
"FUZZY" is gorgeous and has had a pretty tough start to life. He was surrendered with his brother to a high kill shelter and intercepted by a Malinois advocate. His brother was adopted immediately as a foster fail. Fuzzy has been under the care of our head trainer - she has over 20 years experience with Malis and other pups. 
The litter was bred with an Australian Shepherd and Malinois. 
Fuzzy is super sweet. He would be best in a home where he is an only dog and no cats/small creatures. (We imagine him with a doting couple) He grew up with children so is okay with good structure and boundaries.
He is super food motivated and loves working for his treats but is also pretty much a couch potato. His basic OB is on point - he even has a sit pretty! He has a dense undercoat and loves the camera. He will pose for a picture! Fuzzy loves baths and grooming time, he's also potty trained and crate trained. He is shy at first and gets uncomfortable with strangers just coming at him. He is pretty good for a few rounds of fetch and will definitely get a little tubby if overfed. Please LOVE me! I am too ridiculously cute 🙂
Sophie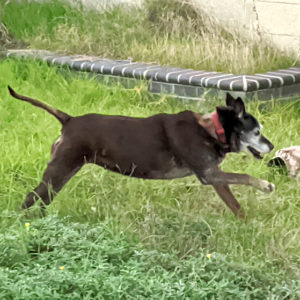 "SOPHIE"
, Australian Cattle Dog Mix
Sophie is approximately 14 years old, female, spayed. She was a family surrender to a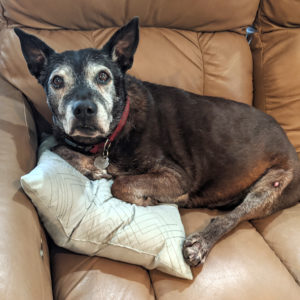 shelter in Los Angeles and was housed there for six months prior to adoption by my spouse's mother. Due to my spouse's mother's death, we are now fostering her in search of a new home for her. She is not compatible with cats (we have two). She comes on strong initially with other dogs, but mellows out after time and a few introductions. She loves to go on walks and heals well, plays ball and continues to have moderate to high energy. She is an excellent companion, although she loves to sleep on the couch and cuddles on pillows.  If you are interested in this senior gal, please fill out our adopt app: 
https://www.aussierescuesocal.com/applications/adoption_v2/
 and we will forward it on to her caregivers  (Torrance/South Bay area)  (1-20)