With the Courtesy Listings, each dog will have a specific contact person listed for interested parties to contact for more information. Other rescues will have their own adoption requirements some of which may vary from ours. Courtesy Listings for private parties are merely a referral, we make no guarantees on them and are relying on the owner to provide accurate information, it is up to the interested parties to determine if it is the right match for them. We do not help them sell their dog, but we do require that the dog be altered before we will post it to our site so the owner may ask for reimbursement of that cost, if it was done to meet our requirements. Any placement/home requirements for these dogs are up to their owner.
Millie
"MILLIE" is a beautiful 5 yr old spayed female Aussie mix, about 55 pounds,  that needs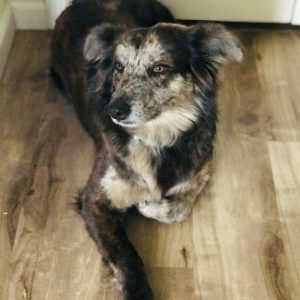 a home where there are no other pets.  She is housebroken and well behaved in the house, She is initially reserved, even shy, of meeting strangers, but once she knows you, she is very sweet and loves attention - loves to follow you around.  She also loves long walks and does well on leash, has a medium energy level and enjoys car rides.   She knows basic commands like sit, down, shake, roll over, come, no and stay.
Millie is NOT appropriate for dogs parks though - she was originally adopted out of a shelter and at first was okay with the other dogs in the household, but as time has gone by, she is getting aggressive with them - she also will go after other dogs when out on walks/dog park situations. She does respond well to verbal correction but she just does not relax and enjoy that type of situation.  She can be around other dogs that are submissive after properly introducing them with a leash on, but should not live with any other dogs or cats.  If you are interested in Millie, please fill out our adoption application and we will forward it to her owner: https://www.aussierescuesocal.com/applications/adoption_v2/
Or drop us an email if we already have your adopt app and we will forward it on: aussierescuesocal@gmail.com   (Pinon Hills area)
Bella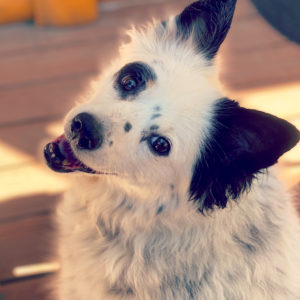 Isabella "Bella" is a 9 year old spayed female Aussie-Border Collie mix (?) who is in need of a loving home with no children and ideally no other dogs.  Bella was adopted from a high kill shelter when she was a puppy.  Bella has been around other dogs most her life in the home, but within the last year has shown elevated aggression and herding towards the other household female dog that has resulted in breaking skin on numerous occasions and a home dynamic change.  Unfortunately she is also not good with kids and her owners are going to be taking next steps as a family - as such they are heartbreakingly seeking a permanent loving home that can provide her with what they can't any longer.  She is a sweet girl with a love of playing ball, belly rubs, and following you around.  She's happy to sit by your side and keep you company wherever you go.  Bella weighs 39 lbs and enjoys walks with little distraction but would need a yard to fetch and play with toys so no condo/apartments.  She sleeps inside at the foot of the bed and spends her entire day inside in AC which helps with her sensitive skin.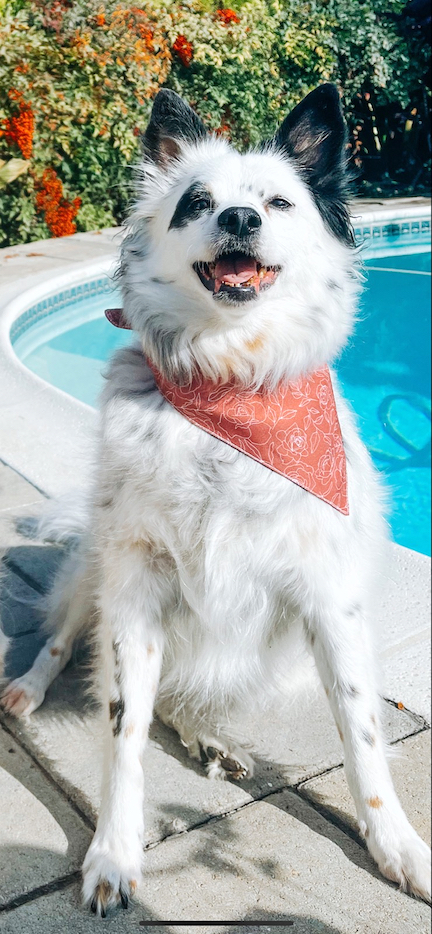 During peak allergy season, she is known to rub her fur until raw and would do best in a home that can give baths and brush often - she is wonderful in the bath and with the hair dryer, but has sensitive feet.  She also does not mind shirts/sweaters which helps when her skin is very sensitive.   She also does perfectly fine at the groomers.  Bella is not destructive (except tearing up toys), she waits for her food when told to sit and can walk on a loose lead when there are no major distractions.  She does not get carsick, does not like the vacuum, and will warn you if someone is at the door.  She is very smart and would do well with owners who can be very structured, routine, and patient with a passion for training and an understanding of the herding breed needs.  She has a heart warming smile and will love you with all she has.  If you are interested in Bella, please fill out our adoption application and we will forward it over to her owners:  https://www.aussierescuesocal.com/applications/adoption_v2/   (Tustin area)
Trip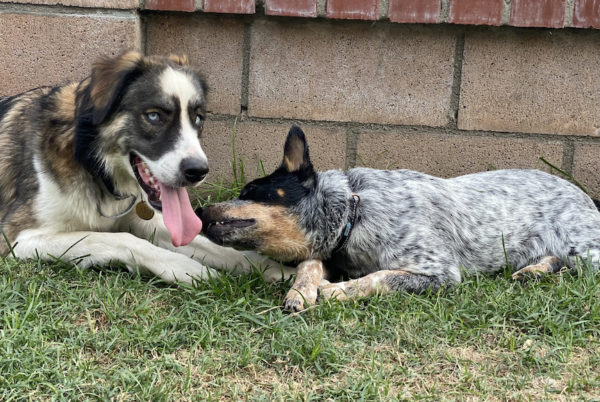 From his foster mom:  Bandit is a young male Cattle Dog, and really special boy  
🤗  
Earlier this year, he was diagnosed with 
hypertrophic osteodystrophy
. After care from his first foster @ahomefordali, his condition has stabilized. Since being with me, he has gone from being completely bed ridden to being a regular pup. His condition explains why at his age he is only 25 pounds.  The rescue cautions that he should have limited exercise for his breed, or at least be monitored when increasing activity.
I would consider him medium/high as opposed to truly high energy. This doesn't stop him from living his life.
He loves other dogs, is used to being around farm animals (we now know he's well behaved around cats, chickens, horses and pigs (on leash), and other dogs) He needs continued structure, and would do best with someone with herding dog experience.
His instagram post @littledogrescue reads:  "Bandit is also now ready for his forever home!! ❤️ he is now 11 months old, but still about only 25 lbs. His condition (hypertrophic osteodystrophy) has been under control with steroids although he is sometimes prone to flare ups where his joints hurt. He needs limited exercise due to this. He is good with other dogs, and cats as well! He needs structure and continued training, and his adopter preferably will have experience with herding breeds. Applications at 
http://www
.
LittleWolfRescue.org
Trip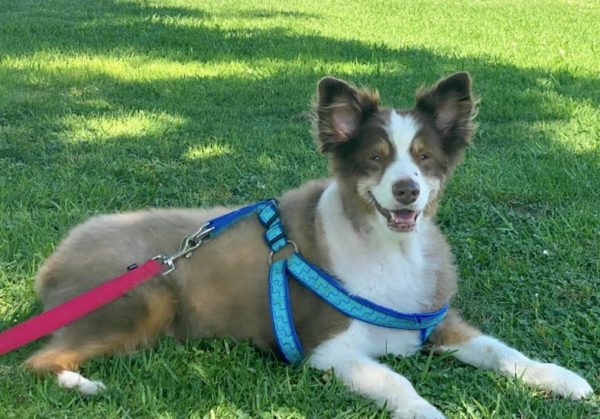 "TRIP" is a 12 yr old neutered male red trim mini Aussie, who desperately misses having a human of his own as his owner recently passed away. Trip is very gentle, quiet and sweet. He gets along with other dogs (as long as they are not puppies jumping in his face). loves all people, men and women.  Although he's never lived with children, he's done well the few times he's been around them.  No idea about cats.  He needs to lose a few pounds, but given he is down from 50 pounds to 37, he is well on his way to a healthy weight.  Trip likes to go for car rides, is housebroken, is used to being primarily indoors, and walks well on leash.  
         He is currently being boarded as his owner's family cannot keep him, but he would be much happier in a home of his own with an owner who would give him lots of cuddles and shower him with love.  The ideal situation for Trip would be a home where someone is home most of the time and can take him on walks a couple of times a day to help him with his continued weight loss and keep his joints moving.  If you are interested in Trip, please fill out our adoption application: please fill out our adoption application: https://www.aussierescuesocal.com/applications/adoption_v2/  - if we have your adopt app on file, just drop us an email: aussierescuesocal@gmail.com   (Long Beach)
Bailey
"BAILEY" 
"This is so hard to do but I'm needing to rehome my spayed Australian
Shepherd x Queensland Heeler Mix. 
Bailey is about 6 years old, I found her as a stray when she was around 2.  Bailey is unable to stay at my moms house and due to my work/school schedule I am unable to care for her the way she deserves. She's currently at a babysitters house and I see her when I can but not the way she deserves and needs. 
Bailey is an active dog, needing daily walks she's high energy! But also she's the dog that will nap for 4 hours because she's so lazy! She's the best dog out there in need of a LOVING home.  Bailey is great with kids, great with cats, and good with most dogs as long as they can meet and sniff at first! Located near Murrieta, CA   Please let me know if you're interested in possibly adopting this sweet girl - 951-467-9877
Calloway and Cassie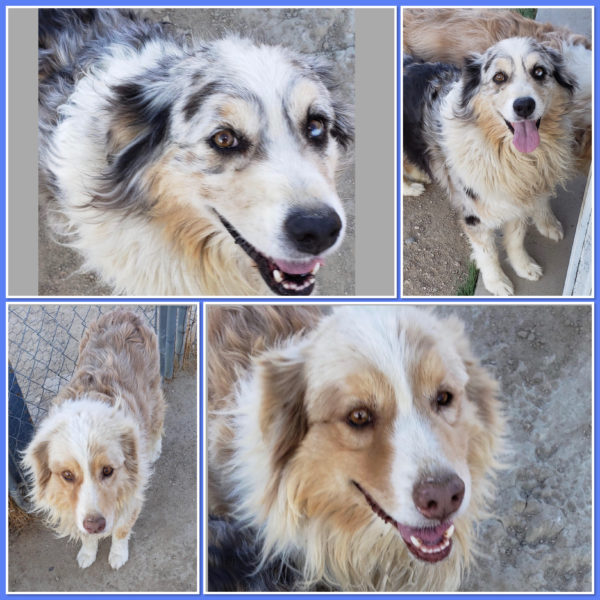 "CALLOWAY"
is an 11 yr old neutered red merle male, about 55 pounds, and 
"CASSIE"
is an 11 yr old spayed blue merle female, about 45 pounds. They are litter mates and have been together their entire lives, so are looking for a home that will adopt them together.   They are primarily outdoor dogs by their choice - they have a dog door into an air conditioned room and do go in and out, but prefer to be out, do not like to be shut inside!   They love to play in a wading pool, run the property and jump on the trampoline!  Very active and fit, may be 11 yr olds but act like they are about 3 😆   They currently live on a ranch with over 2 acres fenced to run on, and run over every inch daily - their owner is moving out of state into a development with a very small yard, can take them with her, but would like to see if a home can be found for them that can continue to give them the freedom to run like they currently have - she is concerned how well they might handle being in close quarters such as a development has.  They are a bit nervous and reserved with strangers, but once they know you are very friendly, have been around young kids and up but can be rather rowdy still so be sure your kid can take rowdiness before inquiring about adopting them.  They are good on harness or collar for walks but they do walk in tandem, so if they decide to turn, be ready for double power!  They are fair with cats and although they are okay with other dogs in general, would be best to be the only dogs in the home in that they are definitely a bonded pack, mess with one, you got both 😄  If you are interested in this lovely pair, please email their owner at
t_lewandowski@msn.com
  (Rosemond area)
Rusty
"RUSTY"
is a 3 yr old neutered male Heeler mix in need of a new home because his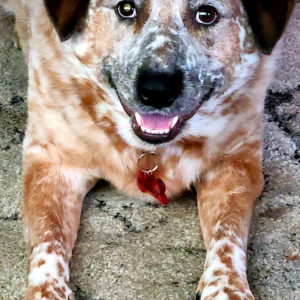 family is having to move out and do not have a place to move into at this time.  He is a big boy at about 100 pounds, he is housebroken, well behaved in the house, as well as likes his crate.  He is very affectionate and craves attention, enjoys playing ball and chase.  He is good with strangers, men & women, good with kids, has been around younger crowd, loves them but can be protective of them - he's never bitten but does bark.  He is fair with other dogs, not good with small dogs though, and if fine with the cat he lives with, but no guarantees with cats he doesn't know.  If you are interested in giving this boy a new home, please contact his owners at
wagbc@msn.com
or call 909-559-9431  (Calimesa area)
Kiki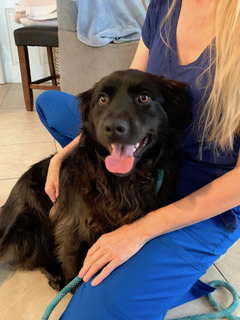 "Kiki"
is a 2 year old, 40-45 lb female, Aussie/Flat coat retriever mix.  Kiki can be a bit shy with new people but with help, she can get quite comfortable.   It doesn't take long until she is cuddled up with you, belly up for pets or loving to rest her head on your lap. She has medium energy that can be really brought out during walks and play time. Other than this though, Kiki is quite a relaxed dog. She has a very calm behavior in the car which tells us she would be a great road trip companion. Overall, she would be perfect for anyone who enjoys snuggling with their furry companion on the couch, but also wouldn't mind going for a decent walk. She is knowledgeable with sit, down, come and stay and she gently takes her treats.  She likes toys to chew on but has not demonstrated any demolition skills yet.  She would like a family that wants to have her sleep with them and she does not take up too much room or overcrowd you.  Her house manners are impeccable.  She can get excited when she sees other dogs out walking but with continued training, she is becoming a fun walking companion.
Eddie
Meet Eddie, a 2.5 year old Australian Shepherd (standard size, DOB 11/4/2018). Eddie is in need of a new home, one where he can get the time, and more importantly the training, he needs. Eddie has several excellent qualities: he is very loyal, sweet, extremely tolerant of kids, he does not nip/herd the children, he's house-trained, has mad cuddling skills and his fetch game is strong. Eddie has earned the nickname "Ready Eddie" because no matter the time he is ready to participate in whatever you are doing, that being said, he does know how to be calm in the house.
Eddie also needs some intensive training - he started showing signs of aggression towards other dogs early on and his owner does not have the time or skills to get him where he needs to be in terms of training. He's made some improvements on walks and is capable of sitting and being calm despite a dog barking behind a fence. Dogs on leash are an different story and are much harder for Eddie to tolerate, he has bitten his owner twice in these situations and it is recommended that he be walked wearing a proper muzzle. Both times the bites were minor and did not require medical attention; it was clearly redirected aggression as Eddie shows no aggression towards people otherwise. He occasionally encounters horses on walks and does not seem to mind them, but has not been allowed to get very close; he has not been around cats. His current owner made a point to pet/brush him while eating and he shows no signs of food aggression. Eddie loves every one he meets, no warm up period required, but not everyone can handle his enthusiasm. His tail-less butt-wiggle is a classic Eddie greeting. On occasion he jumps but rarely on a person - he'd rather show off his impressive vertical leap. Frequent and vigorous exercise is needed and he will even exercise himself if a pool is available. A large fenced yard is a must, especially until he can behave himself around other dogs, a pool would be a huge plus. Eddie has lived with one other dog his whole life and gets a long with him really well. Eddie is a well-loved pup and his owner just wants what's best for him but recognizes that it's not his current situation. 
If you are interested in Eddie, please fill out our adoption application and we will forward it on to his owner:  https://www.aussierescuesocal.com/applications/adoption_v2/  - if we have your adopt app already, drop us an email of your interest: aussierescuesocal@gmail.com   (Alta Loma area)
Riley
Contact is owner Christine @ 805-674-5512, chrmathie@gmail.com
Location: Atascadero, San Luis Obispo, CA
Riley, 25lbs, is a 3.5-ish year old spayed female heeler mix current on vaccines as of 1/2021, heartworm and flea/tic preventatives, and microchipped.
Having been an underweight stray, she was originally adopted by a college woman. Riley was anxious in busy apartment life including nipping a stranger. Quieter rural home life seemed to do the trick, until 'sharing' problems emerged: she walks/runs next to my other dog, and they play chase or tug of war. But sometimes it gets rough, and Riley has issues sharing my attention and toys.
When activated, she snaps at my other dog and displays mild resource guarding. She's sensitive to touch, too. She occasionally puts her paws on me and enjoys head scratches and a few pets, will show you her belly, and I can manipulate her paws. But at other times will emit a low growl to let you know she'd rather not be touched. She'd love to sit by your feet or right by your side on the couch or bed, but not snuggling. Fortunately, she's very food motivated and things have improved with behavioral assessment and ongoing training. However, both dogs would be more relaxed and happier if Riley found her very own family. She will thrive as the only child in an adult-only home with a fenced yard.
Riley is smart and cute. She is house trained, crate trained, investigates the yard, and uses a doggie door. This smarty pants knows standard commands and quickly picked up spin right, spin left, touch (with nose), pat (with paw), look, a 3-jump agility routine, and more. A picky eater, she takes treats gently & loves carrots and romaine lettuce: she will sit in front of the fridge hoping for oneof the aforementioned veggie treats. She likes car rides (but barks), is good on leash (adorably sits at intersections without prompting) and might be a good distance walk/run/hike pal. She's easily run 5 miles so far and provides security and companionship. A keen ear, she will be a good alert dog at home. Though active, she settles herself super easily laying down or chewing a bone by her person. Can you give a good home to this only child?. Her adopter(s) will receive her crate and a number of other supplies.
Cali
Cali is a 4 yr old spayed blue female Aussie with two blue eyes and about 50 pounds.  She is housebroken and well behaved in the house, loves to run and go on walks,  thrives with attention and wants a job to do.  Cali loves to snuggle and loves kids, but she is very anxious at times and this makes her impulsive, she can and has bitten if she feels threatened or if you try to take something from her/out of her mouth - she will get very focused/fixated on something and may bite if you try and distract her or get between it and her.  However she is not aggressive with food and even lets other animals eat out of her bowl before she does.  She is good with other dogs, no idea on cats, is friendly and high energy.  She loves playing in the water and the snow.  If you are interested in adopting Cali please fill out our adoption application: 
https://www.aussierescuesocal.com/applications/adoption_v2/
 (Laguna Niguel area)
Remmy
Looks like: Australian Shepherd Mix
Male, 12 years old, 33 pounds
FOSTER NEEDED
"REMMY"
is a sweet older gentleman. He is apprehensive at first and does not like to be lifted. He does snap at too forward people and so should go to a home without children and be with understanding adopters. Also, he much prefers women to men and is very distant to men. He has quite an impressive resume otherwise -- he is great with big or small dogs and he is crate trained and rides well in the car. He is a bit on the timid side at first and prefers to be left untouched until he gets used to you. He isn't described as overly affectionate with people but will warm up to you once he trusts you. He does need a home without cats. 
Remmy did not go many places before coming to POMDR. So a walk to a busy place can be very overwhelming. He has lived a reserved life and it shows in his personality. Slow exposure is ideal for him. 
He walks well on leash. He eats and sleeps in his crate - being led in by food and then settling in comfortably. Remmy does pace in the house and yard, especially during transition but then will mostly just follow his person around. He wants to be with you and is actually showing anxiety when left behind so needs help understanding being left alone is ok. He is hearing and vision impaired but has good energy for his age. He watches intently but doesn't really know any commands. 
Remmy came to us from the Newman Animal Shelter.
Click here for more pictures of Remmy as well as their adoption application:
 https://www.peaceofminddogrescue.org/dog.php?id=2578
Kulture
Kulture is a 2 year old Aussie Mix. She would thrive in a home where she is the only pet as she is an Alpha female. She is a sweet dog full of energy, her favorite thing to do is play ball. She is very smart and likes to show off all the tricks she knows: sit, lay, stay, play dead, roll over, paw, high five, spin. She also loves to do agility training and loves challenge and puzzle toys. She is very nervous and anxious around new people but once she knows you she is very loving and affectionate. She is an amazing dog but in need of rehoming due to us having another Alpha female and they recently got into a dog fight so we believe it is best to rehome Kulture since she would do best in a home by herself. She loves taking trips to the beach and playing fetch in the water. She is crate trained, potty trained, and has completed basic obedience courses. She could use some more strict training with heel and when walking on leash. She is very reactive to other dogs. but this comes from fear and anxiousness. She is great with my sister's baby but that may be because they grew up together. She is spayed, and up to date on all her vaccines, she is also micro chipped. She is definitely an indoor house dog but loves to play outside with you during the day. Kulture is a bigger dog weighing 77lbs. The family that wishes to rehome her will receive her crate, bed, toys, food, favorite treats, balls to play fetch, collar, leash vaccination records, and microchip info. 
I hope to find her the perfect home so a phone interview and home check will be required. And questions or if you would like more info and pictures or videos please feel free to contact me: (209) 672-5207.  (San Jose area)
Fuzzy
"FUZZY" is gorgeous and has had a pretty tough start to life. He was surrendered with his brother to a high kill shelter and intercepted by a Malinois advocate. His brother was adopted immediately as a foster fail. Fuzzy has been under the care of our head trainer - she has over 20 years experience with Malis and other pups. 
The litter was bred with an Australian Shepherd and Malinois. 
Fuzzy is super sweet. He would be best in a home where he is an only dog and no cats/small creatures. (We imagine him with a doting couple) He grew up with children so is okay with good structure and boundaries.
He is super food motivated and loves working for his treats but is also pretty much a couch potato. His basic OB is on point - he even has a sit pretty! He has a dense undercoat and loves the camera. He will pose for a picture! Fuzzy loves baths and grooming time, he's also potty trained and crate trained. He is shy at first and gets uncomfortable with strangers just coming at him. He is pretty good for a few rounds of fetch and will definitely get a little tubby if overfed. Please LOVE me! I am too ridiculously cute 🙂