With the Courtesy Listings, each dog will have a specific contact person listed for interested parties to contact for more information. Other rescues will have their own adoption requirements some of which may vary from ours. Courtesy Listings for private parties are merely a referral, we make no guarantees on them and are relying on the owner to provide accurate information, it is up to the interested parties to determine if it is the right match for them. We do not help them sell their dog, but we do require that the dog be altered before we will post it to our site so the owner may ask for reimbursement of that cost, if it was done to meet our requirements. Any placement/home requirements for these dogs are up to their owner.
Fuzzy
"FUZZY" is gorgeous and has had a pretty tough start to life. He was surrendered with his brother to a high kill shelter and intercepted by a Malinois advocate. His brother was adopted immediately as a foster fail. Fuzzy has been under the care of our head trainer - she has over 20 years experience with Malis and other pups. 
The litter was bred with an Australian Shepherd and Malinois. 
Fuzzy is super sweet. He would be best in a home where he is an only dog and no cats/small creatures. (We imagine him with a doting couple) He grew up with children so is okay with good structure and boundaries.
He is super food motivated and loves working for his treats but is also pretty much a couch potato. His basic OB is on point - he even has a sit pretty! He has a dense undercoat and loves the camera. He will pose for a picture! Fuzzy loves baths and grooming time, he's also potty trained and crate trained. He is shy at first and gets uncomfortable with strangers just coming at him. He is pretty good for a few rounds of fetch and will definitely get a little tubby if overfed. Please LOVE me! I am too ridiculously cute 🙂
Opus
Searching for a loving home for Opus, (8-10-year-old Aussie rescue), in excellent health, very well cared for, with plenty of puppy energy. Sweet, beautiful to look at, soft to touch, with the best ears ever. Opus was born deaf and blind in one eye. He is trained to respond to hand signals. ** Owner is willing to pay for 10 sessions with a trainer of adopter's choice to help get him settled into his new home.
Loves people, unless you are the gardener invading his territory. With his limited perception, if approached too quickly, (like a puppy might), he can become defensively aggressive. He is good with dogs his own size or smaller but not with cats. An ideal home for him would have a big yard and walks with someone who is good setting alpha boundaries.
Contact owner Georgia at 
gnoble@cox.net
or call (805) 452-4724  (Santa Barbara area)
Sophie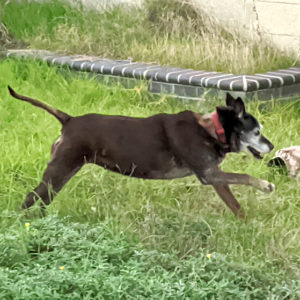 "SOPHIE"
, Australian Cattle Dog Mix
Sophie is approximately 14 years old, female, spayed. She was a family surrender to a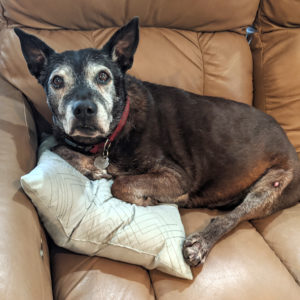 shelter in Los Angeles and was housed there for six months prior to adoption by my spouse's mother. Due to my spouse's mother's death, we are now fostering her in search of a new home for her. She is not compatible with cats (we have two). She comes on strong initially with other dogs, but mellows out after time and a few introductions. She loves to go on walks and heals well, plays ball and continues to have moderate to high energy. She is an excellent companion, although she loves to sleep on the couch and cuddles on pillows.  If you are interested in this senior gal, please fill out our adopt app: 
https://www.aussierescuesocal.com/applications/adoption_v2/
 and we will forward it on to her caregivers  (Torrance/South Bay area)  (1-20)