With the Courtesy Listings, each dog will have a specific contact person listed for interested parties to contact for more information. Other rescues will have their own adoption requirements some of which may vary from ours. Courtesy Listings for private parties are merely a referral, we make no guarantees on them and are relying on the owner to provide accurate information, it is up to the interested parties to determine if it is the right match for them. We do not help them sell their dog, but we do require that the dog be altered before we will post it to our site so the owner may ask for reimbursement of that cost, if it was done to meet our requirements. Any placement/home requirements for these dogs are up to their owner.
Blue
Blue is a 3 years old, Female, Australian Shepherd. She weighs 55 poundsPer her owner:
Blue is a fun-loving, sweet and sensitive companion who has a special need for a peaceful and patient household. She is a rescue who has some insecurities and does not like to be left at home alone. Blue is eager to play with dogs her size or larger and loves to be around people but still needs to learn her manners around small children. With more training, consistency, and structure, she will make a wonderful family dog!
Although she appears to be quite independent, this sweetheart needs a lot love and attention! She is an indoor dog, however, a fenced backyard where she can EXPLORE nature and RUN around will make her very happy...she also enjoys long walks! If you are interested in adopting Blue, please contact Theresa at theresa.cushing@gmail.com.)
Mugsy
"MUGSY" is a friendly male, 5 year old, Australian cattle dog mix looking for a furever home. He is great with people, kids, and other dogs. Mugsy's foster family says he is the best family dog ever ❤ He likes to go on walks and play with the other dogs. Mugsy does have some arthritis which causes a limp if he exercises too much. He prefers mild to moderate activities with his friends.
If you are interested in adopting Mugsy, fill out an application here: http://aussierescuesandiego.org/foster-and-volunteer/adoptionapplication/
(7-18)
Kuma
Unfortunately Kuma's last adoption did not work out - he does need to be an only pet in the home.
"KUMA" is a neutered male, 8 years young. He is housebroken, uses a doggie door, rides well in
the car, and enjoys playing fetch/ball. He has been good with current owner's 11 year old grandson and four kids next door, ages 4 to 11. He has had a recent check up and has a clean bill of health. Kuma is up to date on all his vaccines. He can be nervous to start when meeting new people but once he warms up, he is affectionate. Kuma loves his walks and car rides.
He attended doggie day care with other dogs where he is mostly aloof. He can be reactive to dogs on the leash. So best he is with someone experienced as he does lunge at them while out on walks and once pulled his elderly owner into a telephone pole, injuring her (if no dogs are around, he walks well on the leash). She does have a dog walker take him out now, but he is also becoming very protective of her and he is just too strong for her to handle, he's been resource guarding some of her belongings and she is unable to stop him. Kuma is very smart and can be trained not to do this and would be best with a younger, more active owner, he does better with women than men. His groomer says he does very well being groomed.
His prior owner passed away 2 years ago, and that is when his current owner took him in, and unfortunately she is unable to take care of him herself now. If you are able to give Kuma a loving home, please contact Mickie at mickie.c.robbins@gmail.com (Manhattan Beach area) (7-18)
Fluff
Meet Fluff. Fluff is a black bi-colored (black & white) Australian Shepherd and is about 7 years old.
He was an owner surrender to the shelter, because his person was moving. He is very sweet and is really looking to bond with his person. Typical of his Aussie heritage, he is engaging and sweet. He likes to play ball, and he is a gentleman and brings it back to you. He is well socialized with other dogs. He does guard his ball, but is respectful when playing with another dog if that dog gets the ball first. He walks well on a leash, and appears to know some basic obedience. Since he is in a kennel environment, the stimulus is a bit much for him. He does react to the other dogs when they bark at him while on leash. This may be just being in a kennel environment.
If you are interested in meeting our dogs, please fill out an adoption application. We require a pre-approved application to be on file before any meet and greets are scheduled. The electronic application can be found on our website at http://www.bordercolliesinneed.org/border_collie_rescue_and_adoptions/adoption_application.html (6-18)
Colt
"COLT" needs a new home asap! He is not good with the other dogs he is currently living with.

Colt is a three year old, neutered male and weighs 30 lbs
Per owner:
"Colt is an amazing, athletic, smart, eager to please dog who knows basic commands as well as functional ones like staying out of the kitchen. He needs a home with no other dogs and an owner who can make sure he is safe around other dogs. He loves to cuddle and would be an ideal dog for a VERY active person who likes to hike and run. He runs 3-5 miles a day and gets out to play with a ChuckIt 2-3 times a day. He currently has 1/2 acre to run around and is on a raw diet due to skin allergies. We have a house cat whom he gets along with, they walk around together and sit near each other, though I never have them together unmonitored. Gets along great with kids, pukes in the car every time with or without food in his tummy" Colt is currently living with horses, goats, other dogs, a cat, a tortoise, and a potbelly pig. He has not once shown aggression towards any of the other animals other than the dogs. Colt is very well trained. He doesn't use a leash when out and about and he will not wander if the gate is left open. Colt plays and does well at dog parks. He is highly motivated with a ball and one on one time with a person.
Please contact Sarah at 619-410-2824
Dash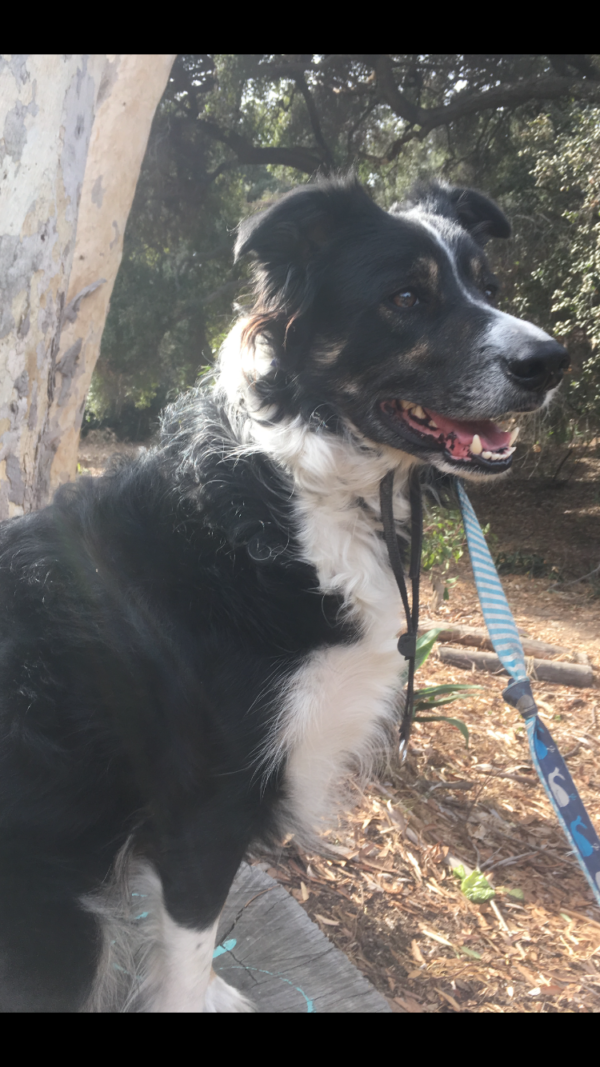 DASH is a neutered male, 3 year old, Border Collie mix. He weighs 50 lbs.
Dash is energetic, playful, shy/nervous at times, listens well and loves playing with other dogs. He likes to go on long walks, hikes, and runs! He enjoys playing catch/fetch with his tennis ball. He knows few basic commends but will need adequate time for exercising and training. He is not good with children. Contact Mike at 515-520-2933 or mikeweb1000@gmail.com (San Diego area) (6-18)
Dolly
"DOLLY" is a 8 year old spayed female mix with beautiful blue eyes. At 40 pounds, she is a nice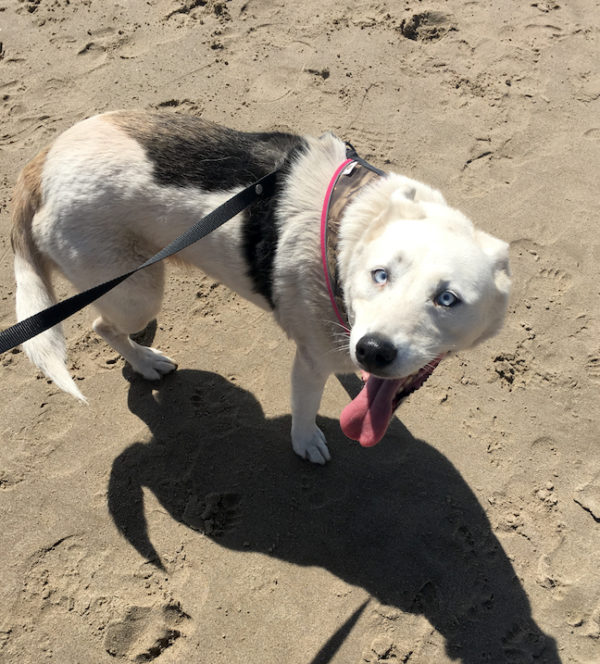 medium size girl. She is housebroken, used to being outside in the yard during the day while her owner is at work, has an 8 pound male companion that she plays with, has gone to the dog park occasionally and really has no interest in the other dogs there, just sits with the people; no idea on cats. Dolly has been around grandkids 11 & up and fine, loving and affectionate once she knows you, can be reserved at first. Her owner has lost her home and having to move into an apartment in a couple of weeks and cannot take Dolly with her - if you are interested in giving this sweet girl a loving home, please contact her owner
Kim @ 805-754-6174 (Kern County)    (6-18)
Camille
Camille is a 2.5 yr old spayed female Aussie mix, about 57 pounds, who's owners are looking for a new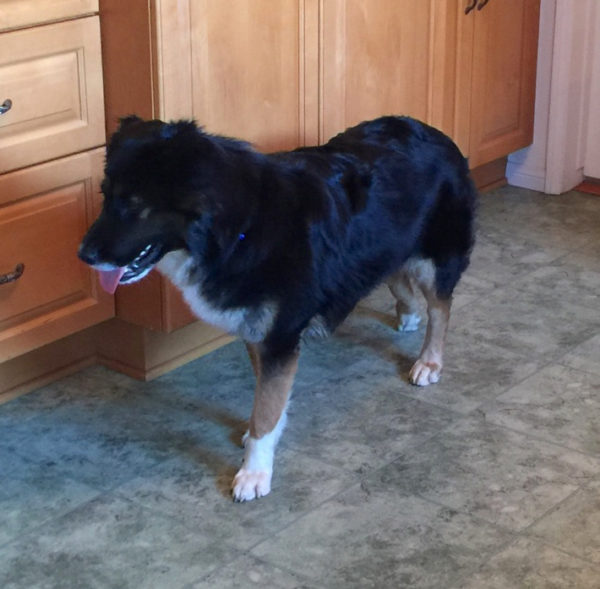 home for her because due to health reasons, they are not able to give her enough exercise. She is housebroken, crate trained, well behaved in the house, likes to go on car rides and likes to go on walks and walks well on a loose leash. She is very smart, energetic and active, loves to play fetch with her balls or rope toys and likes working for treats and dog cookies and doing tricks. No idea how she is with cats, sorry, and can be nervous/afraid of other dogs - she does have a couple of dog friends, but not comfortable meeting strange ones initially. If you are interested in Camille, please contact her owners: cynthia_49@yahoo.com (Rancho Palos Verdes area) (6-18)
Austin
Seeking loving, patient home for Austin the dog, a special Aussie mix. Austin is almost 8 yrs old (turns 8 yrs on June 2018). He is neutered and house-broken, and responds to basic commands like sit, down,
paw, shake, and come (and sometimes high-five!) He is generally an indoor dog and leaves the place without any wear and tear, but he definitely enjoys time outside and could function as both an indoor dog, outdoor dog or mix of both. He gets along well with other dogs (I also have a coonhound and have exposed him to many other dogs, he does best if the other dog is not an alpha type). Generally, he seems disinterested in cats but there has not been enough exposure to know how he'd react either way. Austin was rescued from a kill shelter as a puppy, and he has some trust issues that need to be re-established. He has biten one person who pet him, and this was because he did not know the person and had not warmed to them. Often he will bark and growl if he feels threatened. I generally ask all people either not to pet him or to pet him carefully and on his terms (hands undercupped, letting him be the one to approach). To me, he's been special and sweet and loving, and gets along great with our other dog and my now husband (who won him over with a couple of walks outside). We now have a newborn and need to look for other alternatives as we don't know how he'd react to a toddler petting him or doing something he didn't like. He would do best with a patient, kind and attentive single person who wants to help build trust with him or a family without kids, with or without other dogs in the house. We live in Sacramento but have family in Southern CA and would drive for the right family who is seriously considering adoption. Feel free to reach me at amyjomagruder@gmail.com if you have questions or want to consider adopting Austin. (6-18)
Mystic
"MYSTIC"  7 1/2 years old, Female, AustralianShepherd, small, 39lbs
Mystic was recently rescued from a commercial breeding operation. She is in our rehab program where she is learning to not be so afraid and anxious. Because her world has changed so much, she needs consistency. Poor girl is trying to figure out how to be a fun loving dog. Mystic has had a full dental and Is spayed. She is available to a home committed to working with a fearful dog. http://aussierescuesandiego.org/foster-and-volunteer/adoptionapplication/
(6-18)
Trudy
"TRUDY"
8 1/2 years old, Female, Australian Shepherd, mini 33lbs
Trudy was recently rescued from a commercial breeding operation. She has been in our rehab program learning to be comfortable with everyday noises and situations. She loves to lay on her bed when visiting with volunteers and is enjoying being brushed and pet. Trudy needs a full dental and spay. She is available for adoption to a home.http://aussierescuesandiego.org/foster-and-volunteer/adoptionapplication/
(6-18)
Stella
"Stella" 4 year old, Female Border collie, 31 lbs
Stella is a great girl She loves to help her person do ANY thing! She is a border collie... Stella wants someone with a sense of humor and who can give her stuff to do even if just tagging along during the day. She may be scared of traffic, lots of new people, or loud noises so her owner will need to be patient and understanding. She does recover fast. She has been good with her foster siblings, unknown with cats and kids. If you would like to adopt Stella, please fill out an adoption application http://aussierescuesandiego.org/foster…/adoptionapplication/
(6-18)
Mojo
"MoJo" is a 1 1/2 year old cattle dog mix with great energy and enthusiasm. He is learning his obedience and, with training, would make a great family dog. http://www.bordercolliesinneed.org/border_collie_rescue_and_adoptions/mojo(courtesy).html
(6-18)