With the Courtesy Listings, each dog will have a specific contact person listed for interested parties to contact for more information. Other rescues will have their own adoption requirements some of which may vary from ours. Courtesy Listings for private parties are merely a referral, we make no guarantees on them and are relying on the owner to provide accurate information, it is up to the interested parties to determine if it is the right match for them. We do not help them sell their dog, but we do require that the dog be altered before we will post it to our site so the owner may ask for reimbursement of that cost, if it was done to meet our requirements. Any placement/home requirements for these dogs are up to their owner.
Abbi
"ABBI" We have nicknamed her Abracadabra! It is like magic how she came to us so panicked and scared of all the city noises/happenings but has relaxed in our country setting 
Abbi gets scared when there are alot of unknown things occurring around her. She will try to flee the area. She needs a comfortable calm and happy introduction to people. So far she has been great with the other dogs and is very playful. We love this little girl! She has a smile that energizes you and encourages you to keep going. Abbi would be a great buddy dog for someone who has positive energy, lives in a quiet environment and wants to be active. While she doesn't enjoy city walks, she does love to hike and play ball. Abbi loves water!! She is still a young girl and needs training. Familiarity with her breed is a must! If you are interested in Abbi, please fill out an adoption application http://aussierescuesandiego.org/foster…/adoptionapplication/
Penny
"PENNY"
is a 1 1/2 year old female Aussie who is extremely friendly. She loves everyone so far and is very
sweet but....Penny has grown up in apartments where her family was gone all day. She never learned basic manners beyond the occasional sit and is highly reactive on leash (excitement not aggression). She leaps and jumps on people without regard to space and she barks when bored or frustrated. Penny is not suitable for any home where barking would be a problem. With the right person and proper training, she can and 
will be a great dog! Penny is currently being fostered by a dog trainer who is helping Penny learn to control her impulsiveness. Penny is learning to use her brain, be operant and make good choices. If you are interested in adopting Penny, please fill out our adoption application http://aussierescuesandiego.org/foster-and-volunteer/adoptionapplication/. Our adoption coordinator will contact you within 24 hours of receiving your application. (San Diego area)
Pumpkin
Pumpkin is ready for her furever home!! DOB 7/24/17, Female, Unknown mix or size She was rescued after our local shelter picked her up at only 4 weeks old. She was skin and bones and covered in fleas and ticks. We worked with Cuyamaca Animal Hospital to get her nursed back to health and up to speed for her age. She is doing great now and ready to go home. Due to her poor nutrition, we can't tell you how big she will be. We don't even have a guess as to what breed she is...except Cutest puppy ever! She is doing very well with her training so far. At 9 weeks old, she weighed 8.2 lbs!! If you are interested in adopting Pumpkin, please complete an adoption application
http://aussierescuesandiego.org/foster…/adoptionapplication/
Cody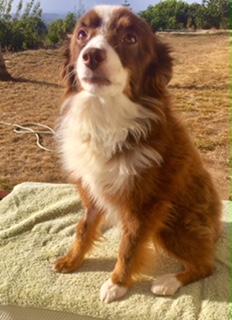 "CODY"
is an eight year old Mini Aussie. He weighs 12 lbs and loves to jumps into your lap like a cat
Loves people and would do well in a home where he is not left alone for long periods or with another dog. Cats unknown. Cody is neutered and has just had fresh dental work done. 
In foster in Santa Barbara and new photos coming soon.
Dogadopt21@gmail.com
Sherlock
 "Sherlock" is a smart and willing guy! He loves to play with toys and hang out with his person. Sherlock is still learning basic training skills. He was rescued with several of his siblings just 1 day before they were due to be picked up by animal control. These babies were part of two litters that were running around on a ranch. The pups all seem to be friendly just not trained or exposed to much. Sherlock learns very easily and wants to partner with someone. If you are interested in helping this boy reach his full potential please fill out an adoption application http://aussierescuesandiego.org/foster-and-volunteer/adoptionapplication/
Dash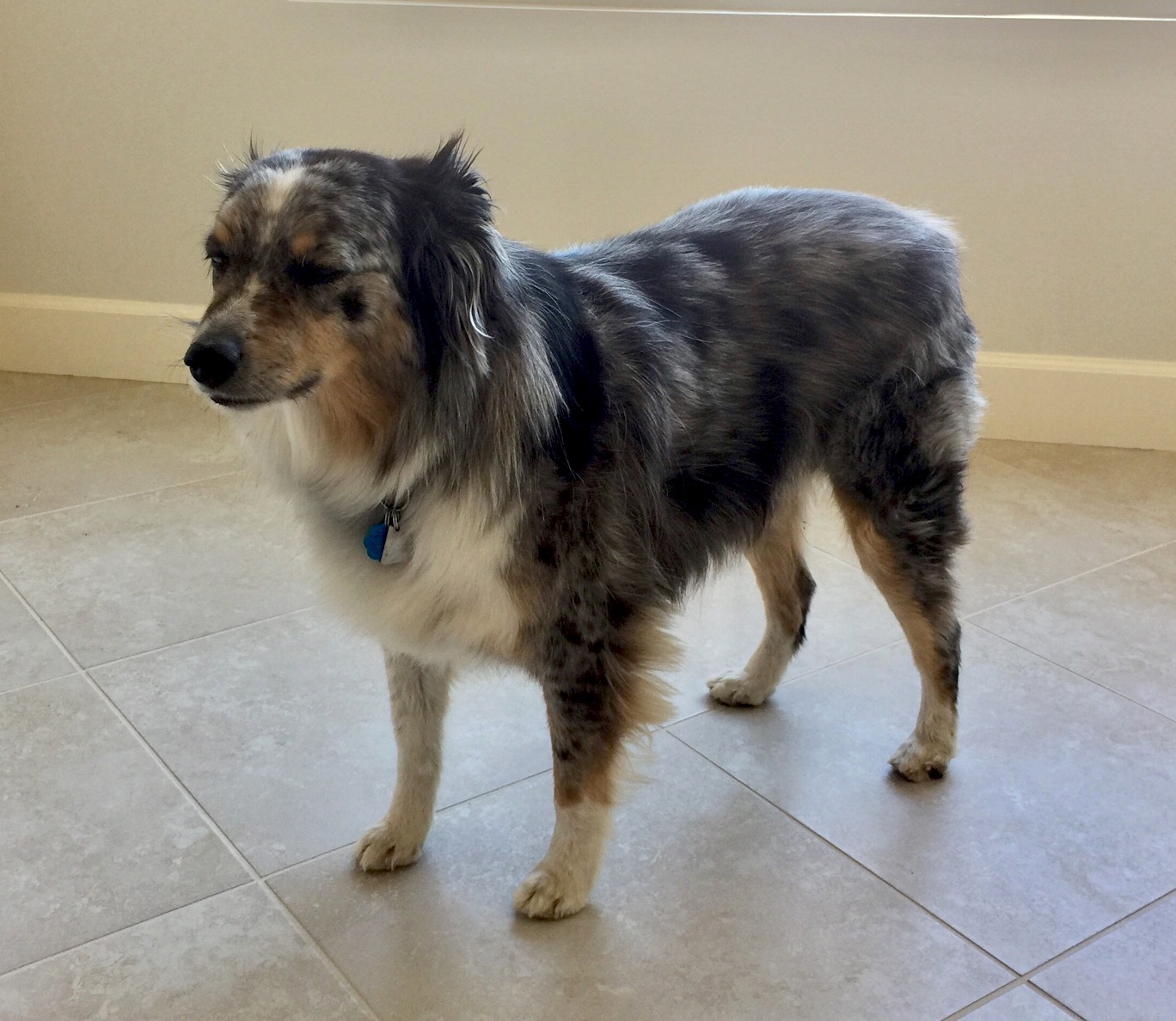 "DASH" is 6 yr old blue merle neutered male Aussie.  He is house broken and good in the house, loves to play fetch, he know commands like sit, shake hands, stay, and is current on his vaccinations.  Dash is not good with other dogs initially - he has over the years learned to play with another family member's small dogs, but his first reaction to other dogs is to bark and lunge at them.  His current owners recently moved into a retirement community and he is not doing well with the smaller yard and closer quarters to other dogs - he is barking at other dogs when they are walked by and neighbors are complaining.  He is active and loves to go on walks and likes to play fetch.  They are looking for a good and loving home for him with someone that can give him plenty of exercise.  He does take time to warm up to strangers, may growl at first but has never bitten or snapped at anyone.  Interested parties can contact Dash's owner via email: Maryconnelly93@yahoo.com  (Apple Valley area)
Danny
Danny, Male, Australian Shepherd, 1 year old, 43lbs
"DANNY" is a fluffy sweet fellow ❤️ He is a double merle and is deaf. Danny is learning his basic commands and doing very well with come, sit and more. He is friendly with people and other dogs (almost too friendly; he greets with his paws!). Danny needs a home with patience and time to train him. If you are interested in adopting Danny, please fill out an adoption application http://aussierescuesandiego.org/foster-and-volunteer/adoptionapplication/
Teddy
"Teddy is 8 years old, and 45lbs.  He has been living alone with my mother-in-law and her husband who have severely neglected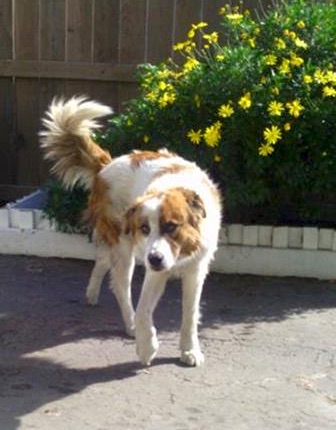 him since my wife moved out 3 years ago.  Both are addicts, and after having neglected Teddy for several years, have decided they no longer want to keep him at all, and began talking about having him euthanized last week.   He was originally purchased from a pet store and listed as an Aussie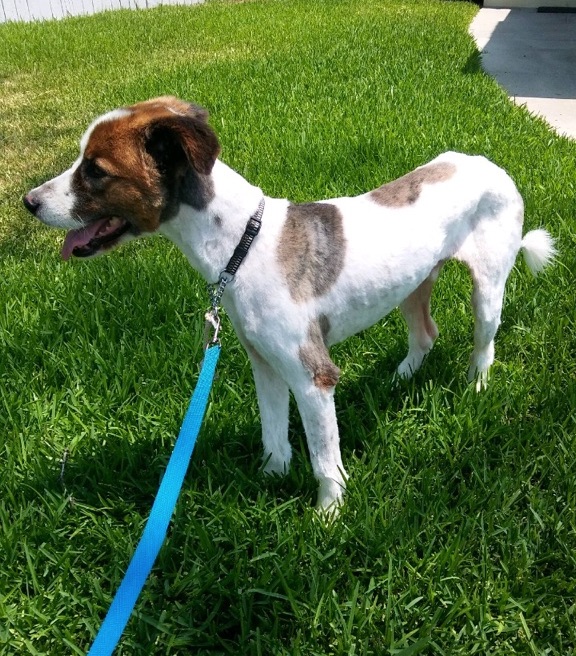 Mix, although we are not quite sure mixed with what.  We have had a friend of mine, who actually trains Aussies, take a look at him and spend some time with him and she thinks he is mixed with Saint Bernard.  This trainer also said that Teddy with need a bit of training, as he has obvious separation anxiety, and has shown aggression towards smaller dogs.  She is confident however that with training he can be corrected away from these behaviors.  My wife and I have been walking him every night for the past two weeks, in an effort to get him comfortable around people and other dogs again, and there have been no major problems.  We decided to have him groomed as we hoped it would lessen the pain he was in from all of the matted and tangled fur.  The groomer informed us that he was quite infested with flees, and he seems to be significantly happy now that he has been shaven.  My wife and I both love Teddy, but with our current living situation, and the fact that we already have two small dogs, we just can not take him into our home at this time.  We have reached out to a few other people and rescue groups, but we are desperately looking for a good home for him where he will be loved and cherished for the beautiful animal that he is."  If anyone is able to help Teddy, please contact Eden @ 626 472 4442  (LA/Glendora area)
Colt
"COLT" needs a new home asap! He is not good with the other dogs he is living with. 
Per owner:
"Colt is an amazing, athletic, smart, eager to please dog who knows basic commands as well as functional ones like staying out of the kitchen. He needs a home with no other dogs and an owner who can make sure he is safe around other dogs. He loves to cuddle and would be  an ideal dog for a VERY active person who likes to hike and run. He runs 3-5 miles a day and gets out to play with a ChuckIt 2-3 times a day. He currently has 1/2 acre to run around and is on a raw diet due to skin allergies when I got him. He was neutered a little over a year ago in the hopes that it would minimize the aggression.  He is a happy and healthy dog outside of the aggression and I desperately want to find him a home that I feel he will be properly cared for. We  have a house cat whom he gets along with, they walk around together and sit near each other, though I never have them together unmonitored. Gets along great with kids, pukes in the car every time with or without food in his tummy"
Please contact Jenelle at 619)997-1439. Text is best. 
Keely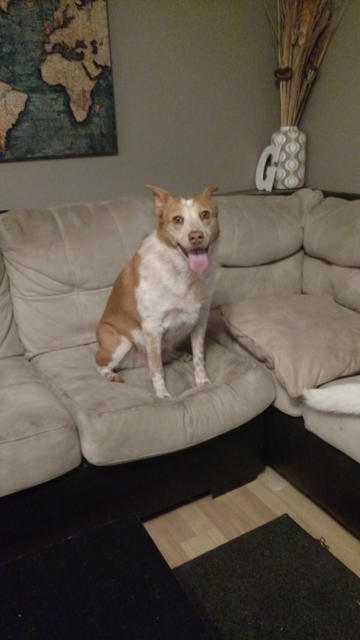 Per owner: I am needing to rehome my Australian Shepherd / Border Collie mix - Keely. She's a sweet smart loving 6 year old, spayed, and up to date on all her shots. She has always been slightly aggressive and anxious around other dogs. We did puppy training and worked with her at the dog park, however she mostly wants to be left alone and keeps to herself and her owner. We have another dog in our house and they've gotten into a few fights over the years mostly over food. However, with proper care and responsibility all this is manageable. If you know her tendencies (leave before she gets too tired, don't put her collar on when other dogs are close, keep her on a short leash while walking by other dogs, etc.) and are willing to work with her she is able to be taken to the dog park and walked. We haven't had any issues in over a year. That said, we now have an 18 month old daughter. At first the dogs were uninterested in the baby. Now that she's 1 and a half and more mobile, it's become an issue. Keely has been getting increasingly uncomfortable around her. We never leave them unsupervised and worked with showing our daughter how to respect the dogs space and not bother them. However, over the weekend she got too close and Keely bit her in the face. Luckily, there was no major damage. She didn't break the skin, but it was still traumatizing. We need to rehome her as we cannot wait for this to happen again or worse. Ideally she'd do best in a home that understands an Aussie's demeanor and tendencies and no children. I would ideally like to find a new home for her by the weekend. Any help would be most appreciated!
If you are interested in helping Keely, please contact Joe (408) 569-9504 (3-6)