With the Courtesy Listings, each dog will have a specific contact person listed for interested parties to contact for more information. Other rescues will have their own adoption requirements some of which may vary from ours. Courtesy Listings for private parties are merely a referral, we make no guarantees on them and are relying on the owner to provide accurate information, it is up to the interested parties to determine if it is the right match for them. We do not help them sell their dog, but we do require that the dog be altered before we will post it to our site so the owner may ask for reimbursement of that cost, if it was done to meet our requirements. Any placement/home requirements for these dogs are up to their owner.
Shaylee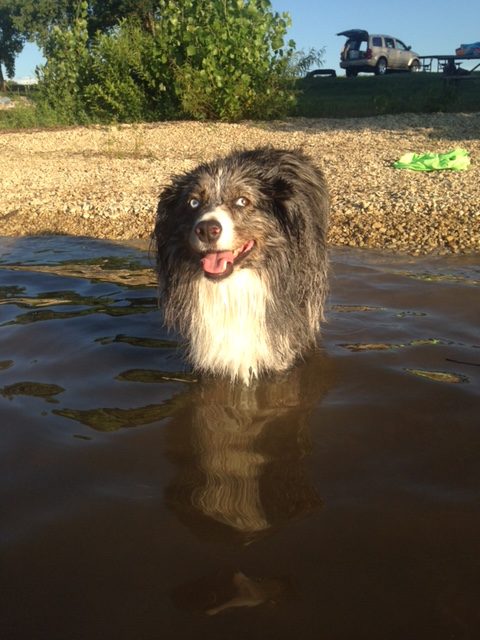 Shaylee is an 8 years old, Spayed female, Australian Shepherd.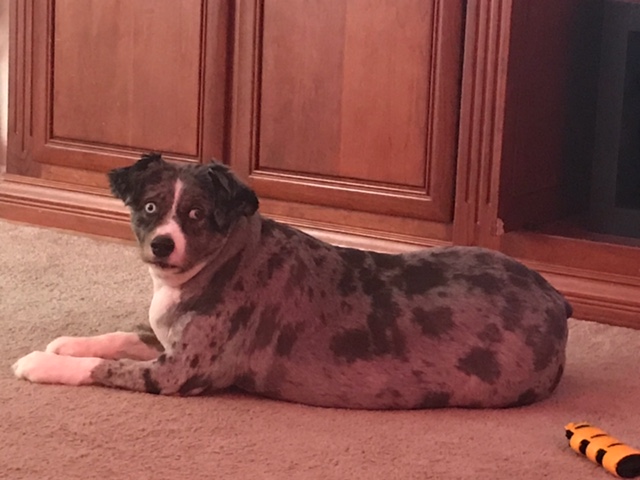 She weighs 70lbs - very overweight
Shaylee needs your help! The family has too many dogs at their residence and Shaylee needs a new home. Per owner: she gets along with all dogs and people, kids. She does jump sometimes when she's excited but no other problems other than she's very overweight and not very active like other aussies. She was just shaved over the weekend. The other pictures are when her coat was grown out. If interested please contact Misty at
mistyratcliff75@yahoo.com
Temecula area
Dash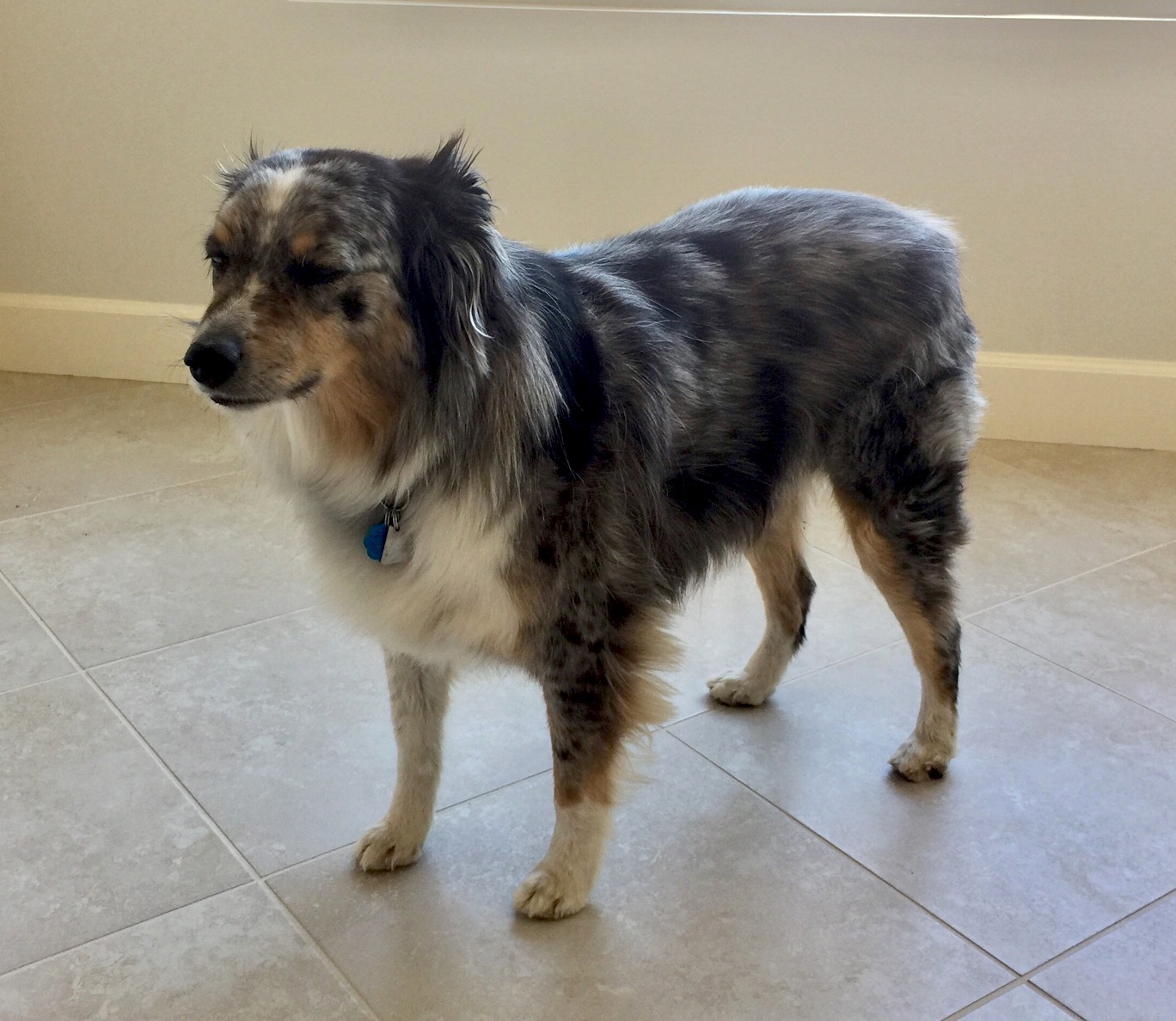 "DASH" is 6 yr old blue merle neutered male Aussie.  He is house broken and good in the house, loves to play fetch, he know commands like sit, shake hands, stay, and is current on his vaccinations.  Dash is not good with other dogs initially - he has over the years learned to play with another family member's small dogs, but his first reaction to other dogs is to bark and lunge at them.  His current owners recently moved into a retirement community and he is not doing well with the smaller yard and closer quarters to other dogs - he is barking at other dogs when they are walked by and neighbors are complaining.  He is active and loves to go on walks and likes to play fetch.  They are looking for a good and loving home for him with someone that can give him plenty of exercise.  He does take time to warm up to strangers, may growl at first but has never bitten or snapped at anyone.  Interested parties can contact Dash's owner via email: Maryconnelly93@yahoo.com  (Apple Valley area)
Chief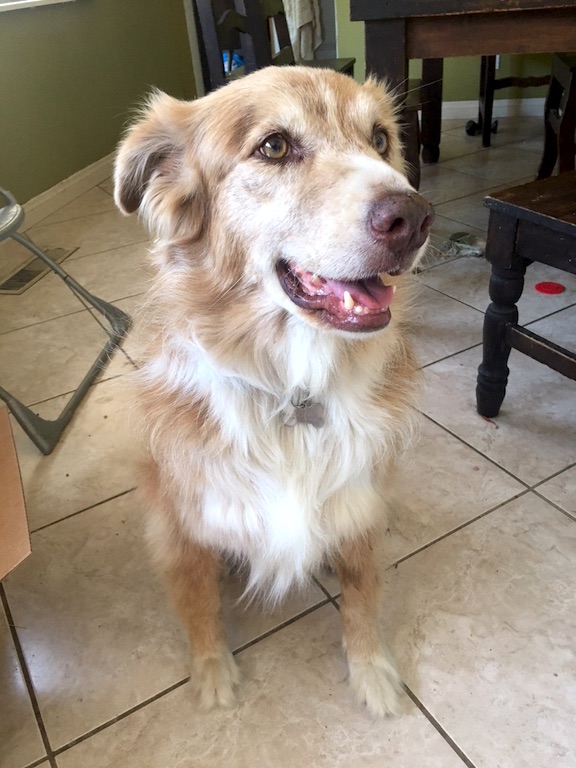 "CHIEF"is a 7 yr old neutered male Aussie, about 50 pounds.  He is housebroken and well behaved
in the house, is very loyal and loving with his people, but has a history of nipping strangers if not introduced properly first - so he is looking for a home that is quieter and does not have a lot of new people coming in and out.  He is excellent with the children in his home but has nipped a neighbor child in the bum recently (no medical attention needed) and because of this, his owners really need to rehome ASAP.  They have worked with a trainer and he is better, but with children in the house, there are more and more instances of kids just coming in door to the house, or the gate into the yard, etc.  He is okay with smaller dogs and excellent with cats, but not good with dogs of similar size or larger.   If you are interested in Chief, please contact his owner via  (text or call) 858-349-2140  or mailto:bjunecarter@gmail.com   (San Diego area)
Kahlua
"KAHLUA" needs a home asap! She needs lots more exercise and than her pregnant mom can provide. Kahlua is a 2 year old, 45lb spayed female Aussie. She may be a double merle or just a red merle with excess white. She can hear and see just fine. Kahlua is a strong girl both physically and mentally. She knows what she wants! She is fine with people and strange dogs once she gets to know them and decides she likes them. Otherwise she barks meaningfully and may nip clothing if allowed to escalate. Kahlua enjoys tug of war and playing ball. She needs someone who can exercise and train her. If you are interested in this lovely looking girl, please contact Maria at msgodina@yahoo.com Maria works alot and has a high risk pregnancy so please let's help her find Kahlua a great home! 
Danny
Danny, Male, Australian Shepherd, 1 year old, 43lbs
"DANNY" is a fluffy sweet fellow ❤️ He is a double merle and is deaf. Danny is learning his basic commands and doing very well with come, sit and more. He is friendly with people and other dogs (almost too friendly; he greets with his paws!). Danny needs a home with patience and time to train him. If you are interested in adopting Danny, please fill out an adoption application http://aussierescuesandiego.org/foster-and-volunteer/adoptionapplication/
Wyatt
We love "WYATT" so much, and he is a very big part of our family (and has been for 7 years now).  He loves to go on walks, go hiking, go running and play frisbee. He is a sweet dog, and has a lot of energy.  Wyatt is friendly with people. He gets along with other dogs (we have another dog, and he spends a lot of time with his cousins and neighbors), and he loves to play! He is however pretty calm and just rests most of the day (we usually walk/run him first thing in the morning). We are devastated, but we sadly need to find him a new home. He is skittish and nervous around children, and he is very nervous around our 3 year old, who can sometimes have unpredictable behaviors. I am always very careful when they are together, but it has gotten too difficult now that we also have another baby moving around. 
We are hoping to find him a family that will love him just like we do! Wyatt is neutered and up to date on his shots. 
If you are interested in giving Wyatt a wonderful home, please call owner, Kim at (818) 687-2128 
Snickers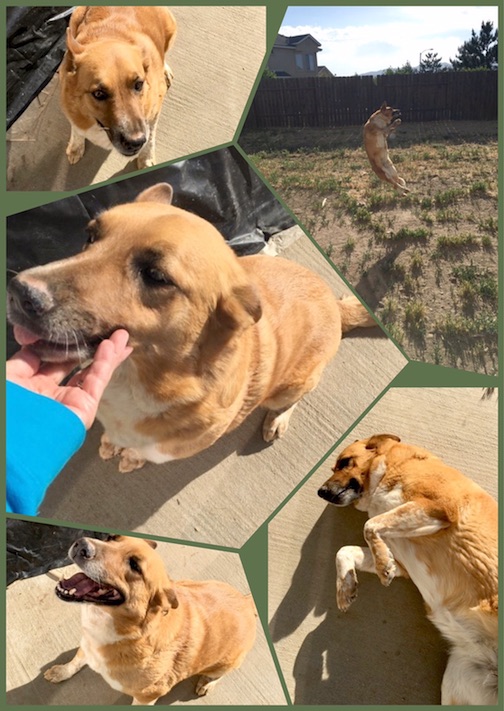 "SNICKERS" is an 8 yr old, 70 pound,  spayed female Aussie x GSD mix (best guess).  She is friendly with men, women, children, meeting strangers, and other dogs, don't know about cats but she will chase squirrels and birds.  She is a good watchdog, loves to play outside in the yard and likes to play with toys - especially running around, chasing a ball - and loves frisbee.  She does enjoy being inside also, is housebroken and is well behaved if left loose indoors.  She is sweet and well behaved, sits, shakes, answers to the command of "what", and follows hand signals to backup & stop. She will let you rub her tummy as long as you want     Her owner is being relocated for work and corporate housing does not allow animals, so has a month to find her a new home.  If you are interested in this sweet girl, please contact owner Debbie via email: debkjarrett@gmail.com  or call 661-805-5986 (Tehachapi area)
Teddy
"Teddy is 8 years old, and 45lbs.  He has been living alone with my mother-in-law and her husband who have severely neglected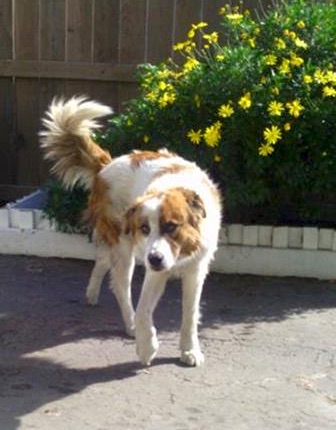 him since my wife moved out 3 years ago.  Both are addicts, and after having neglected Teddy for several years, have decided they no longer want to keep him at all, and began talking about having him euthanized last week.   He was originally purchased from a pet store and listed as an Aussie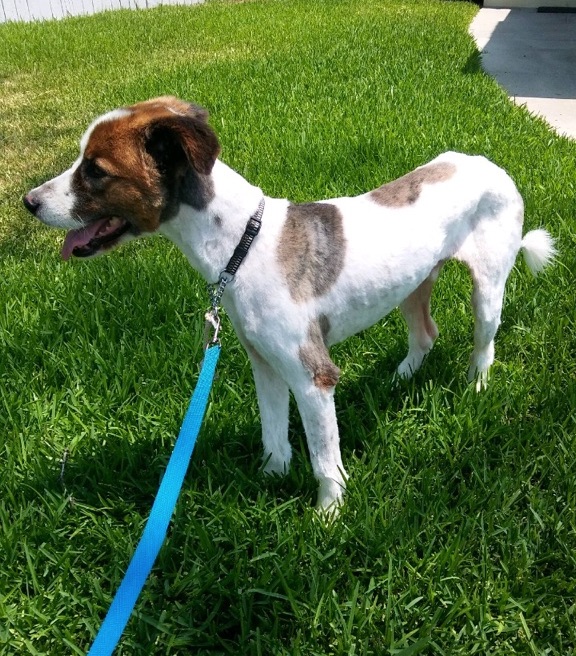 Mix, although we are not quite sure mixed with what.  We have had a friend of mine, who actually trains Aussies, take a look at him and spend some time with him and she thinks he is mixed with Saint Bernard.  This trainer also said that Teddy with need a bit of training, as he has obvious separation anxiety, and has shown aggression towards smaller dogs.  She is confident however that with training he can be corrected away from these behaviors.  My wife and I have been walking him every night for the past two weeks, in an effort to get him comfortable around people and other dogs again, and there have been no major problems.  We decided to have him groomed as we hoped it would lessen the pain he was in from all of the matted and tangled fur.  The groomer informed us that he was quite infested with flees, and he seems to be significantly happy now that he has been shaven.  My wife and I both love Teddy, but with our current living situation, and the fact that we already have two small dogs, we just can not take him into our home at this time.  We have reached out to a few other people and rescue groups, but we are desperately looking for a good home for him where he will be loved and cherished for the beautiful animal that he is."  If anyone is able to help Teddy, please contact Eden @ 626 472 4442  (LA/Glendora area)
Gritz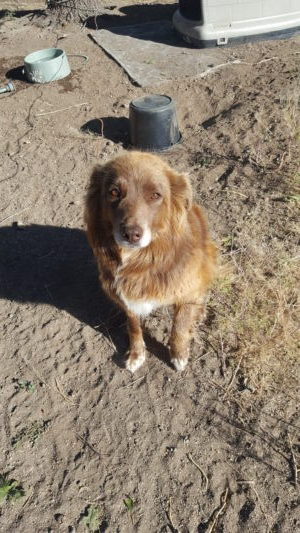 "GRITZ" is a seven-year-old purebred red Tri. She is 23 pounds. She is good with kids and all people. She was previously an outdoor dog but has recently been brought inside with her foster. She needs a home where someone can give her the love and attention she deserves She is located in a foster home in Santa Maria. She is spayed and current on vaccines. Please contact Lesley at: Dogadopt21@gmail.com
Colt
Colt needs a new home asap! He is not good with the other dogs he is living with. 
Per owner:
"Colt is an amazing, athletic, smart, eager to please dog who knows basic commands as well as functional ones like staying out of the kitchen. He needs a home with no other dogs and an owner who can make sure he is safe around other dogs. He loves to cuddle and would be  an ideal dog for a VERY active person who likes to hike and run. He runs 3-5 miles a day and gets out to play with a ChuckIt 2-3 times a day. He currently has 1/2 acre to run around and is on a raw diet due to skin allergies when I got him. He was neutered a little over a year ago in the hopes that it would minimize the aggression.  He is a happy and healthy dog outside of the aggression and I desperately want to find him a home that I feel he will be properly cared for. We  have a house cat whom he gets along with, they walk around together and sit near each other, though I never have them together unmonitored. Gets along great with kids, pukes in the car every time with or without food in his tummy"
Please contact Jenelle at 619)997-1439. Text is best. 
Keely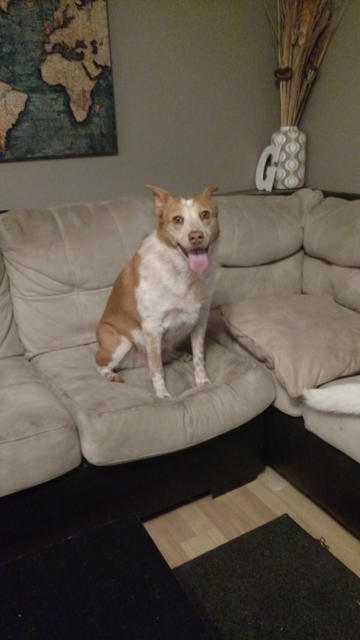 Per owner: I am needing to rehome my Australian Shepherd / Border Collie mix - Keely. She's a sweet smart loving 6 year old, spayed, and up to date on all her shots. She has always been slightly aggressive and anxious around other dogs. We did puppy training and worked with her at the dog park, however she mostly wants to be left alone and keeps to herself and her owner. We have another dog in our house and they've gotten into a few fights over the years mostly over food. However, with proper care and responsibility all this is manageable. If you know her tendencies (leave before she gets too tired, don't put her collar on when other dogs are close, keep her on a short leash while walking by other dogs, etc.) and are willing to work with her she is able to be taken to the dog park and walked. We haven't had any issues in over a year. That said, we now have an 18 month old daughter. At first the dogs were uninterested in the baby. Now that she's 1 and a half and more mobile, it's become an issue. Keely has been getting increasingly uncomfortable around her. We never leave them unsupervised and worked with showing our daughter how to respect the dogs space and not bother them. However, over the weekend she got too close and Keely bit her in the face. Luckily, there was no major damage. She didn't break the skin, but it was still traumatizing. We need to rehome her as we cannot wait for this to happen again or worse. Ideally she'd do best in a home that understands an Aussie's demeanor and tendencies and no children. I would ideally like to find a new home for her by the weekend. Any help would be most appreciated!
If you are interested in helping Keely, please contact Joe (408) 569-9504 (3-6)