With the Courtesy Listings, each dog will have a specific contact person listed for interested parties to contact for more information. Other rescues will have their own adoption requirements some of which may vary from ours. Courtesy Listings for private parties are merely a referral, we make no guarantees on them and are relying on the owner to provide accurate information, it is up to the interested parties to determine if it is the right match for them. We do not help them sell their dog, but we do require that the dog be altered before we will post it to our site so the owner may ask for reimbursement of that cost, if it was done to meet our requirements. Any placement/home requirements for these dogs are up to their owner.
Camille
"CAMILLE" is a 2.5 yr old spayed female Aussie mix, about 57 pounds, who's owners are looking for a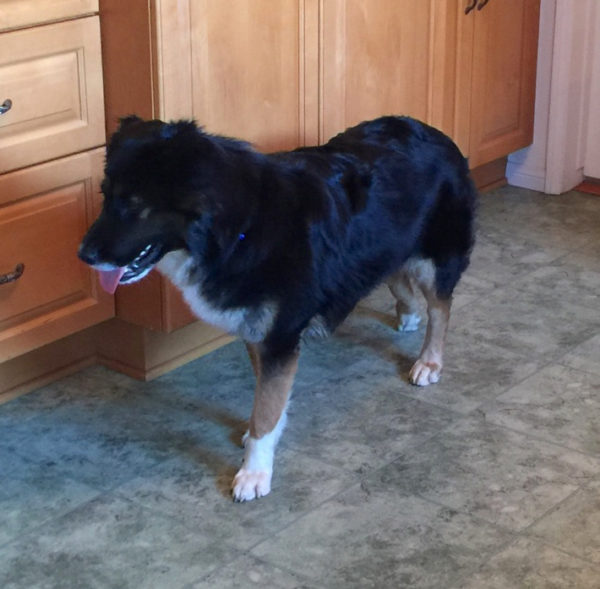 new home for her because due to health reasons, they are not able to give her enough exercise. She is housebroken, crate trained, well behaved in the house, likes to go on car rides and likes to go on walks and walks well on a loose leash. She is very smart, energetic and active, loves to play fetch with her balls or rope toys and likes working for treats and dog cookies and doing tricks. No idea how she is with cats, sorry, and can be nervous/afraid of other dogs - she does have a couple of dog friends, but not comfortable meeting strange ones initially. If you are interested in Camille, please contact her owners: cynthia_49@yahoo.com (Rancho Palos Verdes area)
Austa
"AUSTA" is a 2 1/2 year old cattle dog mix with the traditional cattle dog personality of protecting her handler. She has excellent obedience and lives to play ball. When the ball is not around, Austa is very cuddly and affectionate.  http://www.bordercolliesinneed.org/border_collie_rescue_and_adoptions/austa(courtesy).html
Mojo
"MoJo" is a 1 1/2 year old cattle dog mix with great energy and enthusiasm. He is learning his obedience and, with training, would make a great family dog. http://www.bordercolliesinneed.org/border_collie_rescue_and_adoptions/mojo(courtesy).html
Chance
"CHANCE" is an 18 month old double merle neutered male, current on shots and microchipped.
He is a wonderful boy, housebroken, great with other dogs, a fairly 'velcro' Aussie, rides okay in a vehicle and okay on a leash. No idea on cats, sorry, just a silly, goofy, sweet boy. He does seem to have normal vision but is deaf. His family has decided to rehome him because they have a toddler and a new baby on the way, and Chance gets startled easily being deaf - he is no way aggressive, but toddlers just don't understand about it. If you are interested in Chance, please fill out our adoption application: http://www.aussierescuesocal.com/applications/adoption-application/ (Bakersfield area)  (3-13)
Aussie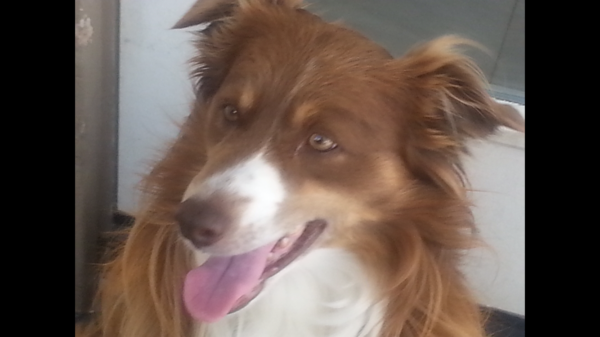 "AUSSIE" is a 9 year old, neutered male, Australian Shepherd. He was purchased in December 2008 at a pet store with my friend Archie. Unfortunately Archie passed away last year and he is now alone. His owner is a full-time caregiver to her elderly mother and have little time for me. He is looking for a home where I can be loved and nurtured.
He is a loving, smart, loyal, and high energy dog. I get along with most dogs, but have had problems with German Shepherd that is in the family. He could use more socialization with other dogs. He is housebroken, crate trained, and has never had any medical issues. Aussie hopes to be adopted by someone that can give me love, attention, and maybe a backyard to run in!   Please Contact Kathleen Garcia at g42family@aol.com   (2-26)
Benji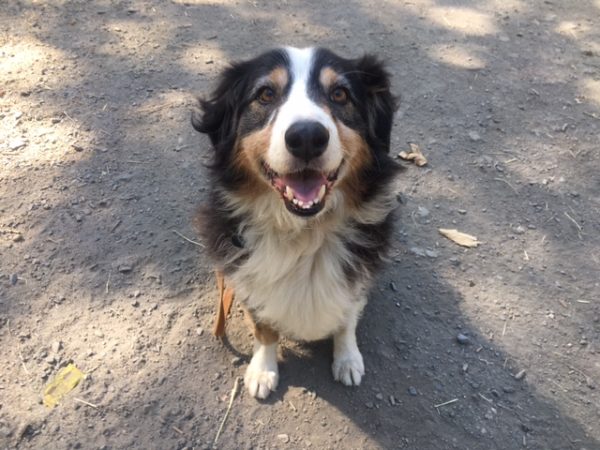 "BENJI"  I am a nine-year-old Australian Shepherd with a ton of life, energy and love to
give. I was rescued eight years ago. When my family brought me home they began to see I had issues socializing and had clearly been through something that they were not aware of. They hired trainers.  Then came my favorite person, Michelle from Trail Dogs. She saw the real me and knew that with the right encouragement I would blossom to be the beautiful dog that I am today. It wasn't the easiest road but now, 2 1/2 years later, I have worked my butt off from not being able to walk by a fence with dogs behind it, to being able to enjoy hikes with a pack of dogs! I have so much potential and I am SO smart; you can teach me anything!!  I am a really great guy with a ton of potential. I would be best in a home as an only dog (though I have lived with a female shepherd my whole life) and with no, or older, kids. I need to be with someone that understands my needs and can provide me with structure and boundaries. I am so sweet and love going on hikes and adventures. I am crate trained (car & home), e-collar trained, house broken, neutered and up to date on my vaccines. I am ready to go!   (currently in San Diego)  Contact Michelle @ 424.625.8067   (2-12)
Paris
"PARIS"
is a 7 1/2 month old female Aussie mix 45-50 lbs. Paris is playful and loves playing fetch. She's house trained, spayed, good with other dogs and children. She's obedient and intelligent. Owner had to move out of state and wasn't able to take her so seeking a companion or family home. Contact Jessica at
Jess5583@hotmail.com
for more info.  (2-16)  
Beau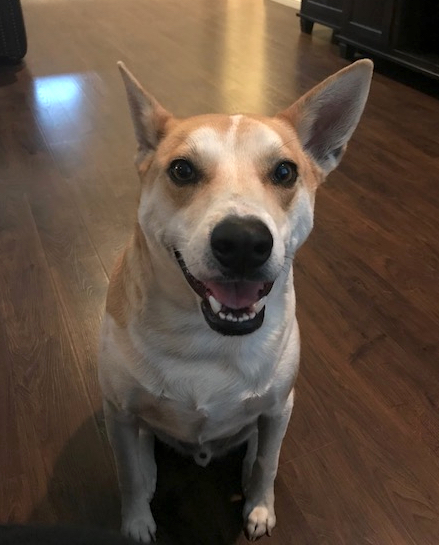 "BEAU"
is a neutered male Australian Cattle Dog Mix, he is 2.5 years old, fixed and current on shots
(2/2/2018). Beau is a great dog, but has a very high energy level and some anxiety issues. He needs to be on a property with a lot of land and/or with an owner that is home more often. I walk and take Beau to the dog park as often as I can, but he still has a tremendous amount of energy. Beau does pretty well with other dogs although he can get nervous around large dogs. He has a companion dog with which he gets along well (my 4 year old Chihuahua mix Scooter). Beau has not shown aggression towards people except when I have taken him to the vet. However, he can be skittish around new people. He has received training and knows his basic commands. If you are interested in Beau, please contact owner Jaime at
ggu926@yahoo.com
(Bakersfield area)  (2-23)
Twinkle
 "TWINKLE" is our little star 
 She is very shy but has a bright and cheery personality once she gets comfortable. She has been around her foster siblings and been fine; unknown with cats. Twinkle is a puppy mill survivor who did not get positive socialization previously. She needs someone who can help her build confidence and trust. She will bond tightly with her people and should not be expected to be left alone for long hours. If you would like to give Twinkle a loving home and the development she needs, please complete an adoption application http://aussierescuesandiego.org/foster-and-volunteer/adoptionapplication/
(1-26)
Ringo
"RINGO" is an 8 yr old neutered male Aussie that needs a home with no small children, a larger yard
and someone that has the time to exercise and play with him.  He is housebroken and well behaved in the house, likes frisbee, car rides, walks and being with his people    He has a medium energy level, very friendly with both men and women and meeting strangers - but nervous/anxious with kids....his current home has a 3 yr old toddler and he recently has bitten her in the lower cheek when he was cornered by her.  He has been okay with cats, fair with other dogs, doesn't like them (or kids) in his face/personal space.  Ringo would really like a home that is looking for a wonderful Aussie like him, to play with and hang out with, and he would be your devoted friend.  If you are interested in this handsome fella, please email:  mailto:joshuaccrandall@yahoo.com  (Oceanside area)  (1-26)
Nick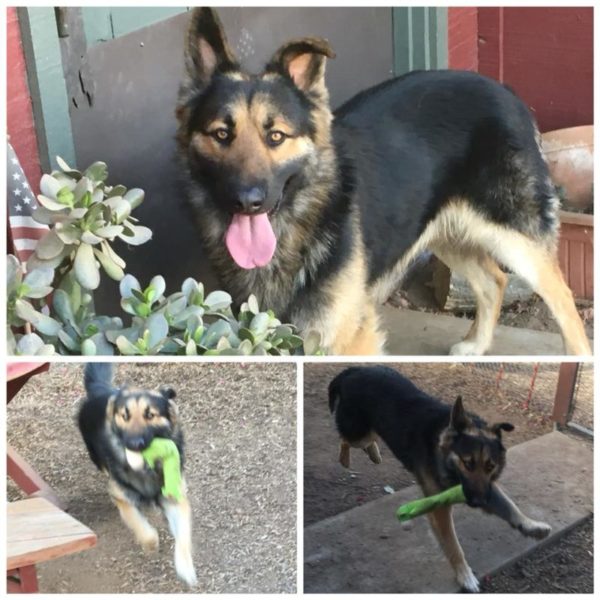 "NICK" has been good with our friendly stable dogs. Unknown with small dogs and cats. He is still a puppy so he will jump up and does need basic training. Otherwise Nick has been a good boy for us. Anyone looking for an active life partner? Apply at http://aussierescuesandiego.org/foster-and-volunteer/adoptionapplication/
(1-26)
Gracie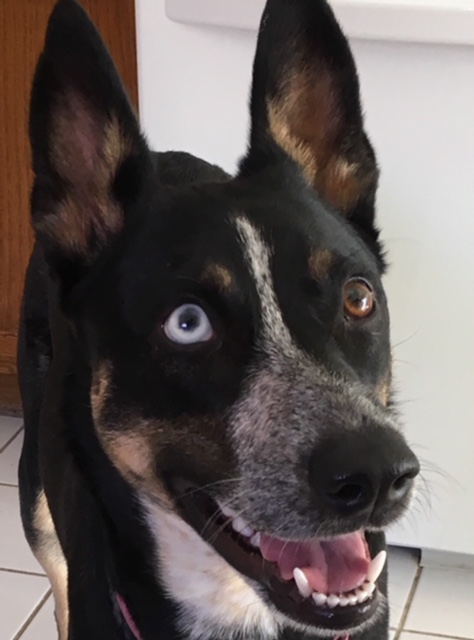 "GRACIE" needs a new home asap! Per owner, she is an Australian Shepherd / German Shepherd mix, about
75lbs. She is just over 1 year old, good with people and other dogs. Gracie can be fearful of men initially but warms up. She has also attended training classes. If you are interested in giving Gracie a  great home, please contact Jim at (951)219-1386. Let's help Gracie find a family who can give her the time, exercise and attention she needs ❤️
Colt
"COLT" needs a new home asap! He is not good with the other dogs he is living with. 
Per owner:
"Colt is an amazing, athletic, smart, eager to please dog who knows basic commands as well as functional ones like staying out of the kitchen. He needs a home with no other dogs and an owner who can make sure he is safe around other dogs. He loves to cuddle and would be  an ideal dog for a VERY active person who likes to hike and run. He runs 3-5 miles a day and gets out to play with a ChuckIt 2-3 times a day. He currently has 1/2 acre to run around and is on a raw diet due to skin allergies when I got him. He was neutered a little over a year ago in the hopes that it would minimize the aggression.  He is a happy and healthy dog outside of the aggression and I desperately want to find him a home that I feel he will be properly cared for. We  have a house cat whom he gets along with, they walk around together and sit near each other, though I never have them together unmonitored. Gets along great with kids, pukes in the car every time with or without food in his tummy"
Please contact Jenelle at 619)997-1439. Text is best. (1-26)