Best Friend and Smush Buddy...
On November 6th, 2016, my wife and I celebrated our wedding day with many friends and family. The only friend that was missing from that special day was our best friend Buster. He was at my parents home enjoying an uninterrupted nap.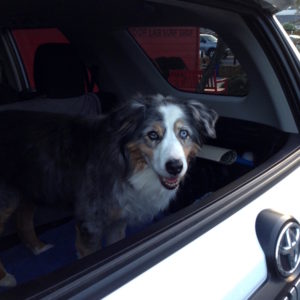 Buster became part of our family about 6 years ago and we immediately knew that he would become a special friend. We wasted no time in completing an adoption application, and within days we were on the road headed to Southern California to meet Ziggy as he was originally known. It took no time to bond with Buster and immediately we decided to take this special guy home.
Buster enjoyed long trips in the back of our truck. We traveled to Las Vegas, Bryce, Zion, Sequoia, Tahoe National Forest, Anza Borrego Desert, and most recently off roading near Bishop. He had little interest in the journey and appeared more excited on how long he would get to sleep before we arrived at our final destination. He became my go to guy when no one else wanted to go exploring the various wilderness areas in Northern California. He was the co-pilot that slept the entire trip. He enjoyed exploring the various parks and trails we visited over the years even after the lost of his vision and hearing. He was our little road warrior and my constant companion.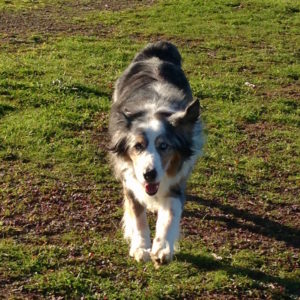 He was my wife's snuggle buddy. Although he was over 50 pounds he manage to get on our bed and lay like a lap dog. She enjoyed smushing his little face as she gave him a kiss. She was the only one he allowed to get away with that as he never liked anyone in his face. What a brat!!
Buster unfortunately started slowing down several months ago. He stopped jumping up on the bed or running up the stairs. On occasions I would pick him up and carry him down the stairs for his morning and evening walks. It was the least I could do for my buddy. As his eyesight got worse we plugged lights with motion sensors around our home so he could find his way around at night. Although, he slowed down his loving and youthful spirit would greet us every morning as we prepared to go to work. On occasions I would take him to work with me but as he started to have trouble going up the stairs he probably appreciated staying home and napping all day.
It was wonderful to experience the unconditional love of a guy like Buster. Our life revolved around him. He was our baby:) Our vacations for the most part were limited to road trips because we were afraid that Buster would be traumatize if he was in the belly of a plane. We worried about this guy like he was our child.
On November 6th, 2016, my wife and I got married and celebrated with many friends that loved Buster. My best man even mentioned him during my toast "I'm surprised Buster is not here". It was a night I will never forget.
On November 7th, 2016, for the first time Buster greeted us as husband and wife. No longer were we just individual puzzle pieces.
We had become a unit with many more trips and adventures ahead of us. Unfortunately, life had other plans for us and we lost our great friend to unknown complications. He was called up to doggy heaven as his mission on earth was complete. He fought until we got him back home from my parents house. My buddy expired almost 12 hours after his daddy and mommy said "I do" in his favorite napping spot.
Thank you to the Aussie Rescue So Cal for introducing us to Buster. He was everything we wanted in a friend. We are still healing but know that one day we will meet him again. We will get to smush his face again and plan further road trips.
R.I.P Buster - Love you buddy:)