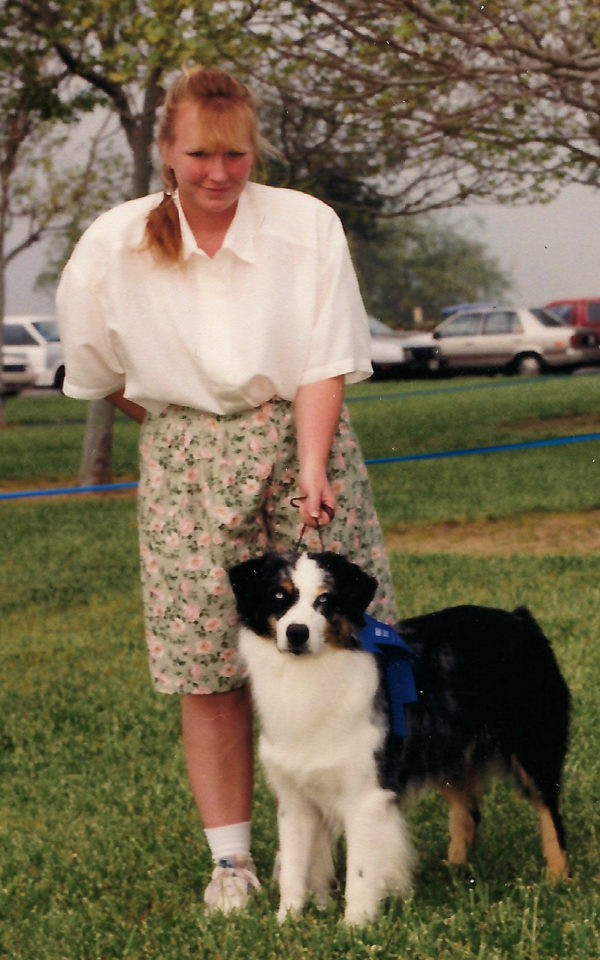 July 13, 1959 – April 7, 2022
Karyl was a life time animal lover, starting with German Shepherds and barn cats as a child in Michigan.
In the 1980's she joined the Australian Shepherd Club of Southern California. Karyl, her husband Mark and their daughter, Nikole, loved going to the Aussie Club dog shows and showing their Aussies in Conformation. The family always pitched in to help work at the shows and Nikole showed in Junior Showmanship, even as a very young child. Karyl occasionally bred a litter of puppies under their kennel name, "Dreamtime", raised them with love and care, and placed the pups in great homes.
In 1993 she volunteered with the newly started Aussie Rescue and Placement Helpline, Inc., the first nationwide Aussie rescue program, as a Representative to foster and place rescued Aussies in the Southern California area. She was one of the first Reps in Southern California. At the time, she covered an area from the Mexican border to above Bakersfield!! Karyl reached out and built a local network of volunteers to foster, transport, fund raise, do home checks, etc. She had found her lifelong passion – saving dogs' lives and finding loving permanent homes for them.
Karyl joined Second Time Around Aussie Rescue, Inc. as a Representative for Southern California. Still always having to work with little to no foster care available and too many dogs needing her help, she kept going with a positive spirit and her constant generosity.
In 2005, she started her own rescue, Aussie Rescue SoCal, Inc. Working with a network of rescues that specialized in Aussies and other herding breeds, she helped save hundreds of dogs. She grew her rescue, ARSC, Inc., thanks to a wonderful group of dedicated volunteers, all of which Karyl trained. Karyl had numerous contacts with shelters all over Southern California and with rescues up and down the state. Karyl helped Geri Dimeglio start another rescue for Aussies, Aussie Rescue of San Diego, Inc. Karyl and Geri worked together to save many, many hundreds of dogs lives.
Karyl's love for the dogs was evident, as her home always had multiple foster dogs of many breeds, not just Australian Shepherds. She opened her heart and home to rescue Cocker Spaniels, Australian Cattle Dogs, Border Collies, German Shepherds, and many mixed breeds. Even Mark helped out, bringing home Missy, a cattle dog he found when golfing! The number of Aussies needing rescue never diminished and neither did Karyl's dedication. Saying "no" to a dog in need was almost impossible for her – she would work tirelessly to find a safe place for the dogs to go.
Karyl was a kind and generous soul, always to ready to help, mentor, or just offer a shoulder to lean on. Karyl, rest in peace, you will be truly missed.
The rescue world will be missing a great advocate with her passing. So many hundreds of dogs' lives have been saved and made so much better by her careful placement into loving homes. The happiness she brought to those adopters by matching them with the right dog over all these years will never be forgotten.
Kyle Trumbull-Clark and Deborah Burgess Perez